Western Montana's Glacier Country is graced with four very distinct seasons. While each has a special place in our hearts, we admit that we are smitten with autumn. Fall brings cooler mornings and evenings with warmer daytime weather ideal for adventuring. The tapestry of changing leaves is vibrant hues of gold from the cottonwood and western larch trees that cover the mountainsides. It's easy to take the scenic route around here—and while every road is beautiful in its own way—we've rounded up a few of our favorite drives through Western Montana that showcase fall in all its glory. These routes can be added to any regional itinerary and also work well for FIT clients.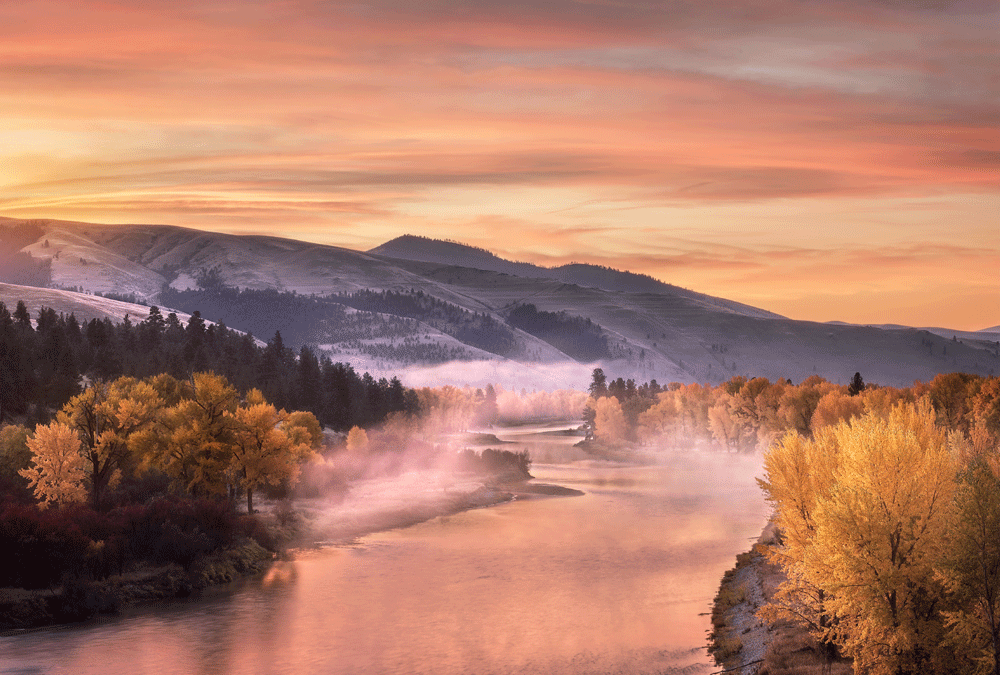 Bitterroot Valley
This lush, forested valley nested between the Bitterroot and Sapphire mountain ranges is prime for leaf peeping. Starting in Missoula, it's easy to drive down the Bitterroot, exploring the storybook communities along the way. In Lolo, stop at Travelers Rest State Park, the only archaeologically verified campsite of the Lewis and Clark Expedition. The short, outdoor interpretive walk is easily explored in the fall. In Stevensville, find wildlife at the Lee Metcalf National Wildlife Refuge, and spot scarecrows on downtown Stevensville's Main Street in the month of October for the annual Scarecrow Festival. In Hamilton, the arboretum at the Daly Mansion boasts 50 kinds of trees—a sight to see in the fall. Quaint Main Street in Darby pairs perfectly with flannel, and is the filming location for many scenes of the "Yellowstone" TV series.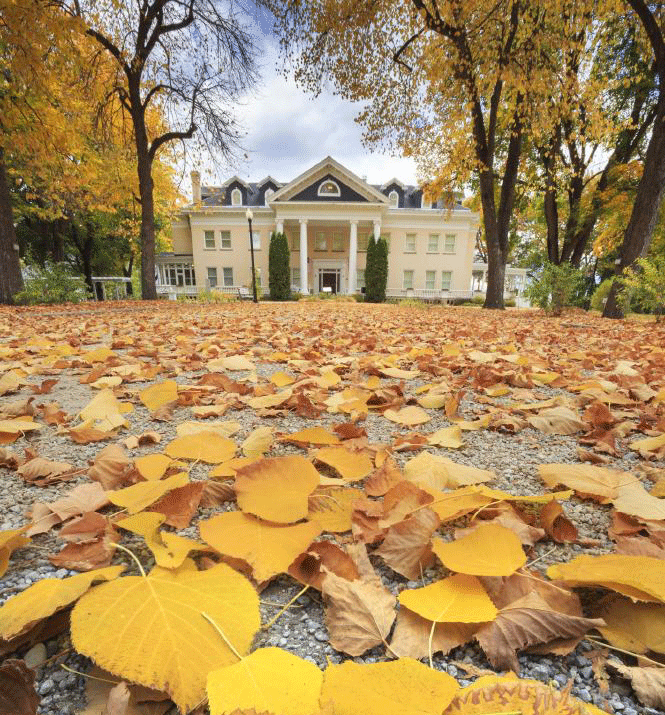 Montana Tour 200
Just north of Interstate Highway 90 is scenic State Highway 200, a stunning, winding highway tucked between two mountain ranges and following along the banks of the Clark Fork River. Some of the country's largest cedar trees stand tall—and wide—at the Ross Creek Cedar Grove in Heron, where 1,000-year-old trees reach up to 12 feet in diameter. There's a short hiking trail (a 0.9-mile accessible loop) and picnic spot at the grove. Stop midway in Thompson Falls for a home-cooked meal and mouthwatering cinnamon roll at Minnie's Montana Café. After your meal, walk to Island Park, which will take you to the Thompson Falls Dam.
Flathead Lake Loop
Circle around the largest natural freshwater lake in the West—Flathead Lake—which is surrounded by the Mission, Salish, Swan and Whitefish mountains. Here, autumn lake views are made up of sparkling glacial water backed by golden forests and snowcapped peaks. The Flathead Valley is also home to charming lake towns. In Polson, swing by the Miracle of America Museum, a collection of over 340,000+ curiosities. Schedule a Water People tour in Elmo with Camp Kapapa for American Indian storytelling and a taste of traditional food outside on the shore of Flathead Lake. Make a stop at The Raven Bar & Grill in Woods Bay on the east side of the lake for delicious waterfront dining—including gluten-free and vegetarian fare—craft cocktails, and some of the best views in the region.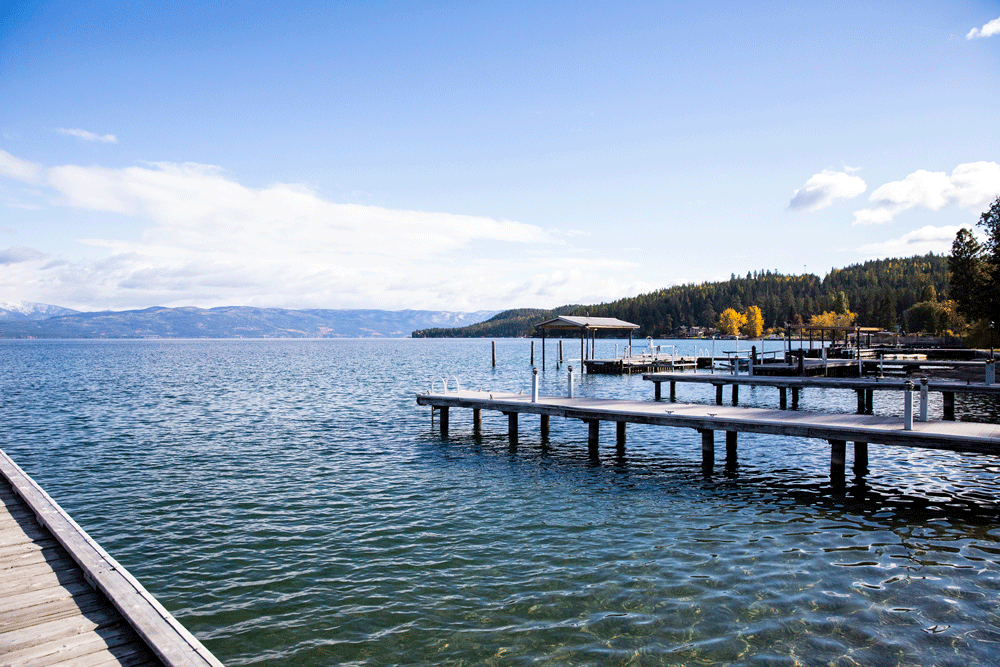 Seeley Swan Valley
State Highway 83 stretches through the picturesque Seeley Swan Corridor following the Swan River with stunning views of the Mission Mountains and the Swan Range, plus dozens of lakes, two rivers, lush forestland, expansive meadows and steep mountain walls just beyond the boundaries of the Bob Marshall Wilderness Complex. This exceptionally scenic valley is known for its large population of tamaracks—unique pine trees that lose their golden needles in the fall. This area is known for phenomenal recreation with hundreds of miles of trails to hike, including a few hikes to waterfalls. Elect to go for a picnic and hike with a llama. These adorable animals carry your lunch and gear while you trek to a waterfall. Book with Swan Mountain Outfitters. Experience a Montana dude ranch with an overnight at Rich Ranch.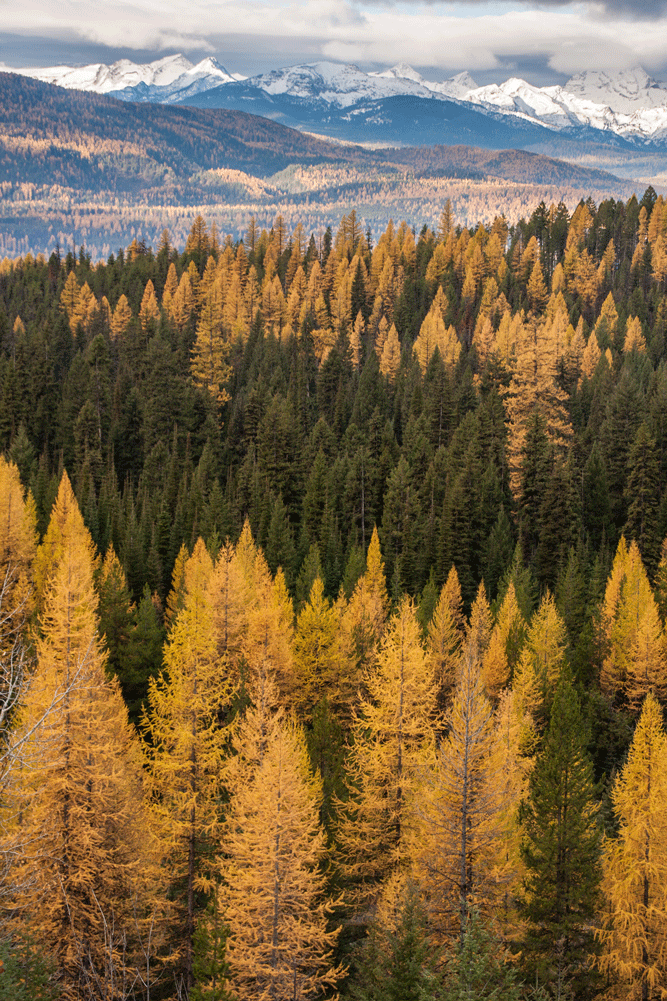 Highway 2 – Kalispell to Libby
Running through Western Montana's northwest corner, Highway 2 travels along some of the most scenic places in Western Montana and introduces road-trippers to off-the-beaten-path treasures. In Kalispell, take a  historic trolley tour of Kalispell's historic homes and learn the stories of the famous people who resided in them. Don't miss the Conrad Mansion Museum to see what luxury living was like in the late 19th century. After the docent-guided tour, walk the grounds, which are stunning year-round. Eureka's Tobacco Valley Historical Village offers a walk back in time through a collection of restored buildings, including a general store, schoolhouse, library, church, two log cabins, a hand-hewn house, railway depot, caboose and fire tower. In Trego, plan a chuckwagon dinner with Cripple Creek Horse Ranch on their 40-acre farm. End in Libby, one of the region's most scenic and quietest corners.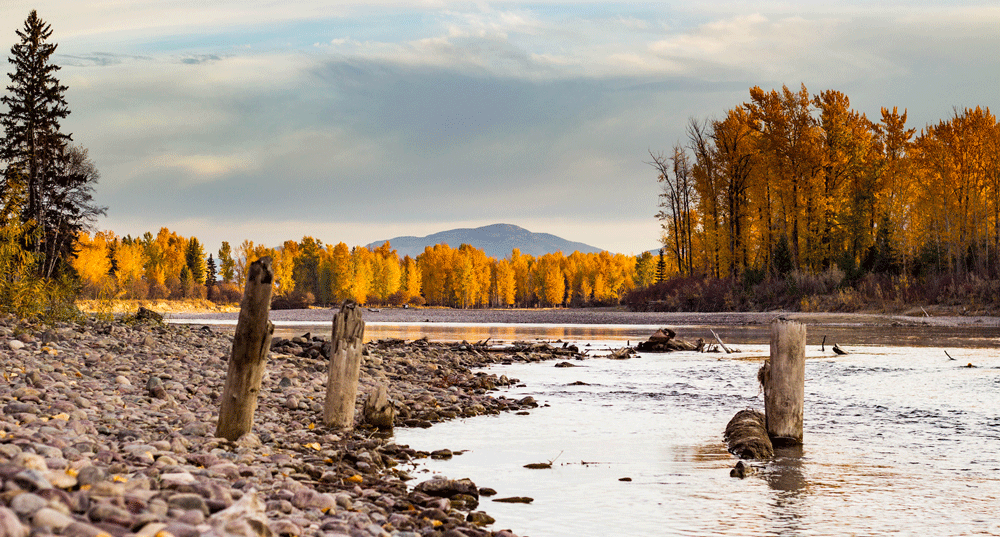 For more information on fall in Western Montana, visit our tour operators website. If you need additional tour itinerary assistance, feel free to drop us a line; we're always here to help.
Happy fall road tripping,
AS & DP
September 20, 2022
Related: Bitterroot Valley, Cycling Tours, FIT, Flathead Lake, Hamilton, Kalispell, Libby, Motorcycle Tours, Outdoor Adventure, Seeley Lake, Seeley-Swan Valley, Thompson Falls, Tour 200, Tour Operator