Western Montana is excited to welcome group tours to Glacier Country in 2023 and beyond. While our summer season (July and August) experiences high visitation, we know that the lure of ascending the Going-to-the-Sun Road in Glacier National Park is often a bucket list experience for many and can only be driven late June through late September when the famed road is open in its entirety. With that in mind, we have created a list of group friendly restaurants that are ready to welcome groups in peak season, and creative alternative plans like out-to-lunch events or chuckwagon dinners.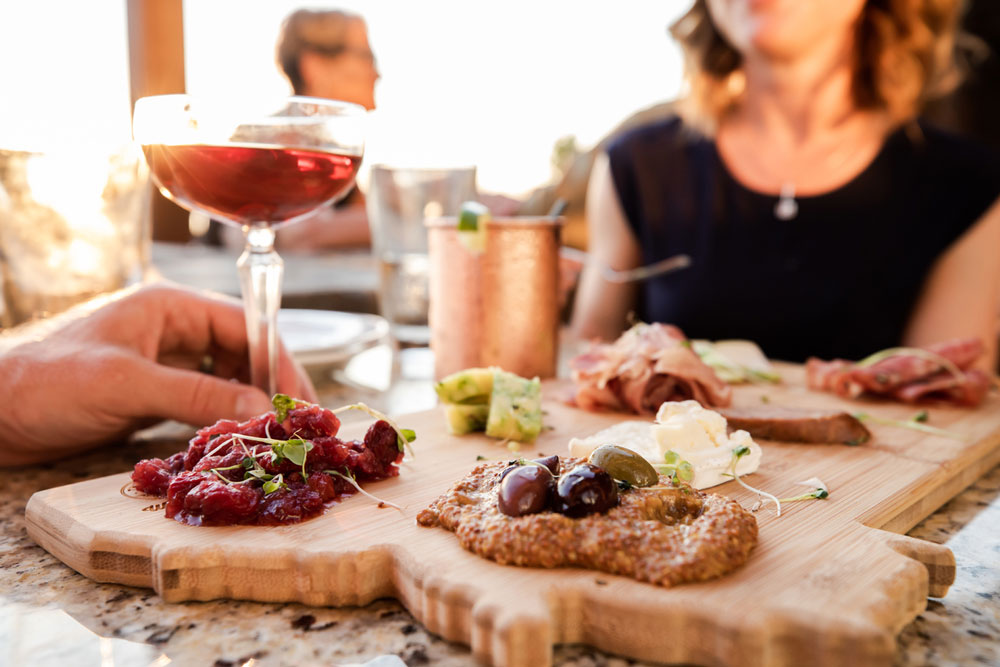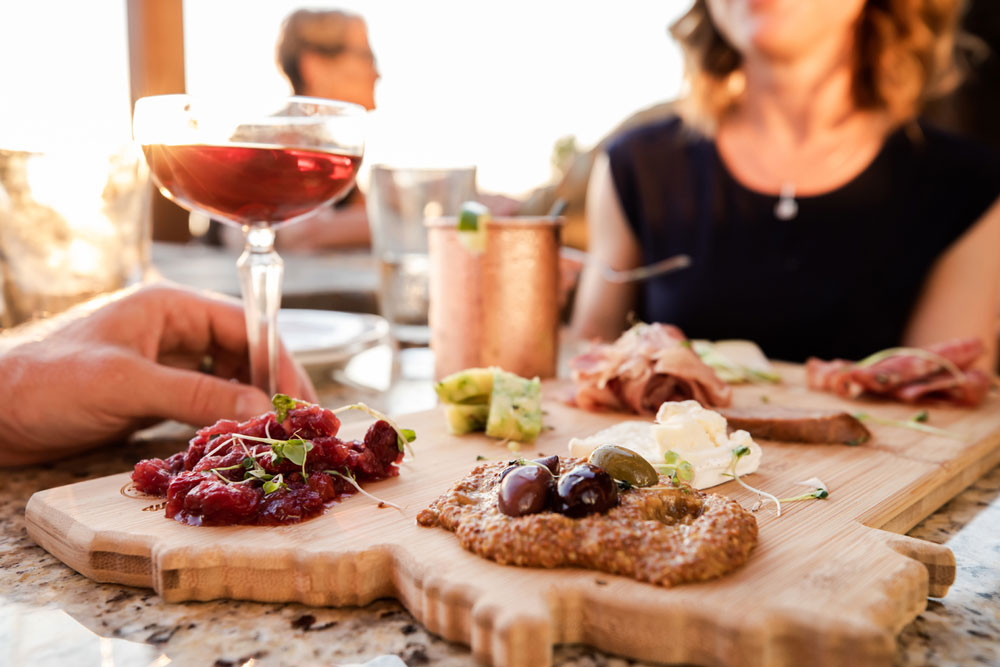 MISSOULA
Also known as the Garden City, Missoula is the second-largest city in Montana and has a lot of group dining options. Whether your tour is passing through and wanting something close to Interstate 90, or heading downtown for local vibes and an overnight, here are several options. The Montana Club which serves American fare and MacKenzie River Pizza Co. both have two locations, one on North Reserve and the other on Brooks. Also on North Reserve, Highlander TapHouse serves great pizza and beer in a fun atmosphere. They also have a nice, outdoor, covered pavilion that groups love. On Brooks Street find Jakers Bar and Grill and Paradise Falls, both have a cozy atmosphere and serve delicious comfort food. Near downtown, FINN sits on the banks of the Clark Fork River.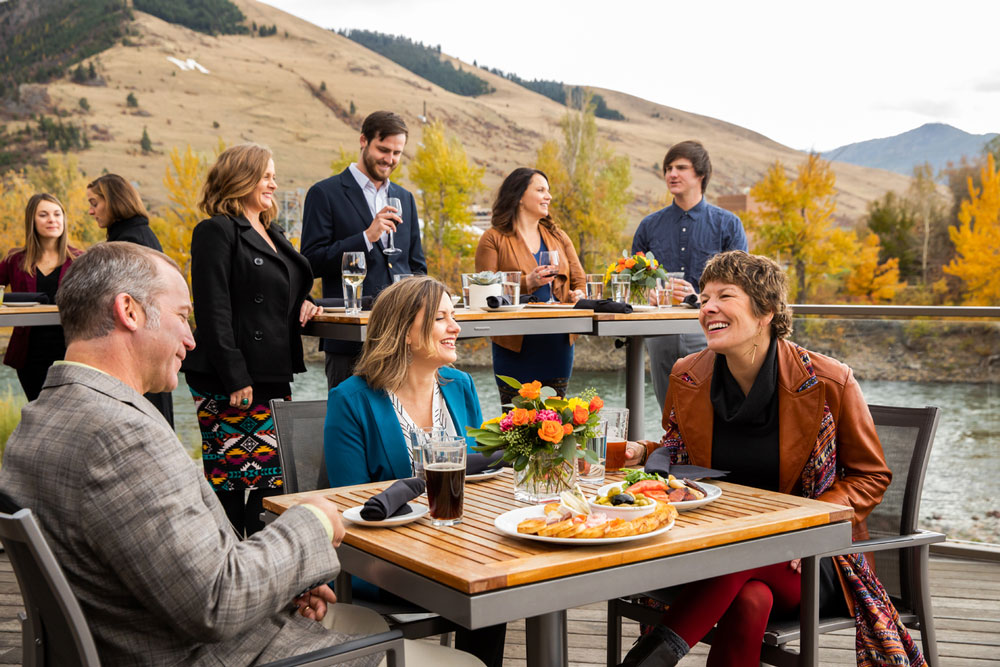 Visit Missoula's vibrant downtown, drop your group off and let them choose from the many restaurants on Higgins Street: Five on Black, Basal, Catalyst Café, Charlie B's, Dinosaur Café, Iron Horse Bar & Grill, Pangea Bar & Restaurant, Second Set Bistro round out the variety on just one street in Missoula's downtown.
Make it an experience: During the summer on a Wednesday at lunch time plan to stop at Caras Park for Missoula Out to Lunch with live music and food trucks galore. Or, if it's Thursday evening, Caras Park hosts Downtown ToNight, also with food trucks and live music.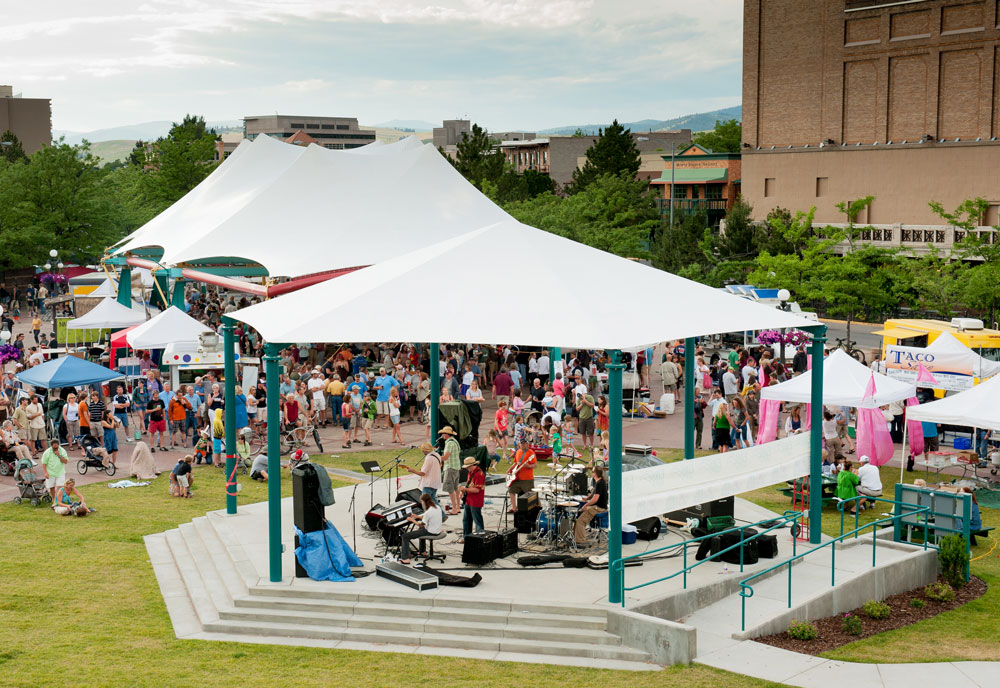 KALISPELL
As a prime host city for your excursion to Glacier National Park, your stay in Kalispell will deliver a great experience. Group dining options include Sacred Waters Brewing Co. off U.S. Highway 2 E. with plenty of outside seating and pub fare. Sykes Diner offer "Good Ol' Grub" and $0.10 coffee with your breakfast order. MacKenzie River Pizza Co. has two locations on the south and north sides of Kalispell, and you'll also find a Montana Club. Brannigan's Irish Pub has a lively atmosphere. Bonelli's Bistro serves Italian dishes. Famous Dave's has mouth-watering barbecue and accepts groups up to 40. House of S&M Mexican restaurant will create customized menus with recommendations from the chef. Big Mountain Cider Works is located on an orchard near Kalispell, has over 16 ciders on tap and a full kitchen menu. For groups of 25 or less, SunRift Beer Company or Tamarack Brewing (in Lakeside) can be great options that let your group sample our craft beer while enjoying a meal.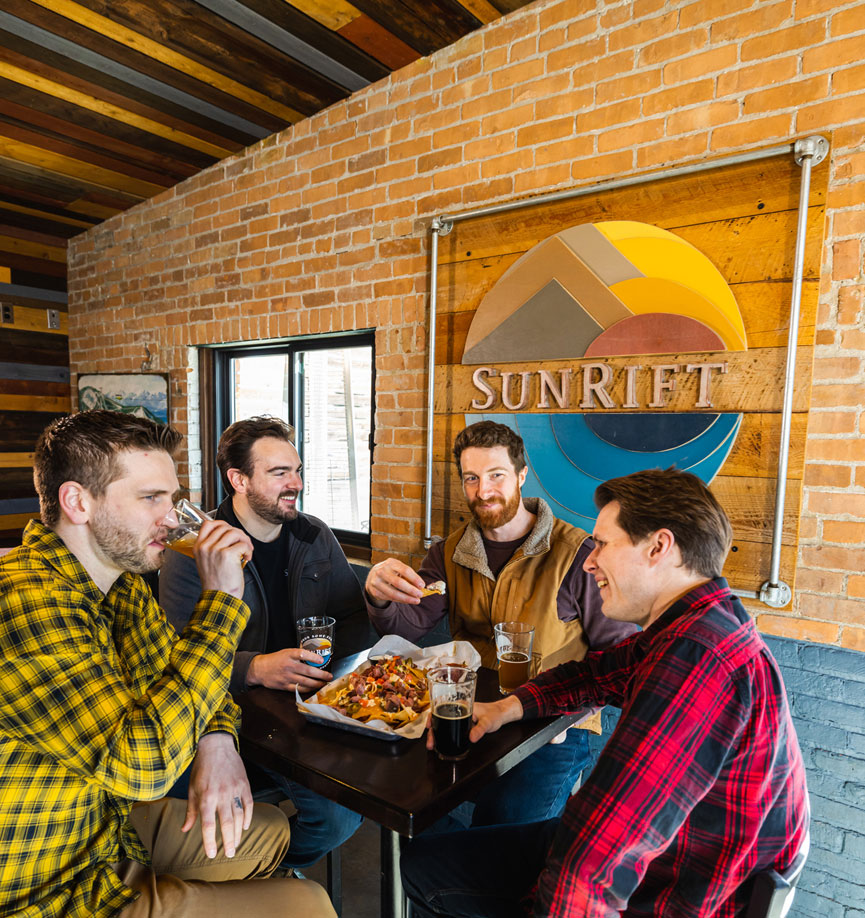 Don't have reservations and need a contingency plan? Downtown Kalispell's Main Street has many dine-on-their-own options. The coach can park at Depot Park on the north side of Main Street with access to Norm's Soda Fountain, Hops Grill, Mercantile Steak, Wheat Montana Bakery and Deli, Ceres Bakery and Blue Samurai Sushi Bar. For a real Kalispell, Montana, experience (including a sawdust floor) visit Moose's Saloon serving up draft beer, pizza, soups, salads and sandwiches.
Make it an experience: Organize a catered lunch in the gardens at Conrad Mansion in Kalispell. Or click here for a list of food trucks that will cater to an events space, park or museum in Kalispell.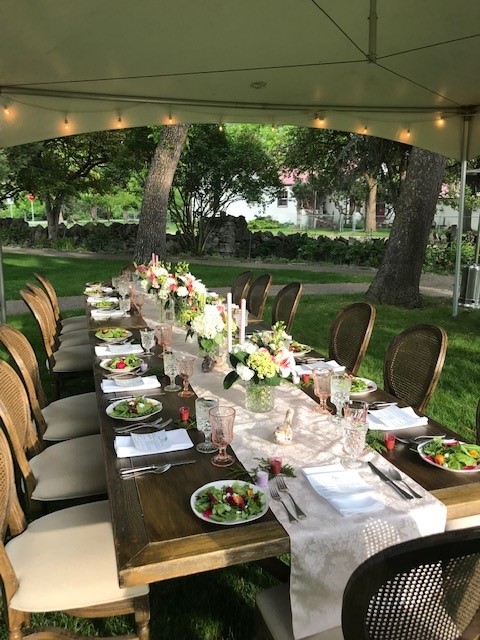 WHITEFISH
This charming mountain town of Whitefish does not disappoint when it comes to great restaurants and quite a few have good group seating when reserved in advance. Abruzzo Italian Kitchen has a variety of dinner options. Craggy Range Bar & Grill offers American fare with great patio seating. Bonsai Brewing Project has a walk-up order counter with lots of outdoor seating, and Last Chair Kitchen & Bar is the kind of restaurant that every ski town needs. Newly opened, Blackstar serves local beer and great food in a historic downtown location.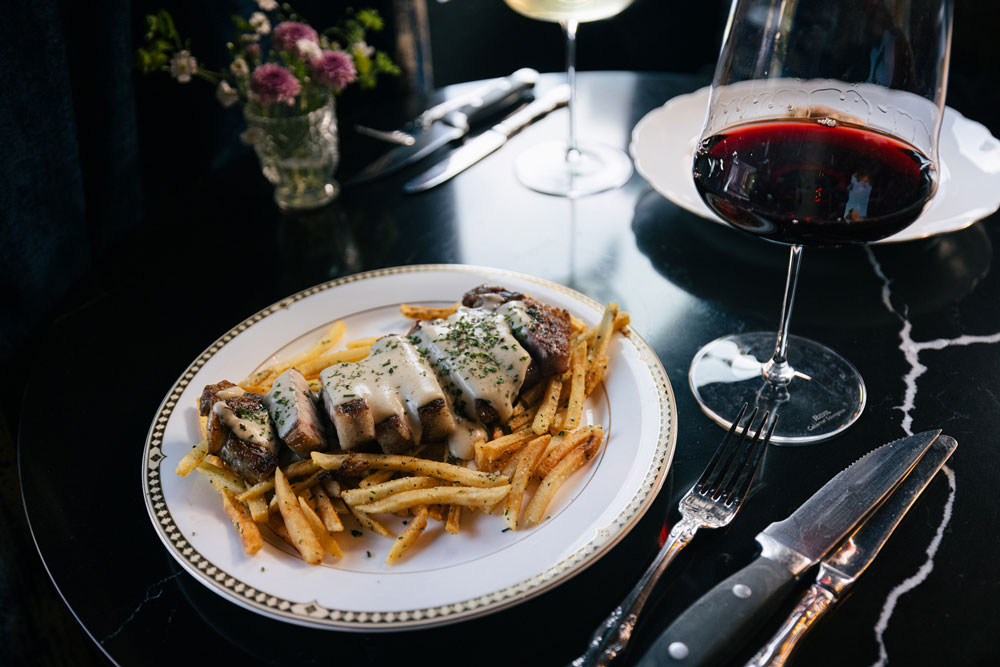 Don't have reservations and need a contingency plan? Drop the group off at Depot Park at the North end of Central Avenue and chose from Montana Coffee Traders, Tupelo Grill, Wasabi Sushi, Ciao Mambo, Indah Sushi, Buffalo Café and Loula's Café where pie is recommended for every meal. Seriously, it's the best. In a pinch, consider ordering pizza from Jersey Boy's for a pizza feed at the hotel or local park like Depot Park, Grouse Mountain Park or Whitefish City Beach along the shore of Whitefish Lake.
NOTEWORTHY SMALL-TOWN RESTAURANTS
In the scenic town of Seeley Lake organize a meal at Double Arrow Lodge, one of Western Montana's historic lodges and the first "dude ranch" in Seeley Lake.
In Charlo, stop at Allentown Restaurant located in Ninepipes Lodge. This group friendly restaurant has beautiful views of the Mission Mountains. Shop at the boutique next door, before visiting the Ninepipes Museum of Early History.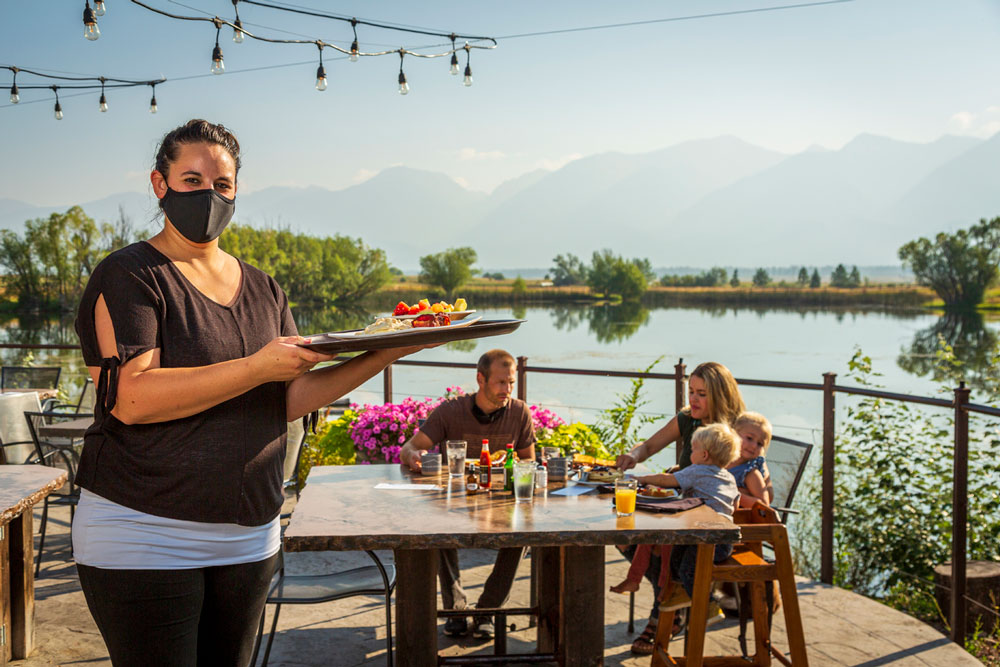 In Polson, choose between the rustic East Shore Smokehouse or Finely Point Grill which has an events room perfect for groups. Both are owned by the same owner, so give him a call to see what best works for your group.
After perusing the shops along Nucleus Avenue in the quaint town of Columbia Falls, visit Gunsight Saloon which has a great outside dining area, or Vaqueros for some American Mexican cuisine.
CHUCKWAGON DINNERS
For a truly notable Western experience your group won't soon forget, plan a chuckwagon dinner with one of our ranches ready to welcome you and your group with our famous warm western hospitality. Cripple Creek Horse Ranch, 40 minutes outside of Onley, can organize a wagon ride in addition to dinner. In Kalispell, Lonesome Dove Ranch and Artemis Acres Paint Horse Ranch both offer unique Wild West experiences and group dining options.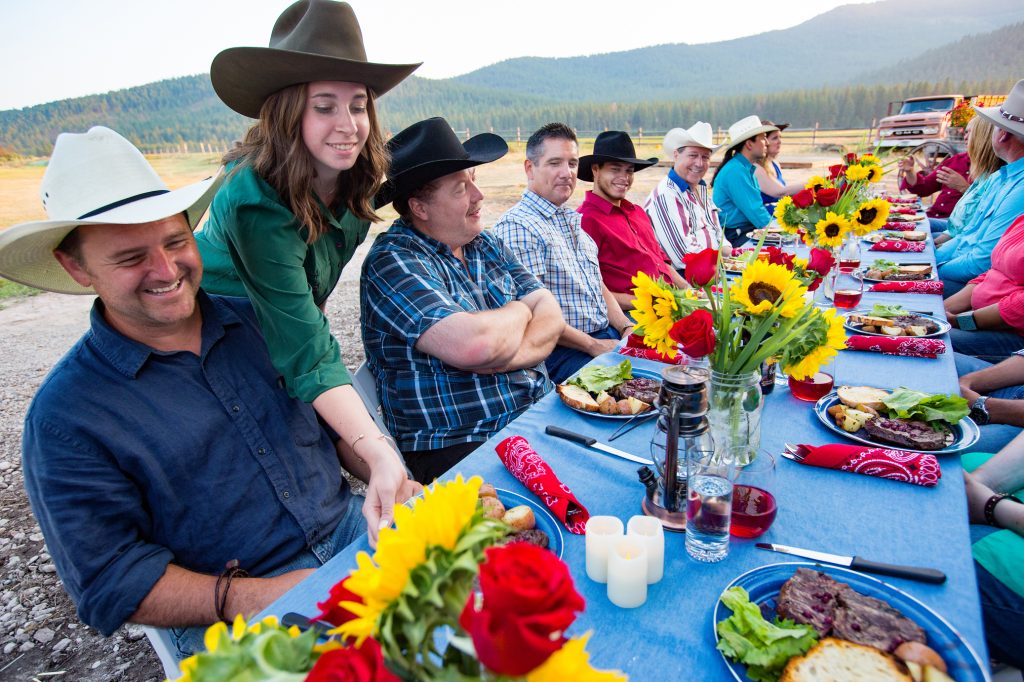 Remember, accommodations should always be made in advance for large groups. For the coming year and beyond, stay up to date on all the happenings in Western Montana's Glacier Country by subscribing to our B2B blog here. If you need assistance with itineraries, visit our website at www.touroperators.glaciermt.com or feel free to drop us a line. We're always here to help.
Bon Appetit!
AS & DP
February 13, 2023
Related: Charlo, Columbia Falls, Culinary, Group Tours, Kalispell, Missoula, Polson, Seeley Lake, Seeley-Swan Valley, Student tours, Tour Operator, Unique Venues, Whitefish