Western Montana's Glacier Country has seen an increase in unique and niche markets that love the open roads, stunning scenery and local hospitality. Cycling is definitely one of them. If you are a tour operator offering cycling adventures we've asked the experts and our friends from Adventure Cycling Association, located right here in Missoula Montana, to share their top 5 destinations in Montana for adventure cycling.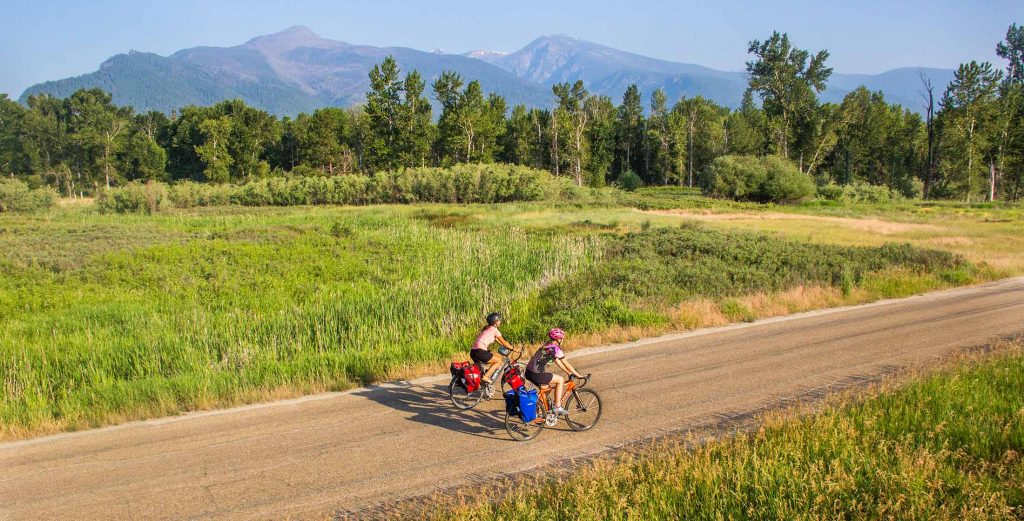 The Adventure Cycling Association's route network has 3,500 miles of mapped bicycle routes in Montana, and more than 42,000 around the country. We encourage you to explore Montana by bicycle, where you can take in the smells, sights, locals, communities and culture at a pace that allows you to appreciate all Montana has to offer.
TransAmerica Bicycle Trail
With the incomparable Madison Range as a backdrop, cyclists explore the backroads, farmers markets and small towns of Big Sky Country using pedal power alone.
To purchase maps, digital data and route highlights, click here.
Northern Tier Route
A trio of riders explores a wild and remote section of the Northern Tier Bicycle Route from Libby to Whitefish.
To purchase maps, digital data and route highlights, click here. 
Lewis & Clark Bicycle Trail
Thousands of cyclists travel in the footsteps of Lewis and Clark every year. Here's a small piece of that route, featuring the stunning plateaus and winding river bottoms of north-central Montana.
The Lewis & Clark Bicycle Trail was created to celebrate the anniversary of the Corps of Discovery's 1804 – 1806 historic journey and offers cyclists the opportunity to follow the path of the intrepid explorers, captains Meriwether Lewis and William Clark. It includes seven map sections detailing the 1804 – 1805 westbound trip, roughly following the Missouri and Columbia rivers, and one map section showing Clark's 1806 eastbound return along the Yellowstone River in Montana, totaling 3,562.5 miles.
To purchase maps, digital data and route highlights, click here.
Great Divide Mountain Bike Route
Crisscrossing the Continental Divide from Canada to Mexico, Adventure Cycling's Great Divide Mountain Bike Route is the longest mapped off-pavement cycling route in the world. Along its 2,768-mile course, it cuts through some of Montana's most wild and spectacular country. See it here through the eyes of two young travelers from faraway lands.
There is an excellent opportunity to view wildlife such as bear, deer, wild horses, pronghorn antelope, eagles, osprey, sandhill cranes and other animals and birds. The route is rich in history, with ghost towns, deserted mines, wagon routes and old Spanish land grants, and is near or passes through several national parks, including Glacier, Yellowstone and Grand Teton.
To purchase maps, digital data and route highlights, click here.
Adventure Cycling Headquarters
Every summer we enjoy the parade of bicycle travelers who drop by our office here in Missoula, Montana. These cyclists come from all over the world. Last year we had over 1,400 visitors! Their variety of style, equipment, route and purpose is endless. In 1982, Greg Siple began recording our visitors on film and asking them to tell their stories, creating Adventure Cycling's National Bicycle Touring Portrait Collection. The Open Road Gallery features selections from this collection in Adventure Cyclist magazine and on our website.
We invite you to visit the Adventure Cycling HQ, meet the staff, take a free tour, grab an ice cream from the visiting cyclists' lounge and check out some of the portraits hanging on the walls that are featured in our Open Road Gallery collection.
Lisa McKinney is Adventure Cycling's communications director.
April 18, 2018
Related: Bitterroot Valley, Canada, Cycling Tours, FIT, Glacier National Park, Group Tours, Guest Post, Libby, Missoula, Outdoor Adventure, Tour Operator, Whitefish