Travel is all about the experience. Forget collecting silver-plated spoons from each state—travelers these days are out in the world to create intangible experiences and memories that will last a lifetime, especially in America's national parks—Glacier National Park in particular. As tour operators, you are challenged by the ever-growing popularity of the parks, and seek help creating the memorable, unique experiences your guests demand. Waiting in long, hot lines does not create happy guests or repeat customers. We can help.
At Glacier Guides and Montana Raft, we've been in the business of creating unforgettable adventures since 1983. Our focus is on the quality of the experience, and our mission is to provide one-of-a-kind travel vacations and getaways in and around Glacier National Park, while preserving and protecting the park's unique ecosystem using the most ecologically sound practices possible.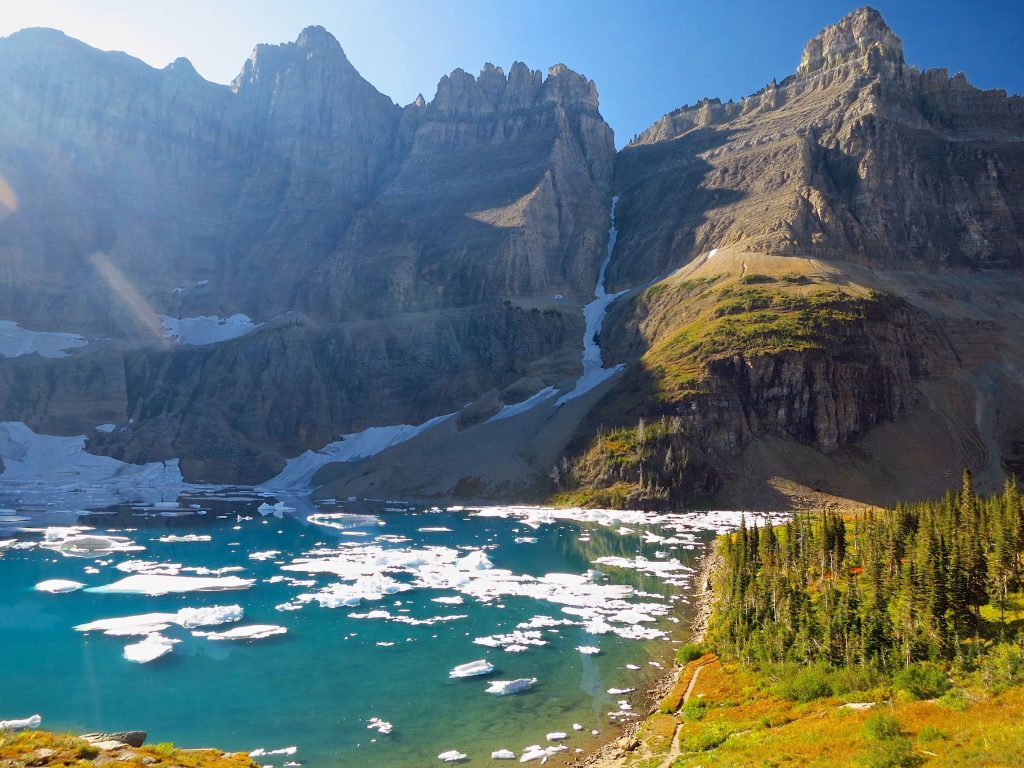 What we hear from our guests—some of whom we've been guiding for over 30 years—is that part of the Glacier Park experience they are looking for is one that includes intimacy, solitude and peace. Even if they are interested in an adrenaline-packed whitewater rafting adventure, they are still looking for an experience that allows the time and space for introspection and reflection. And our guides know how to use our rivers and mountains to do just that, while also educating, entertaining and attending to safety at all times.
For this more intimate experience with Glacier National Park, offer tours in our less crowded times of the year: May, June, September and October. There are many reasons Glacier National Park is so popular in July and August, but there are better times of the year if you are in the business of experiential travel. Here are our top 4 Glacier National Park shoulder-season activities.
1) Spring Biking the Going-to-the-Sun Road
The first sign of spring in Glacier Country is the announcement that the snow plows are out, scraping a winter's worth of snow off the famous Going-to-the-Sun Road. As soon as the plows have advanced a few miles up that gorgeous road, we strap on our helmets and go biking. The plowed portions of the road are open only to biker and hiker traffic until mid to late June, and pedaling a bike up the nearly empty, quiet, Going-to-the-Sun Road is nothing short of spectacular. Breathing in the fresh alpine air, watching spring waterfalls cascade off the mountains and catching a glimpse of a new moose or elk calf crossing a greening meadow is an experience travelers will not soon—or ever—forget.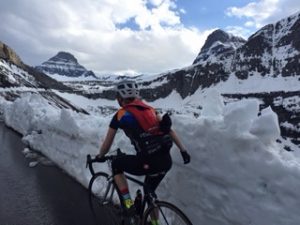 These interpretive, guided bike tours on the closed sections of the Going-to-the-Sun Road are exclusive to Glacier Guides and Montana Raft. Nearly all ages and abilities can enjoy at least part of this Glacier National Park shoulder-season experience. Our guides will go as far as the group wants to go, and for some groups (especially those with young children) that might not be very far. That's okay. We think every trip is less about the destination and more about the memories made on the journey, like sitting on a sun-warmed rock on the edge of the cerulean waters of McDonald Creek, relishing one of our homemade, locally sourced, largely organic sack lunches. For other groups, we might bike all the way to Logan Pass, the apex of the road. Either way, it is sure to be a day guests will never forget.
2) Spring Whitewater Rafting on the Middle Fork of the Flathead River
For some guests, adrenaline is a necessary part of the experience. We provide an unmatched whitewater rafting adventure on one of the most stunning rivers in the world. The Middle Fork of the Flathead River is designated a Wild and Scenic River. Its crystal-clear, turquoise waters flow over gorgeous red and green rocks left over from Glacier National Park's glaciated past. The Middle Fork forms Glacier National Park's border to the south and the Flathead National Forest to the north.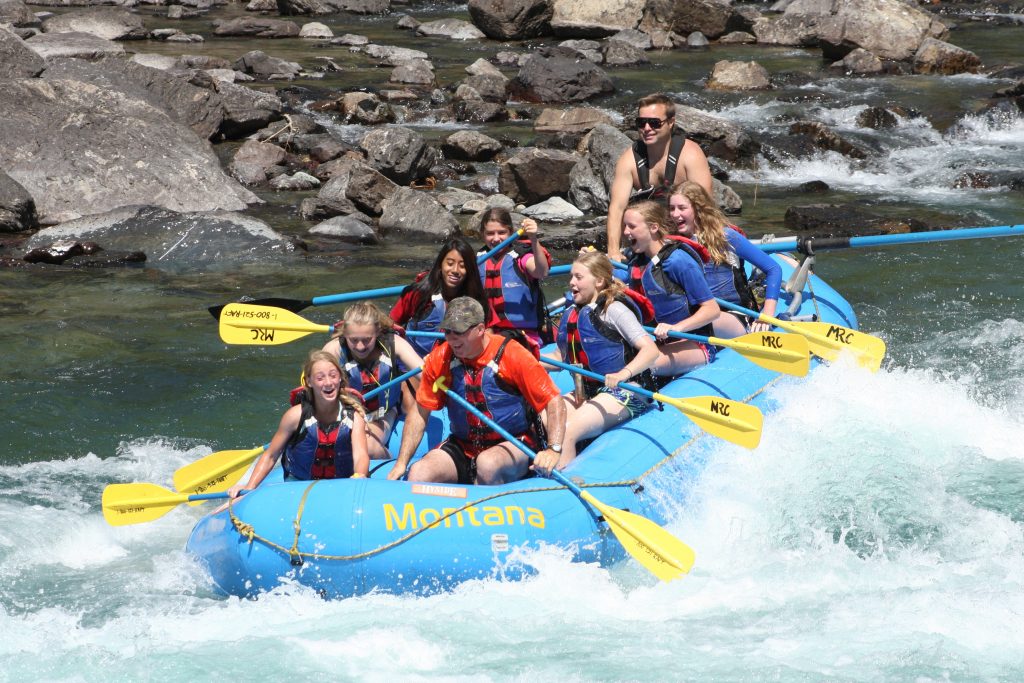 In the springtime, and particularly in late May when runoff is at its peak, the water is high and the river's nine named rapids vary from Class II to Class IV. Our impeccably trained guides keep guests thrilled (and safe) as they navigate John F. Stevens Canyon and the fun, splashy Tunnel Rapids, Bonecrusher, Washboard, Big Squeeze, Jaws, Pin Ball, CBT, Repeater Rapids, The Notch and Pumphouse rapids. Following the guide's simple commands, guests actually become part of the crew that maneuvers the boat. In the spring, this trip is about two and a half hours long. Generally speaking, we do not allow children younger than six on this trip in the spring. Guest safety is our #1 priority. Wetsuits and river shoes are always complimentary.
3) Shoulder Season Scenic Floating on the Border of Glacier National Park
Whether it's spring or fall, if whitewater rafting is more of an adventure than guests are looking for, but the beauty and peace of a calmer section of the Flathead River appeals to them, then our Scenic Float is perfect. Suitable for nearly any age (ages three and up) and ability, this trip never fails to inspire and relax. The beauty of the Middle Fork is perhaps even more enjoyable when viewed at the slower speed of the Scenic Float trip.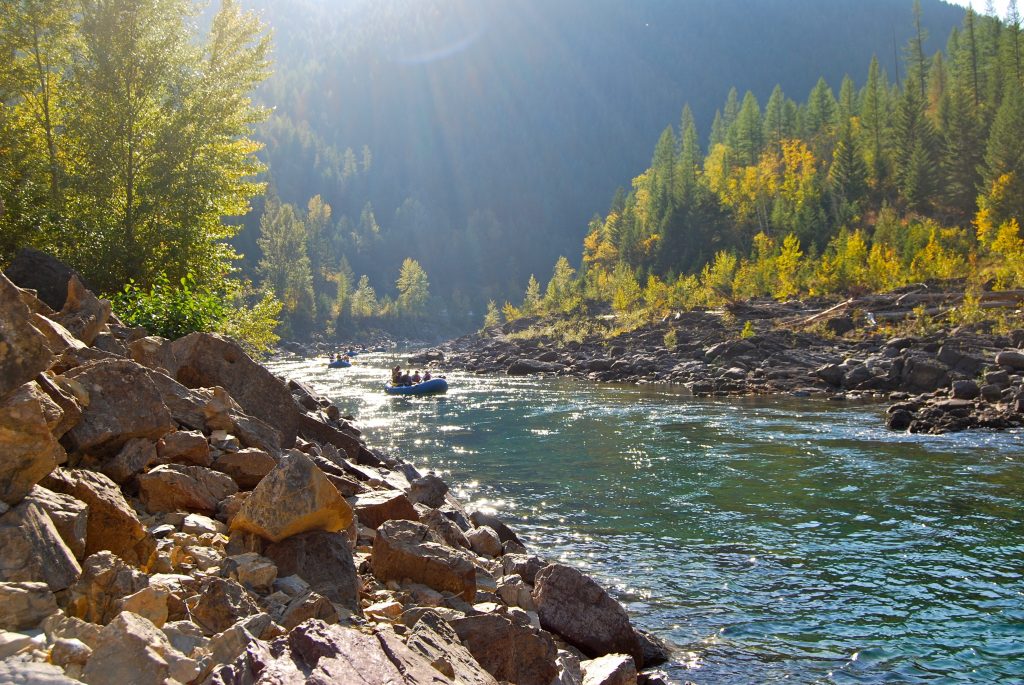 The trip is approximately two hours long, and guests enjoy glimpses of Glacier National Park from the comfort of a boat as their guide discusses geological, anthropological and ecological matters pertaining to Glacier National Park. Guests also float through the confluence of the North and Middle forks of the Flathead River, which forms the park's southernmost tip. This trip is mellow in the best sense of the word, offering a peaceful, relaxing experience on one of the world's most pristine rivers.
4) Fall Day Hiking on the Highline Trail
Around here, we love to hike in every season, but fall is our favorite. By September, all of the high mountain passes and trails have completely thawed out, and most of our visitors have gone back to work and school. Glacier National Park turns to gold with changing tamarack needles and aspen leaves, and Montana's famous big sky is never bluer. The cool, crisp autumnal air is invigorating. It's simply an ideal time of year to go hiking.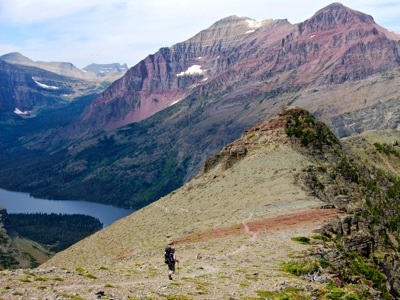 Glacier Guides was chosen as the exclusive backpacking guide service in Glacier National Park. We offer a wide range of adventure hiking options, from day hiking and backpacking, to hut treks and vehicle-supported excursions. All of our trips are ecologically friendly, and family or custom adventures are available. Our friendly, experienced guides take care of every detail, use top-of-the-line equipment and prepare delicious, healthy meals. With over 700 miles of trails, Glacier Park is a hiker's dream, and we provide trips to accommodate all ability levels. We can create a custom trip that's tailored to your guest's interests and desired activity level. We'd love to help plan the perfect Glacier National Park experience for your guests. For more information, visit glacierguides.com or call 406.387.5555.
Happy Adventuring,
Courtney Stone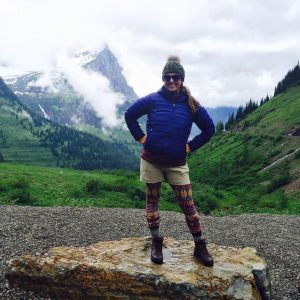 About the author: As Marketing Director for Glacier Guides and Montana Raft, Courtney strives daily to meet its mission of providing exceptional active travel vacations and experiences in and around Glacier National Park, while preserving and protecting the park's unique ecosystem. Otherwise, you'll find Courtney hiking, backpacking, rafting, skiing or cleaning up the trail of glitter her kids leave in the wake of their own daily adventures.
April 5, 2017
Related: East Glacier Park, FIT, Glacier National Park, Group Tours, Guest Post, Outdoor Adventure, Tour Operator, West Glacier