One of the things that makes Montana so special is that we share the land with an abundance of beautiful, wild creatures. Western Montana's Glacier Country is comprises millions of acres of public land that is home to 83 species of mammals and 393 species of birds—and seeing them is easier than you think. From designated wildlife refuges to Glacier National Park and Montana's state parks, there's no shortage of places for groups to discover wildlife.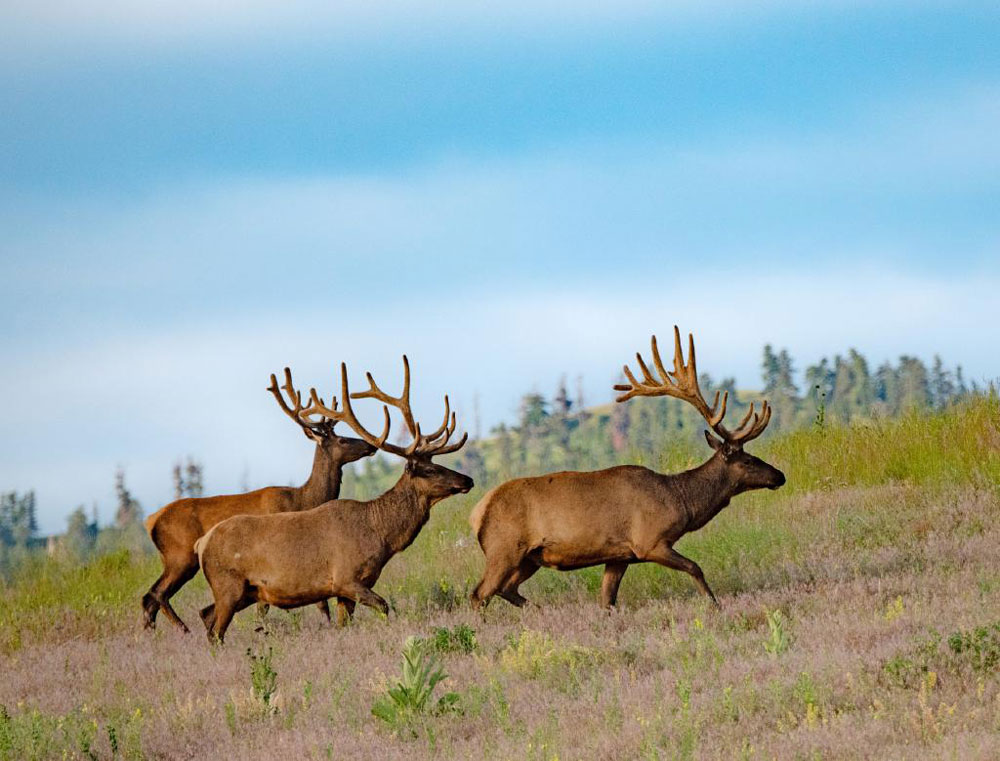 Glacier National Park
Glacier National Park has one of the largest intact ecosystems in the lower 48, making it a wildlife enthusiast's dream. Its vast ecosystem is home to black bears, moose, elk, bighorn sheep and the iconic grizzly bear—all living freely in their natural habitat. Birdwatchers will delight in the park's soaring raptors and diverse waterfowl, including harlequin ducks, which are a rare sight. Glacier National Park does not require a CUA, instead, there is a flat $200 fee per bus.
Goat Lick: On U.S. Highway 2 between West Glacier and East Glacier Park, this natural mineral lick attracts mountain goats in early summer. Accessible by motorcoach.
Logan Pass: Located at the top of the Going-to-the-Sun Road, bighorn sheep and mountain goats frequent this area. Large motorcoaches cannot drive the road due to vehicle restrictions but can access the area by booking a Red Bus or Sun Tour.
Many Glacier Valley: The Many Glacier Valley offers prime opportunities to spot a variety of wildlife. Groups can walk along Swiftcurrent Lake, take a boat tour with Glacier Park Boat Company or drive the valley road.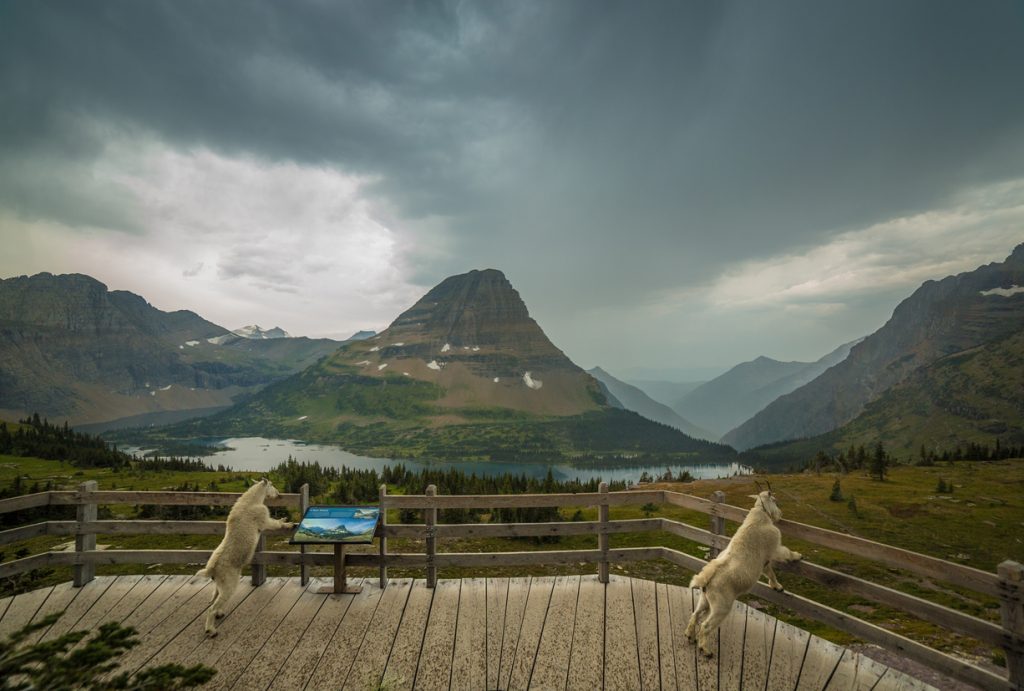 National Wildlife Refuges
Montana's National wildlife refuges and viewing areas provide a haven for diverse species. Each refuge boasts unique habitats and offers a glimpse of the region's most majestic inhabitants. National wildlife refuges have various fees based on group size; be sure to visit the refuge website for details when planning a trip.
The Lee Metcalf National Wildlife Refuge, located 2 miles north of Stevensville, is one of Montana's most popular. It offers close-up views of migrating waterfowl in the spring and fall along Wildfowl Lane, a county road that traverses the refuge. Visitors can also enjoy two short walks: the 2.5-mile Wildlife Viewing Area Trail and the 1.25-mile Kenai Nature Trail. Over 240 bird species have been observed in the area and mammals include white-tailed deer, yellow-bellied marmots, porcupines, beavers and gophers. The refuge's visitor center is open year-round.
The Ninepipe National Wildlife Refuge's pristine wetland complex in Charlo offers stunning views of the Mission Valley. Bird enthusiasts flock to this refuge, known for winter raptor viewing and the presence of over 200 bird species. The area also hosts mammals like white-tailed deer, grizzly bears on occasion and wetland creatures including muskrats, skunks, mice and voles. Directly across the highway from the refuge, explore the Ninepipes Museum of Early Montana, which boasts a wildlife display room. Driving on Ninepipe Road is available year-round while walking areas are limited due to water on the refuge.
The Swan River National Wildlife Refuge is nestled between the breathtaking Swan and Mission mountain ranges south of Swan Lake. It provides wetland and grassland habitat for 171 bird species, white-tailed deer, mule deer, elk, moose, beavers, muskrats and raccoons. Visitors can hike and snowshoe through the refuge from east to west via Bog Road. Near State Highway 83, there's an accessible information kiosk with interpretive signage and a viewing platform close to the parking area. The refuge is open year-round.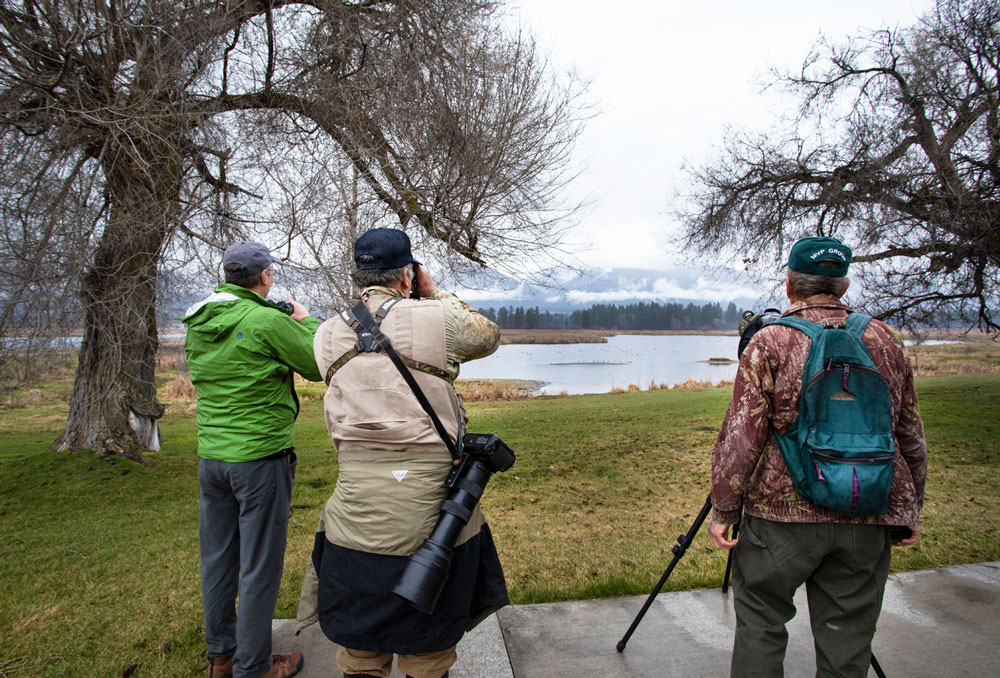 BONUS: Lone Pine State Park
Montana boasts 55 state parks, 24 of which are in Glacier Country. These parks provide access to some of the state's best nature-based experiences including wildlife watching, fishing, hiking, stargazing and more. Perched above the Flathead Valley, Lone Pine State Park is a year-round gem. Accessible trails offer opportunities to observe local wildlife. The park is ADA accessible and provides an Action Trackchair—an all-terrain wheelchair available free of charge. It boasts a visitor center with interpretive displays and a gift shop. In the winter, visitors can rent snowshoes from the visitor center and explore the park's 7.5 miles of trails.
Guided Wildlife Encounters
Montana's vast expanse of over 22,000 square miles offers a world of natural beauty and wildlife. While the opportunity to spot wildlife is abundant, deciding where to begin can be overwhelming. That's where guided experiences come into play, making wildlife watching effortless and enjoyable.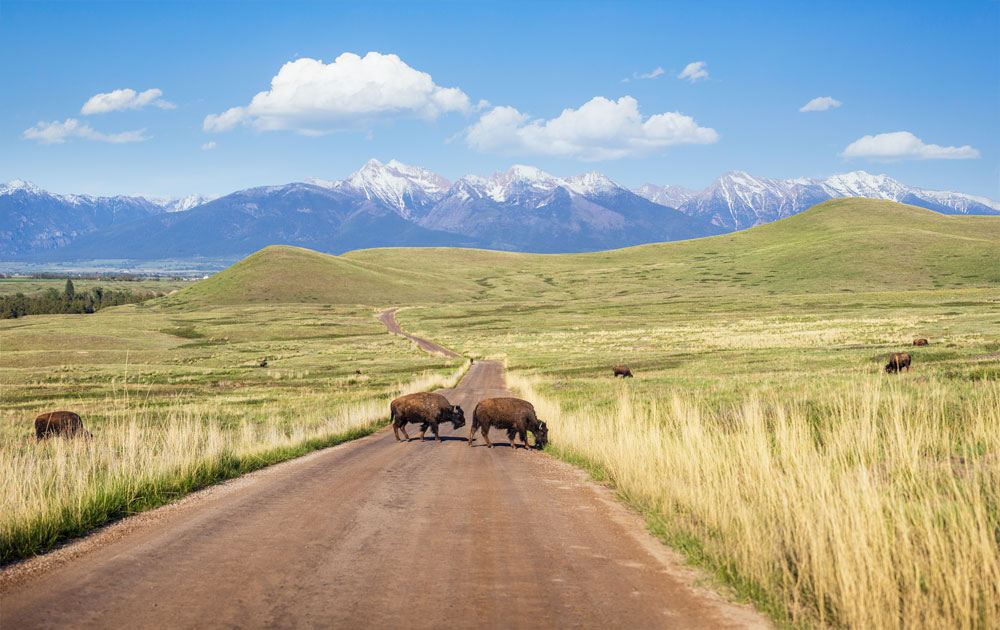 Be Wildlife Wise
While observing wildlife, it's essential to be responsible and protect these creatures' natural habitats. Follow these guidelines:
View wildlife from the safety of your car or from a safe distance. Stay at least 100 yards away from bears and at least 25 yards away from all other wildlife, such as mountain goats and bison.
Never approach, touch or feed wildlife, even when an animal does not seem to be threatened by your presence.
Let wildlife know you're nearby. When hiking, be sure to bring a friend, carry bear spray, stay on designated trails and make noise at regular intervals.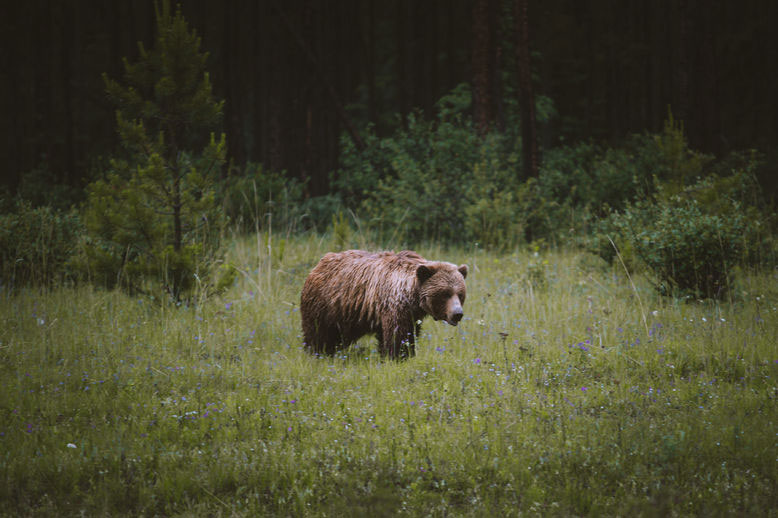 Read more on wildlife safety, including recreating in bear country, here. Montana's wildlife is a precious treasure, and experiencing it is a unique and unforgettable adventure. As you explore our magnificent landscapes, please do so responsibly to help protect and preserve our natural heritage.
For additional information on itinerary ideas, visit our tour operators page or feel free to contact us. We're always here to assist you.
AS & DP
October 25, 2023
Related: Bison Range, Bitterroot Valley, Charlo, Glacier National Park, Kalispell, Missoula, Seeley-Swan Valley, Stevensville, Tour Operator