Remember the solar eclipse in August 2017 and the amount of people who traveled—both domestically and internationally—to be under the direct path of totality? While Western Montana's Glacier Country wasn't in the totality path, we shared in the fascination that was happening in the sky.
As light pollution increases worldwide, so does the number of people seeking locations where they can see what a star-filled night sky looks like. Montana's endless blue skies are no secret; what we want people to know is those big blue skies turn into jaw-dropping starry nights. Our starry nights can be the star of the show on a Stargazing Tour in Western Montana.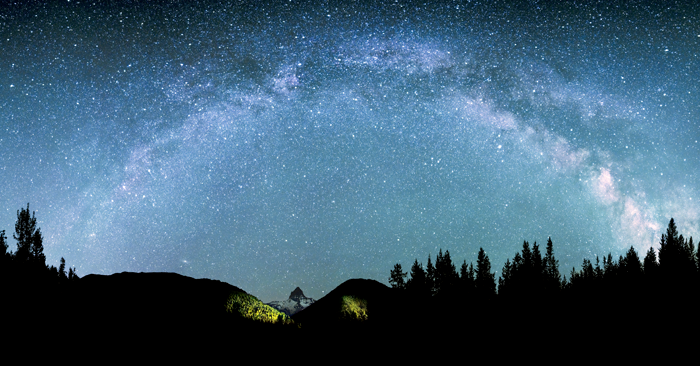 Blue Mountain Observatory
Starting the tour in Missoula, the Blue Mountain Observatory sits atop Blue Mountain at an elevation of 6,300 feet. It's about a 45-minute drive from the heart of downtown Missoula—a perfect distance from town, resulting in minimal light pollution. Coordinate timing so tours can participate in a public star party observation night to explore planets, star clusters, distant galaxies and nebulae. These are scheduled several times each summer. You'll also learn how to spot celestial objects with binoculars or the naked eye. Each clear night sky can offer a treasure trove of stars and views of the Milky Way.
Star Gazing Room: Payne Family Native American Center
The Payne Family Native American Center, located on the University of Montana campus in Missoula, was the first campus facility in the nation built specifically for a Department of Native American Studies and American Indian Student Services. The planetarium's Star Gazing Room takes viewers on an intergalactic journey led by a host astronomer focusing on topics including constellations, planets, deep sky objects as well as any current celestial events and a highlight of the star lore of different cultures. Groups can schedule a private showing in advance.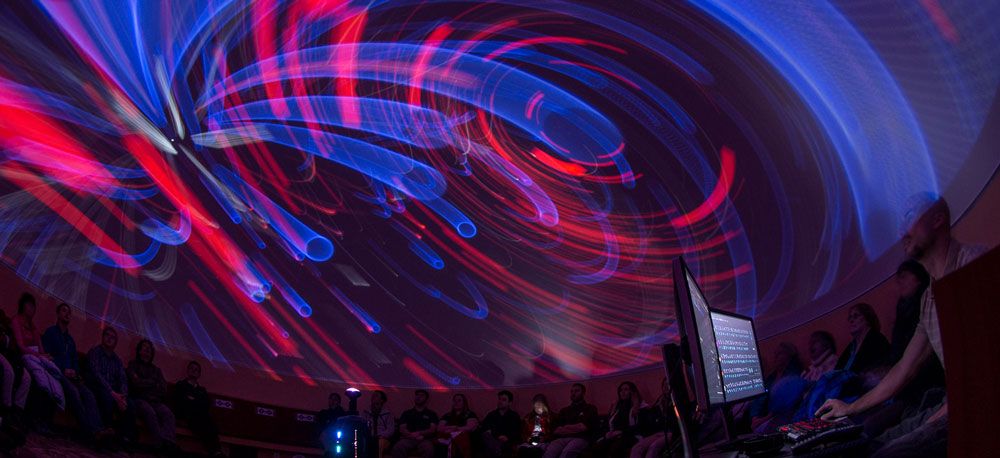 Lone Pine State Park
Located southwest of Kalispell, Lone Pine State Park offers an outstanding viewpoint of the Flathead Valley. Create your own star party or join one organized by Montana State Parks and the Big Sky Astronomy Club, which includes presentations with telescope and binocular explorations of the expansive night sky.
Glacier National Park Dark Skies
Of course, Glacier National Park is one of the best—and darkest—places to stargaze. Glacier is one of 26 parks to be internationally recognized as a Dark Sky Park, however, it was the first park to span an international boarder—the designation extending into the Waterton-Glacier International Peace Park. Glacier National Park received this designation for its minimal light and air pollution, a commitment to prevent light and air pollution, and the broad, unending expanse of sky over the park that creates a distinguished quality of starry nights. Among the most popular events offered several times a year by rangers and local astronomers are the Logan Pass Star Parties.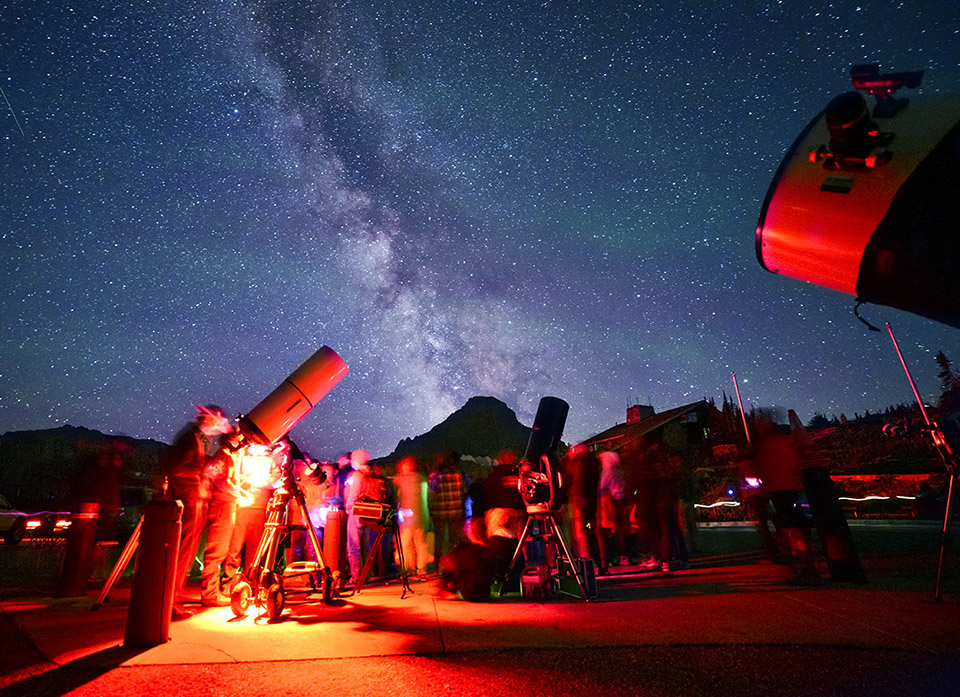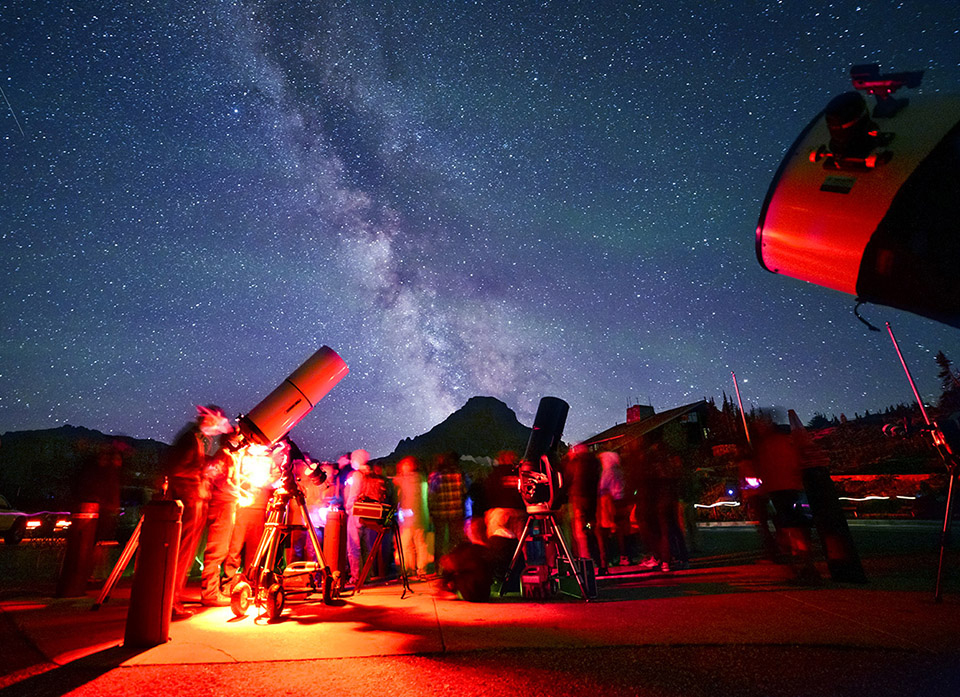 Dusty Star Observatory
On the east side of Glacier National Park sits St. Mary, home to the east entrance to the Going-to-the-Sun Road and the Dusty Star Observatory, funded by Glacier National Park Conservancy. The Star Dome is equipped with a 20-inch telescope, one of the largest telescopes in the National Park Service and the largest in Montana, which gives visitors high-resolution views of planets, galaxies and nebulae. If you're not looking through the telescope you can view the images on one of two 55-inch monitors mounted on the observatory.
The Half the Park Happens After Dark nightly astronomy program takes place in Apgar on the west side and St. Mary on the east side, June through September on clear nights, and tickets/reservations are not required.
Sightseeing Opportunities
Northern lights appear when the earth's magnetic field has been energized from solar events it will send charged electrons toward the poles. These collide with the upper atmosphere and produce light that we call the northern lights or aurora borealis. You can sometimes view the northern lights from the northern parts of Western Montana. Glacier National Park, the Northwest Corridor and the East Glacier Corridor are prime viewing areas, or head to Essex, Polebridge, Whitefish Mountain Resort or the Blackfeet Indian Reservation. Northern lights are most active between September and March.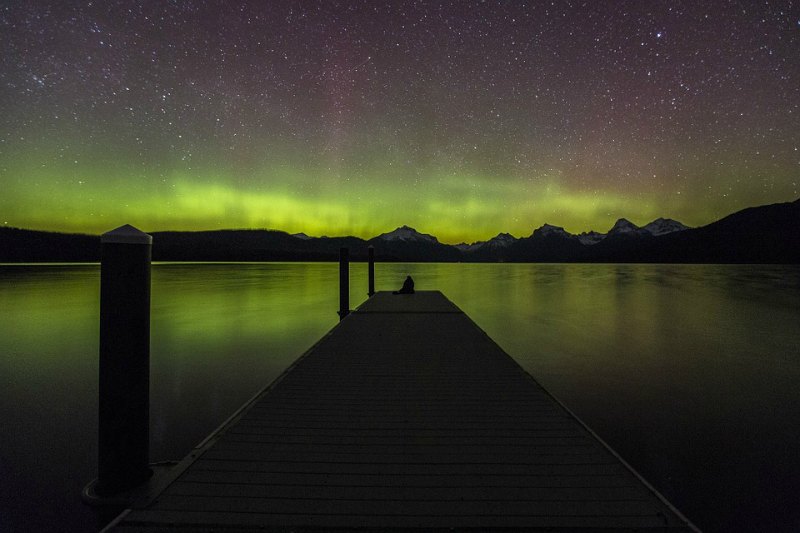 Things to note: Summer nights cool off in Montana after the sun sets. To thoroughly enjoy all late-night stargazing, bring necessities like warm clothes, blankets, camp chairs, headlamps or flashlights and something warm to drink. If you are looking for an amateur astronomer as a step-on-guide for your private tour, contact the local astronomy club for a night of stargazing. Please be aware they cannot conduct tours inside Glacier National Park but can find a great viewing location in the surrounding communities.
For more information on where to stay, eat and play during the day on a stargazing tour through Western Montana, please visit our Tour Operator site and specifically our suggested itineraries. If you need further information, send us an email. We are always here to help.
Happy stargazing,
DP & AS
February 18, 2022
Related: Canada, East Glacier Park, Flathead Lake, Glacier National Park, Group Tours, Kalispell, Missoula, Outdoor Adventure, Stargazing, Stargazing, Student tours, Tour Operator, West Glacier