Two of the most scenic states have joined forces to give you an itinerary with loads of wide-open spaces yet chock-full of fun. With natural wonders like Flathead Lake—the largest freshwater lake in the western United States—and Glacier National Park, the thriving Basque and art's culture in Downtown Boise, Idaho, the show-stopping International Dark Sky Reserve in Central Idaho, and a space-like experience at Craters of the Moon National Monument & Reserve, it's easy to spend seven days exploring the abundance of outdoor activities and cultural amenities.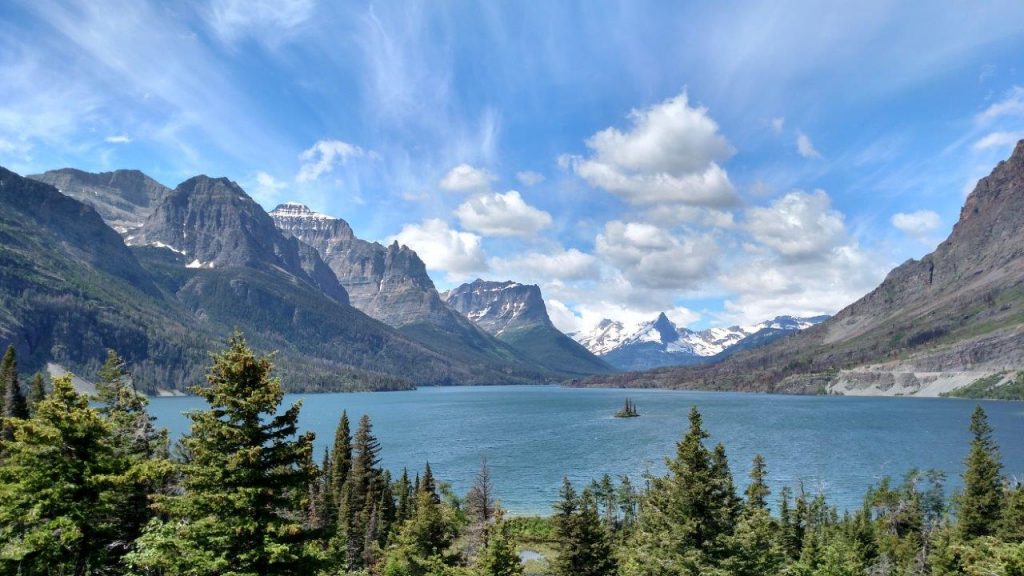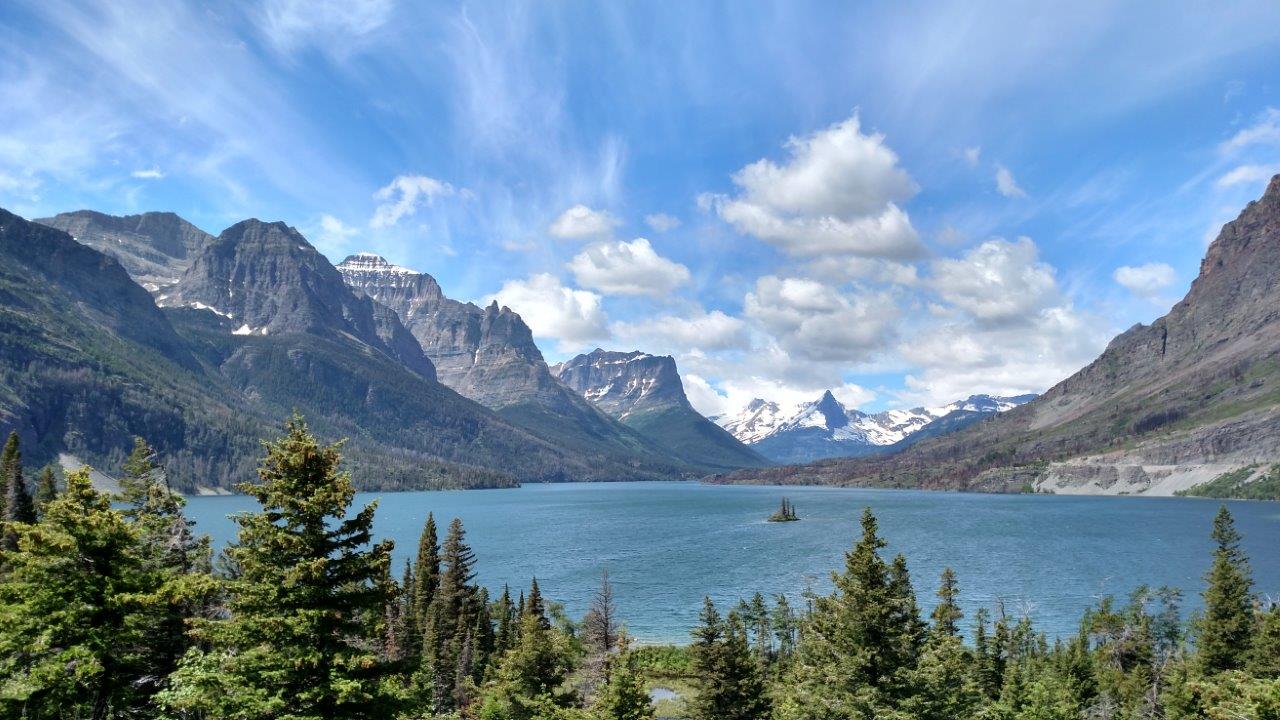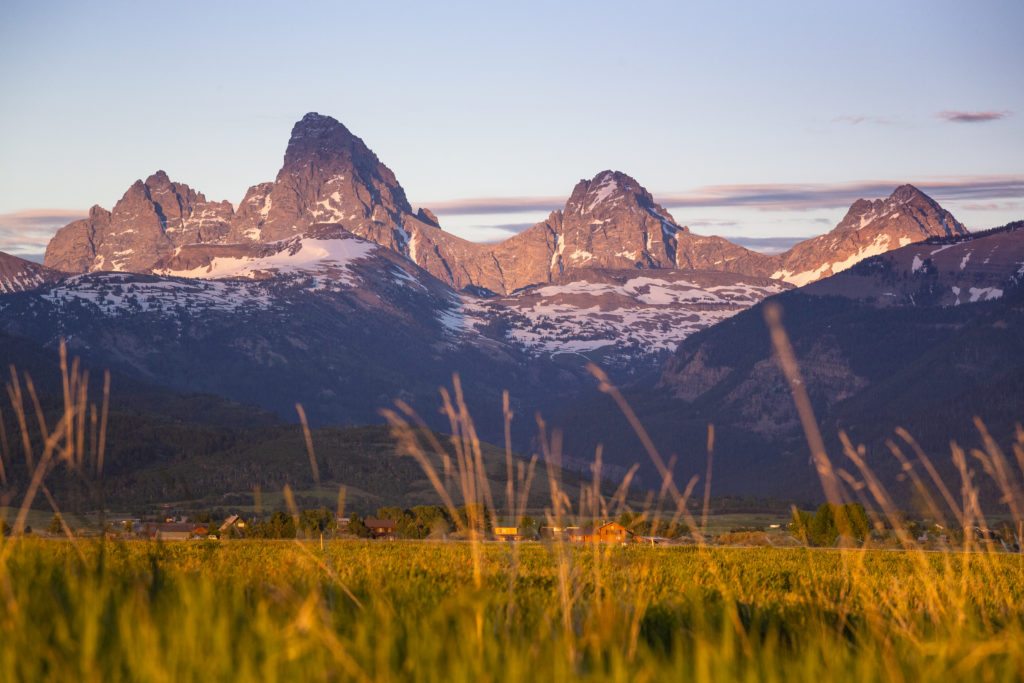 Day 1: Arrive in Boise
Once you arrive in Boise, learn why it's named the "City of Trees" amidst a high-desert landscape with a stroll along the Boise River Greenbelt or visit the Idaho Botanical Garden, 15 acres of lush gardens in the Boise Foothills. Next door to the gardens is the Old Idaho Penitentiary, a great historical destination to learn about Idaho's unique prison history.
Grab lunch on your own and head downtown to explore Freak Alley Gallery, the largest outdoor gallery in the Northwest. Established in 2002, the alley includes paintings and murals from local artists. For more art and history as you explore the city, use the Boise Arts & History interactive map to explore public art and historic assets.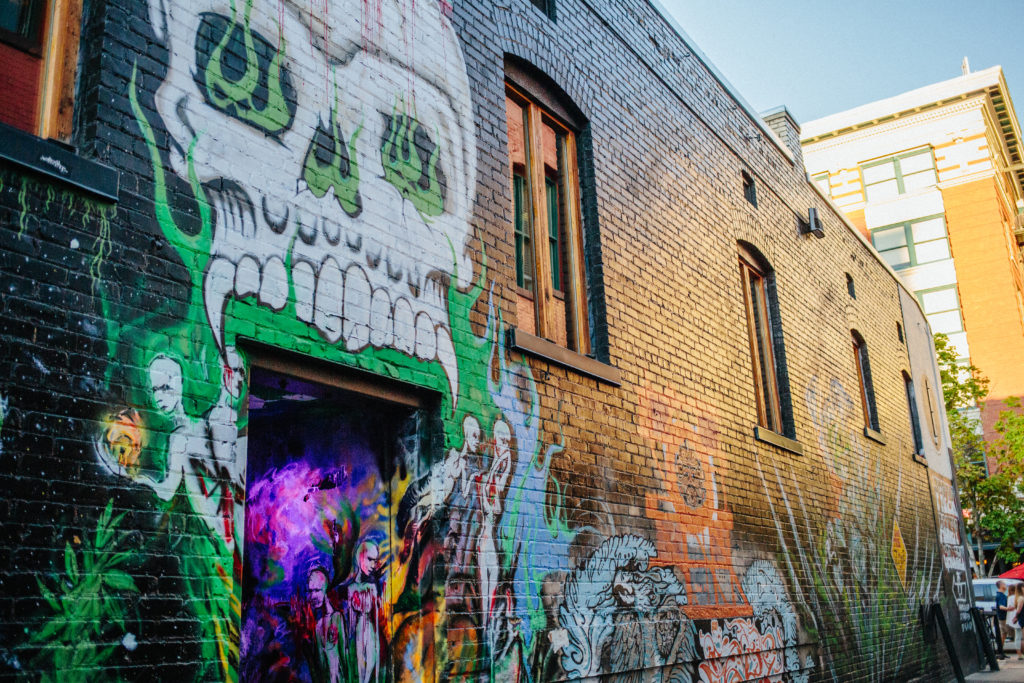 Boise has one of the largest populations of Basque people outside of the Basque Country in Spain, infusing this unique culture into the core of the city. Explore the Basque Block, including the Basque Museum & Cultural Center, before a meal of Basque fine dining at Leku Ona.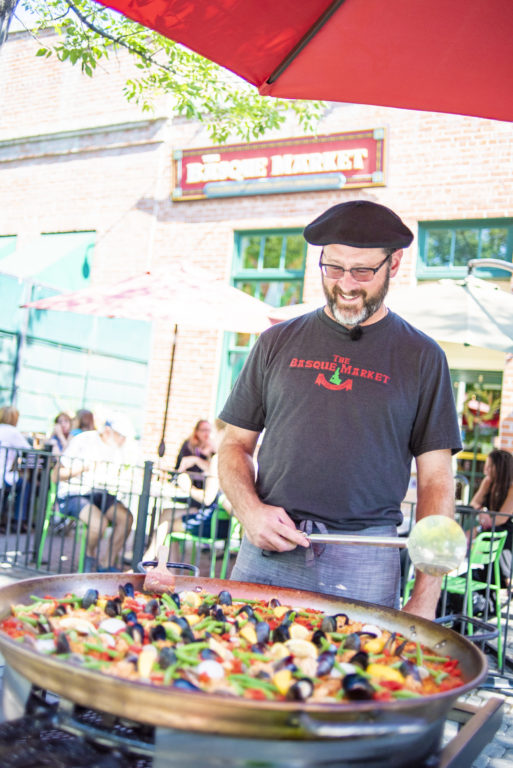 Overnight in Boise.
EATS:
Leku Ona – 208.345.6665
Trillium – 208.333.8002
Cottonwood Grille – 208.333.8900
SLEEPS:
The Hampton Inn & Suites – 208.331.1900
The Riverside Hotel – 208.343.1871
Day 2: Boise to Sun Valley
Start the day with your pick of Idaho state or art history:
James Castle House: The museum and artist residency honors the life and work of American artist James Castle and is one of the newest riches now open to the public. Castle, a self-taught artist known for works using found objects and homemade paints and washes, spent his years observing and recording life in his Boise home from 1931 to 1977. Castle was born deaf and never became proficient in reading, writing, or a conventional means of communication. This unique perspective is seen in his work reframing his surroundings and experimenting with letters, signs and symbols.
Idaho State Museum: Opened in 1950 and reopened after a $17 million renovation and expansion in 2018, the museum is filled with new and historical exhibitions reflecting the premise that people and the land shape each other. Idaho's story is told geographically focused on northern Idaho, central Idaho and southern Idaho.
Next, pick up a boxed lunch to enjoy on the way to Craters of the Moon National Monument and Preserve (3.5 hours). Traverse the unique landscape to experience a true natural curiosity that served as a training ground for the astronauts of the Apollo 14 mission. Navigate through the volcanic remains via a loop drive or by taking the network of trails on foot. Marvel at the expansive lava flows and take an exploratory hike through caves and craters.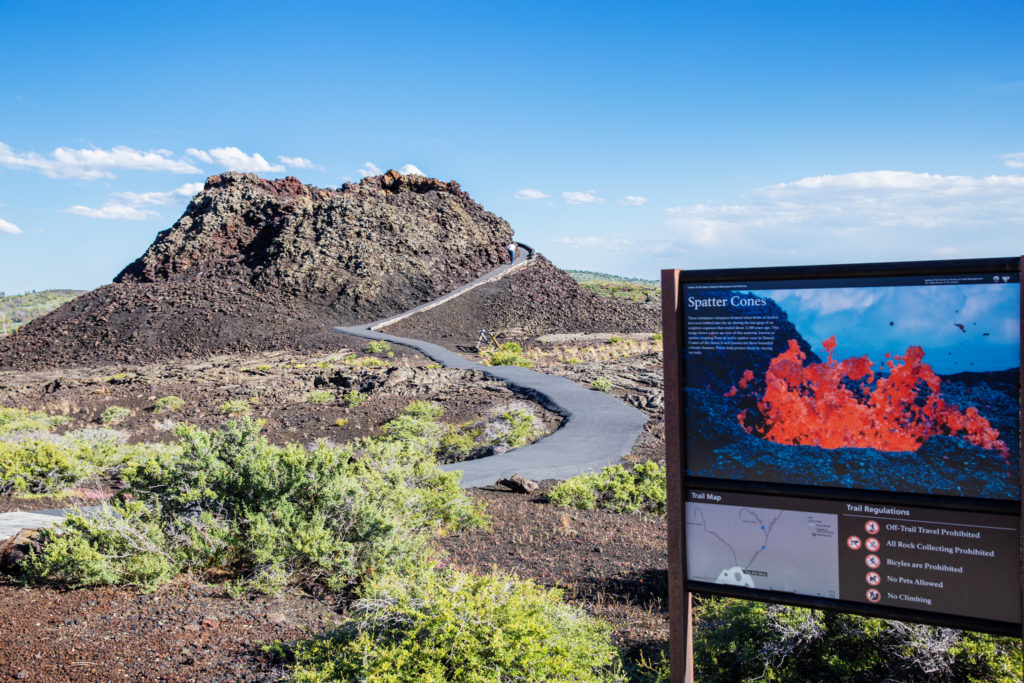 Drive northwest along US-20 and State Highway 75 to reach Sun Valley (2 hours). Walk around the downtown shops and galleries of rustic and cozy Ketchum before dinner at the Sawtooth Club. If you're visiting in late July through mid-August, catch a free classical music concert from the Sun Valley Music Festival.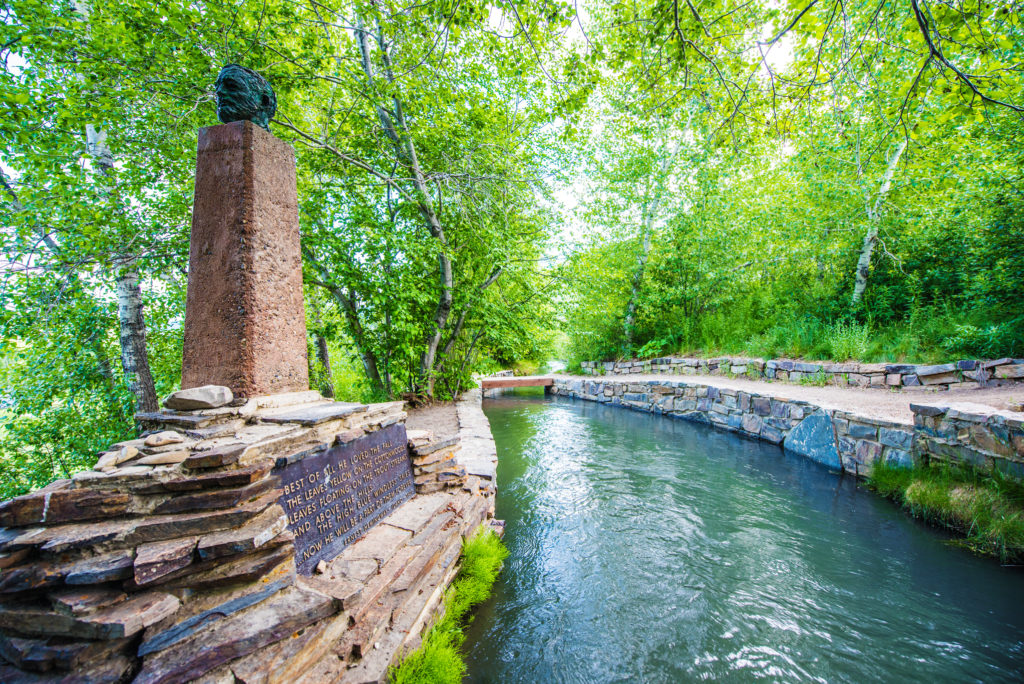 Overnight in Hailey or Bellevue.
EATS:
Sawtooth Club – 208.726.5233
Sun Valley Brewing Company – 208-788-0805
SLEEPS:
Silver Creek Hotel – 208.725.8282
Day 3: Sun Valley to Salmon
Start your day with a morning activity exploring the natural playground of Sun Valley with a hike (Adams Gulch is a nice, leisurely 2.5-mile option) or a bike ride. Or take in an art or history museum.
As you begin the drive to Salmon, take the Sawtooth Scenic Byway on State Highway 75 through the Sawtooth National Forest and Idaho's fertile agriculture land. After a little over 3 hours, you'll be ready to stop in Stanley to stretch your legs along the shores of Redfish Lake and eat lunch at Stanley High Country Inn.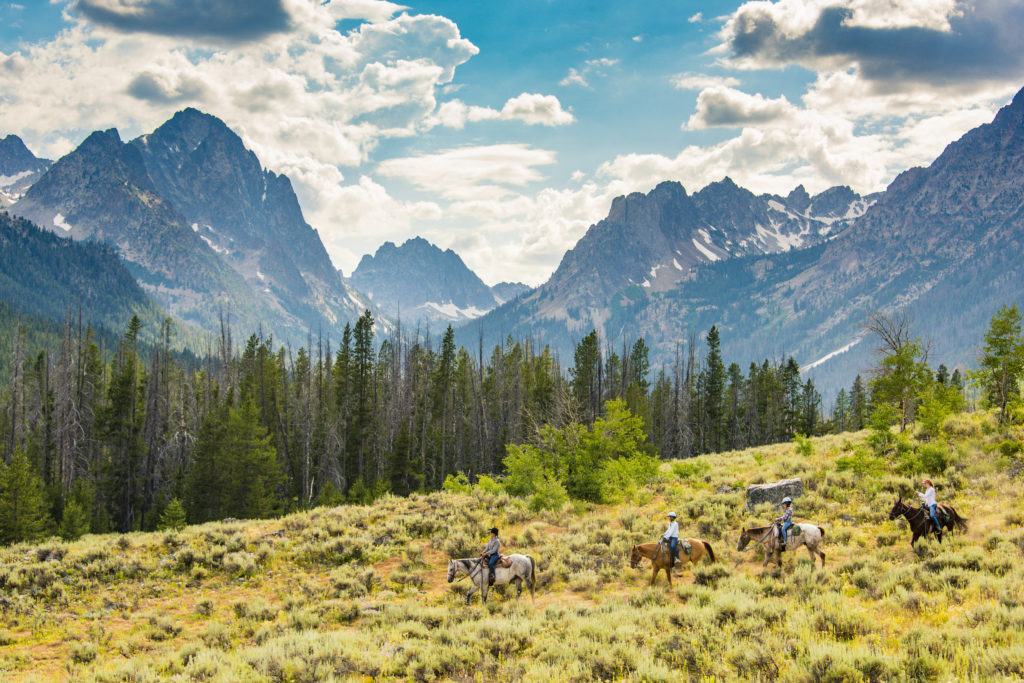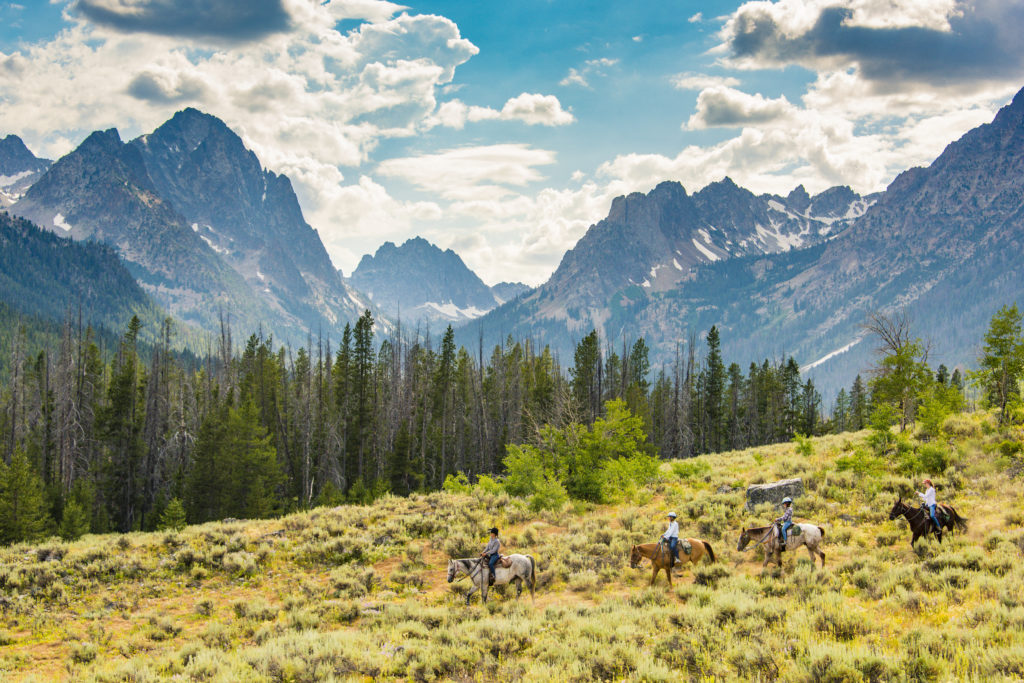 Continue driving along State Highway 75 for 2.5 hours along the Salmon River Scenic Byway towards Salmon and stop at the Land of the Yankee Fork State Park near the halfway point. The park highlights Idaho's frontier mining history with historical sites, ghost towns and an interpretive center including museum exhibits where you can test your gold-panning skills.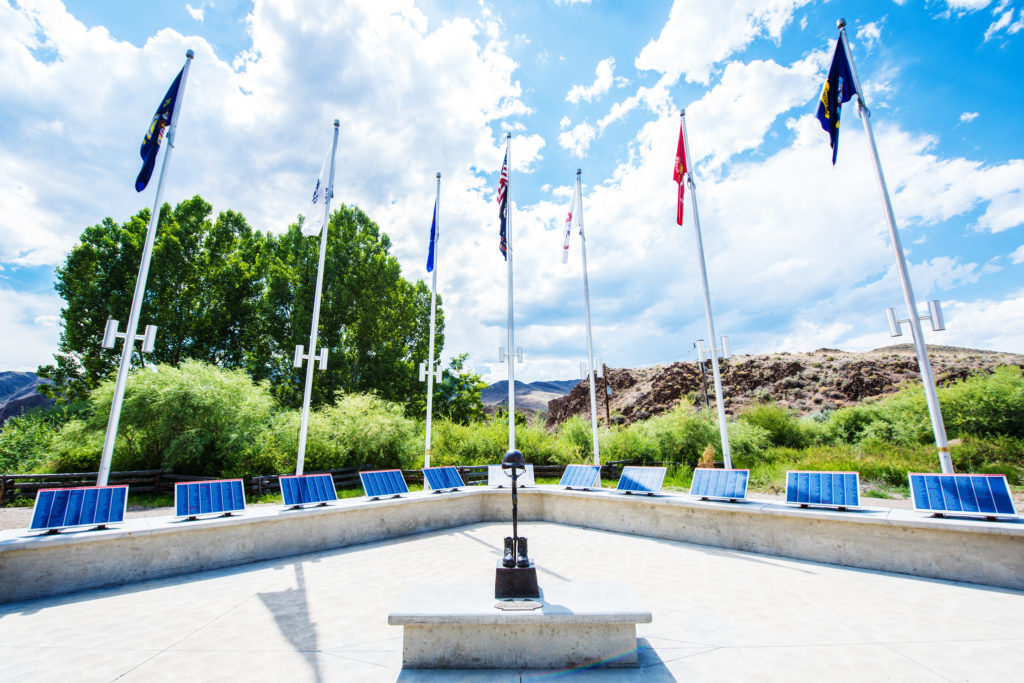 Finish the day driving on U.S. Highway 93 to Salmon and enjoy a replenishing dinner of tapas, pizza and pasta at Junkyard Bistro.
Overnight in Salmon.
EATS:
Stanley High Country Inn – 208.744.7000
Junkyard Bistro – 208.756.2466
SLEEPS:
The Stagecoach Inn – 208.756.2919
Day 4: Salmon and The Bitterroot Valley
Start your day at the Sacajawea Interpretive, Cultural & Educational Center. Discover and honor the story of Sacajawea at the center dedicated to her memory and information about the Lewis & Clark Expedition and Agaidika Shoshone-Bannock Tribe. The lush 71-acre park features an interpretive center, artifacts, scenic walking trails and special summer programming.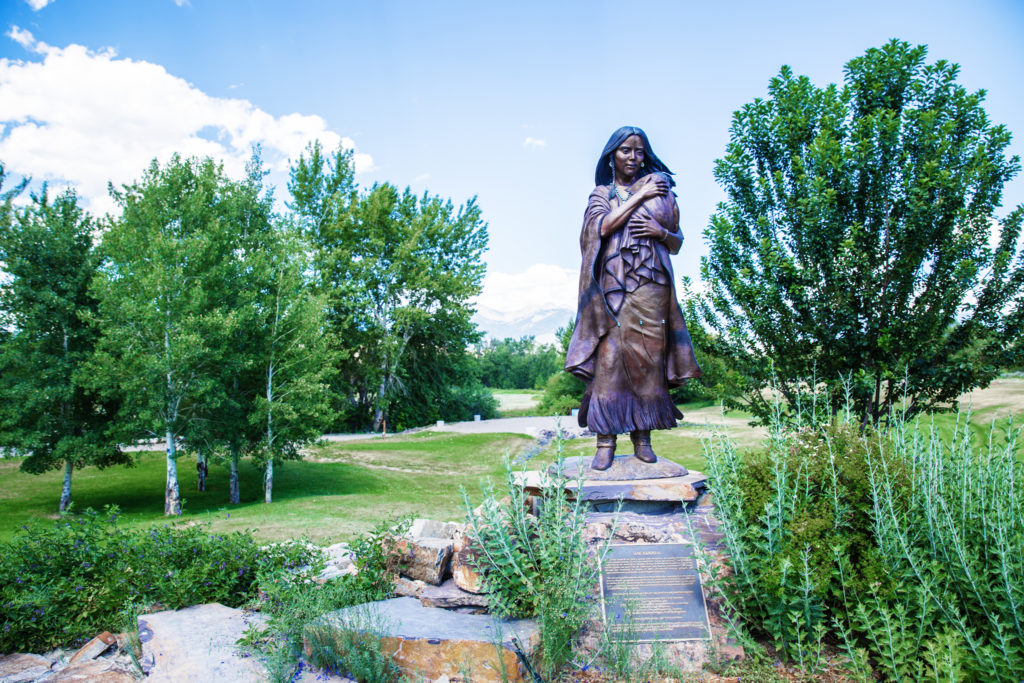 Your afternoon takes you farther north as you cross the Idaho/Montana border at Lost Trail Pass and descend into the Bitterroot Valley—home to the No. 1 rated TV series "Yellowstone," featuring Kevin Costner. Be on the lookout on the south side of Darby for Chief Joseph Ranch, currently home to the Dutton Ranch and the lively cast of characters from the show. While the ranch is not open for tours, you can see the Y on the barns above the driveway entrance.
Stop in Darby and experience a truly western feel as you walk along the boardwalk sidewalks and visit one of the best candy stores in the valley. Then stop in at the Pioneer Memorial Museum located in the middle of town and housed in a hand-hewn log homestead showcasing pioneering history with artifacts and work implements of early settlers.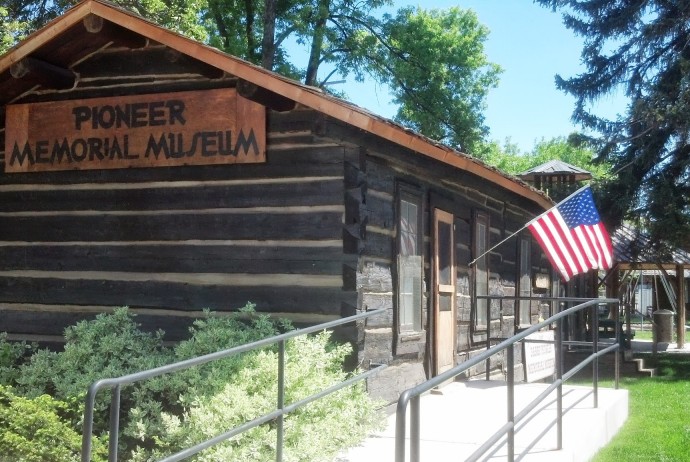 Continue 15 minutes north and you'll soon be in Hamilton—the largest town in the Bitterroot Valley. Experience the buzzing art scene with many galleries and shops full of work from local artisans, ranging from original paintings to sculptures and woodcarvings. Other great activities include sapphire mining for that perfect gem at Sapphire Studios in Hamilton or schedule a casting lesson on the Bitterroot River. For dinner, stop at one of the Bitterroot Valley's craft breweries for a taste and a tour. Enjoy a wood-fired pizza or burger and a microbrew. Depending on the time of year, walk the farmers market, catch live art with the Bitterroot Performing Arts Series, a Montana A Cappella Society concert or the Hamilton Players live theater.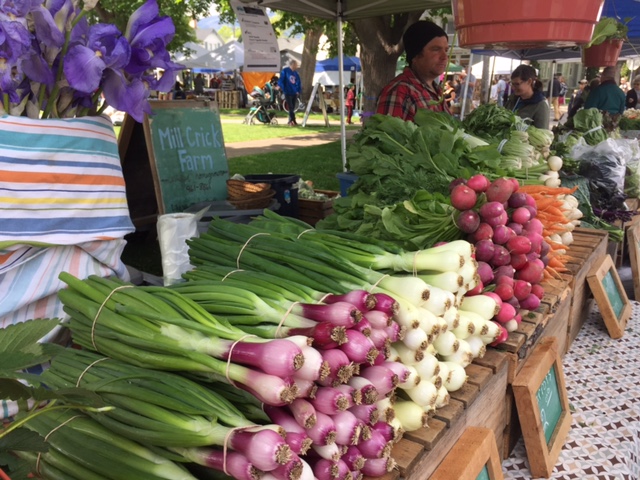 Overnight in Hamilton.
EATS:
Higherground Brewing Co. – 406.375.5204
Bouilla – 406.361.0223
Bitter Root Brewing – 406.363.7468
SLEEPS:
Bitterroot River Inn & Conference Center – 406.375.2525
Day 5: Missoula and Polson
Start the day visiting the Daly Mansion—just outside of Hamilton. Take a docent-led tour of the summer home of copper baron and millionaire Marcus Daly, his wife Margaret and their four children. The structure evolved from a two-story farmhouse into a 24,000-square-foot mansion with 25 bedrooms and 15 bathrooms on 50 stunning acres in the heart of the Bitterroot Valley.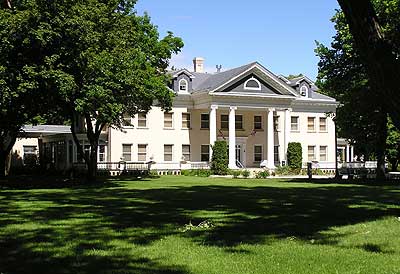 A short 30-minute drive north on U.S. Highway 93 is Lolo, home to Travelers' Rest State Park and Holt Heritage Museum. Travel back in time and experience this centuries-old gathering place and campsite where Lewis and Clark rested and prepared for their journey to and from the Pacific Ocean more than 200 years ago. It is the only archeologically verified site with physical evidence of their journey. The Holt Heritage Museum (tours by appointment only) includes memorabilia and an expansive collection of American Indian artwork as well as western wear, including hats and boots worn by some pretty famous cowboys and cowgirls.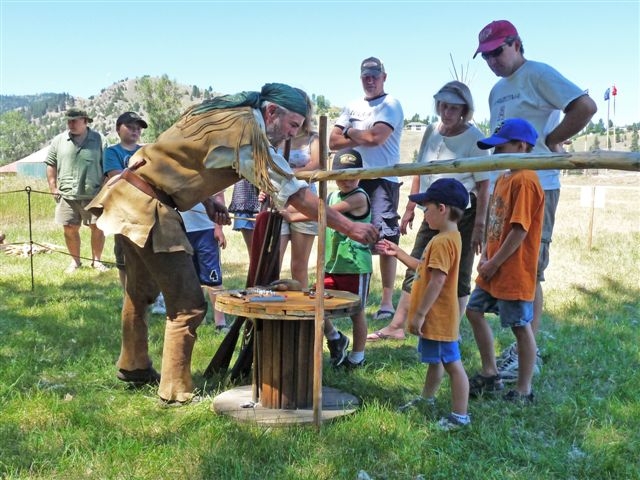 Visit Missoula for lunch and a visit to the Smokejumper Visitor Center, located near the Missoula Montana Airport. As the nation's largest training base for smokejumpers, the visitor center showcases displays, dioramas and videos related to the history of America's legendary parachute wildfire fighters. Take a guided tour of the parachute loft and see the brave men and women who face these wildfires.
Head north on US-93 out of Missoula and you'll soon be on the tribal lands of the Flathead Indian Reservation. The reservation encompasses 1.3 million acres and is home to the Confederated Salish and Kootenai Tribes. Just off the highway in St. Ignatius is the St. Ignatius Mission that was established in 1891 by American Indians and Jesuit missionaries and has 58 hand-painted murals adorning the walls and ceilings. The murals were painted by Brother Joseph Carignano, a self-taught artist who worked as the mission's cook and handyman.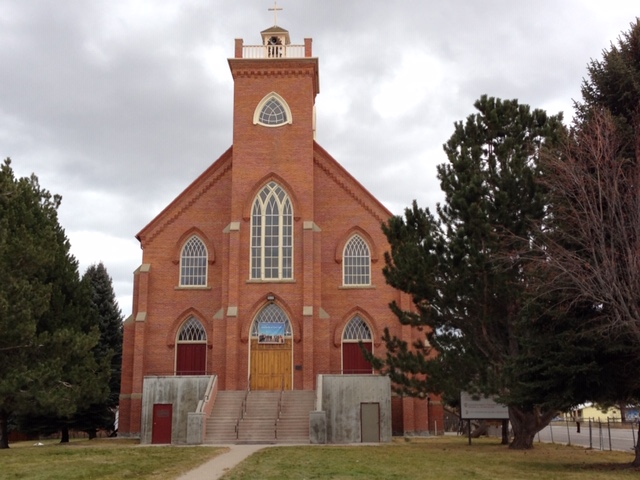 Make a stop at Ninepipes Museum of Early Montana to experience a treasure trove of information including exhibits, artifacts and displays from early settlers. There is also a life-size Indian village along with traditional Indian beadwork, dress and weaponry. Take a quick peek into the shop next door—Great Gray Gifts—for the perfect made-in-Montana souvenir.
Polson is your next stop, located on the southwest shore of the beautiful Flathead Lake. Enjoy exploring downtown Polson or take a boat tour from Kwataqnuk Resort & Casino's marina on The Shadow. Choose between a narrated bay cruise (1.5 hours) or cruise to the shores of Wild Horse Island, the largest island on Flathead Lake. The island is a state park and home to 100 different birds and mammals, including bighorn sheep, bald eagles, osprey, mule deer and the descendants of a herd of wild horses that the Flathead Indians swam out to keep neighboring tribes from stealing (3 hours). Or visit Polson's Miracle of America Museum and its vast collection of Americana curiosities.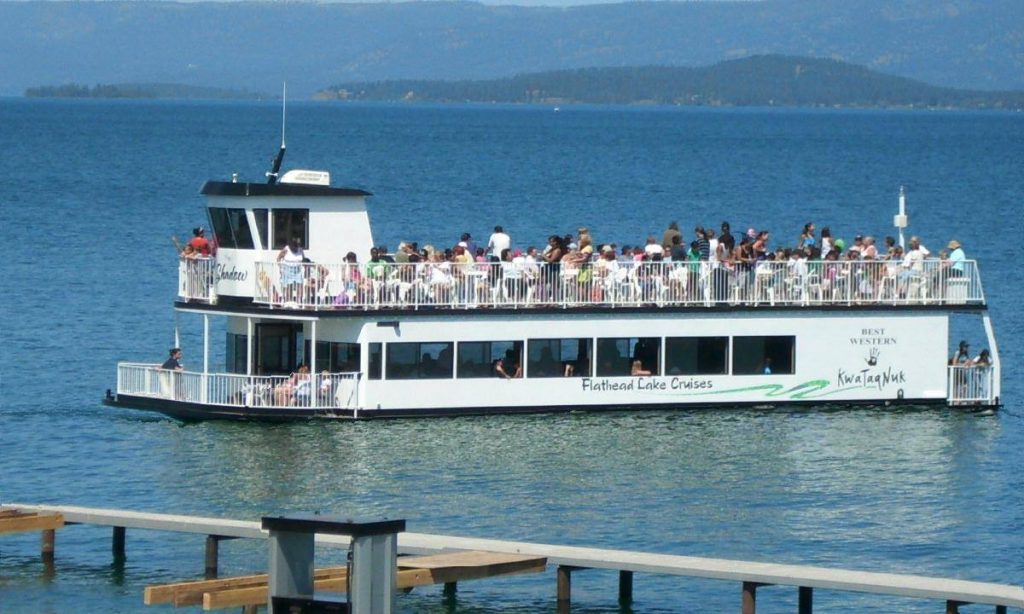 Overnight in Polson.
EATS:
Mackenzie River Pizza Co. – 406.872.2100
SLEEPS:
Red Lion Ridgewater Inn & Suites Polson – 406.872.2200
Day 6: Whitefish
Spend your day in charming Whitefish. Downtown Whitefish is perfect for leisurely strolls from unique galleries and shops to delicious eateries. Must-stop places for one-of-a-kind finds line downtown Whitefish's Central Avenue.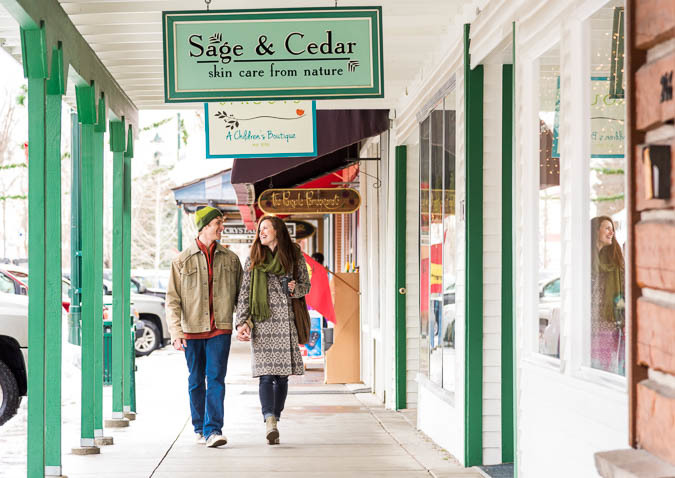 History buffs will enjoy the historical Great Northern Railway Depot. Here, Amtrak trains still come and go in the same fashion as the early models that brought tourists to Glacier National Park. Through collections that span from fur-trapper times to the early days of skiing, the Stumptown Historical Museum tells the story of how the logging camp of Stumptown became Whitefish.
Whitefish Mountain Resort's Summit Nature Center (15 minutes from downtown Whitefish) sits atop Big Mountain in the Summit House. Take a chair lift/gondola (20-minute ride) to the top. Managed by the U.S. Forest Service, the Nature Center features interactive, hands-on exhibits about the region's flora, fauna, geology, fire ecology and history. The summit offers fabulous views of the Flathead Valley and peaks of Glacier National Park. Other activities include the wildly popular and exhilarating zip line tours. The resort has a 5-zip tour and 7-zip tour, with both featuring lines that range from 100 to 1,900 feet long!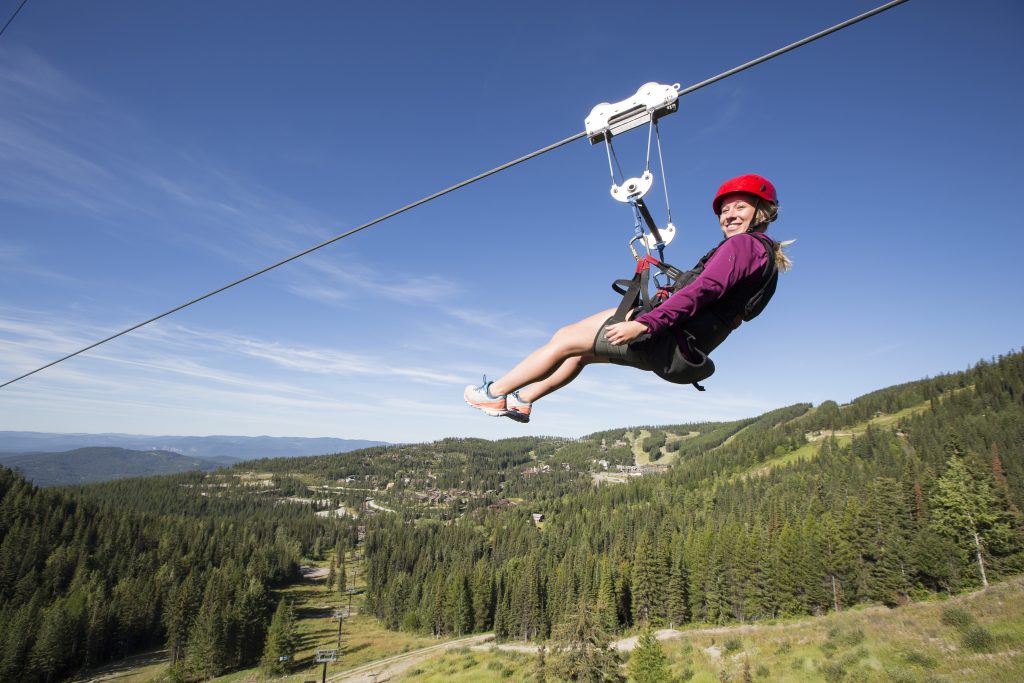 Check what's playing at two of Whitefish's remarkable performing arts venues—the O'Shaughnessy Center and the Whitefish Performing Arts Center at Central School. If you can, catch a Broadway-caliber performance from the Alpine Theatre Project.
Whitefish also has a variety of group-friendly dining experiences. After a wagon ride at Bar W Guest Ranch, sit down and enjoy an awesome Montana dinner in an open meadow, complete with live, country entertainment. Or dine at Grouse Mountain Lodge and enjoy a meal overlooking the 18th hole on the Whitefish Golf Course, with a backdrop of the Whitefish Mountain Range.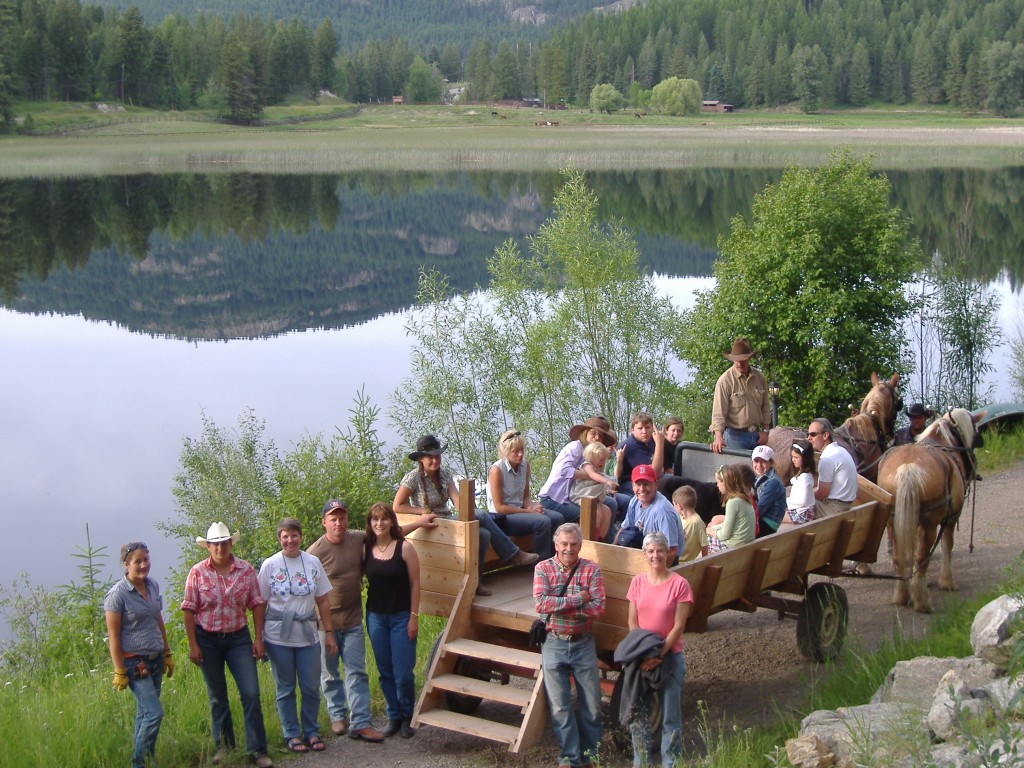 Overnight in Whitefish.
EATS:
Abruzzo Italian Kitchen – 406.730.8767
Casey's Whitefish – 406.862.8150
SLEEPS:
Grouse Mountain Lodge – 406.862.3000
The Firebrand Hotel – 406.863.1900
Hampton Inn & Suites – 406.730.8901
Day 7: Glacier National Park
Today, you'll get up early and head to the Crown of the Continent—Glacier National Park. You'd be hard-pressed to find a more scenic drive in the lower continental United States than the Going-to-the-Sun Road in Glacier National Park. A wilderness of lakes, towering peaks and remnants of glaciers is readily accessible.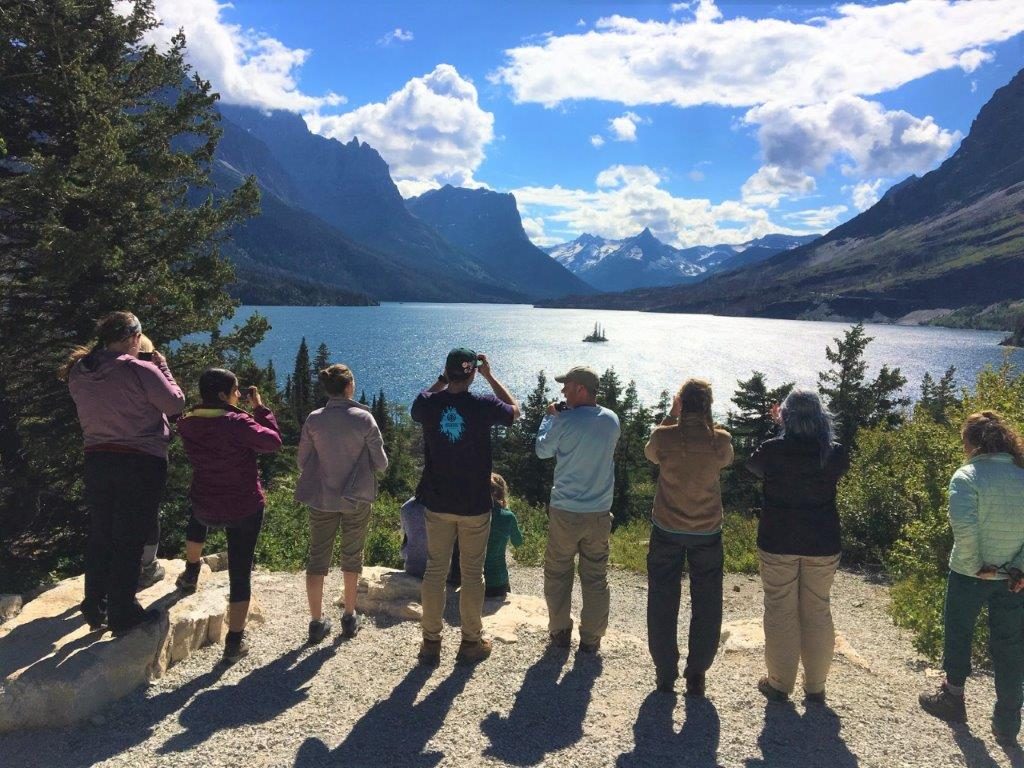 Travel to the hand-hewn, grand Lake McDonald Lodge (1 hour from Whitefish) where you can hop aboard a red bus for a tour of the 50-mile-long Going-to-the-Sun Road (various tour lengths available; reservations required). The historic, canvas-top tour buses were introduced in the 1930s and have since been restored and outfitted with propane engines as a gift from the Ford Motor Company. Additionally, Sun Tours offers tours on the Going-to-the-Sun Road with narrative from the Blackfeet Indian perspective. Since a motorcoach exceeds the road's size restrictions (21 feet in length), the motorcoach can only go as far as Avalanche Campground on the west side of Glacier National Park, either park at Apgar Visitor Center or Lake McDonald Lodge.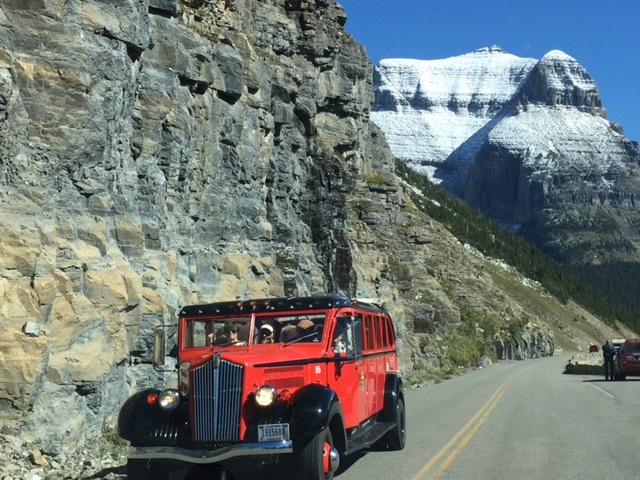 Narrated boat tours with Glacier Park Boat Company are offered several times a day on Lake McDonald and St. Mary Lake. The St. Mary Visitor Center is also definitely worth a stop.
Itinerary options in Glacier National Park:
– Half-day or full-day Red Bus Tour or Sun Tour.
– Lunch at Lake McDonald Lodge.
– Historic boat ride with Glacier Park Boat Company on Lake McDonald or St. Mary Lake.
– Take a self-guided hike or go as a group with Glacier Guides.
– Horseback trail ride with Swan Mountain Outfitters from their stables across from Lake McDonald or in West Glacier.
– Raft either scenic or whitewater with one of the many guiding companies.
Overnight in Whitefish.
EATS & SLEEPS:
Grouse Mountain Lodge – 406.862.3000
The Lodge at Whitefish Lake – 406.863.4000
The Firebrand Hotel – 406.863.1900
Hampton Inn & Suites – 406.730.8901
The Pine Lodge – 406.204.4519
Day 8: Depart Glacier Park International Airport (FCA)
If you need help with your Idaho and Montana itinerary, I'm always here to help.
Recreate Responsibly,
DP
March 3, 2021
Related: Bitterroot Valley, Darby, FIT, Flathead Lake, Glacier National Park, Group Tours, Hamilton, Itinerary, Lolo, Missoula, Polson, Tour Operator, Uncategorized, Whitefish