Destination weddings are meant to be a magical experience for the couple, family and guests alike. While many consider beach locations for destination weddings, mountainous areas are quite the trend these days. Western Montana offers the variety and backdrop to make weddings the one-of-a-kind experience most couples are looking for when they plan for a destination wedding. We've highlighted some of the reasons why Western Montana's Glacier Country has become one of the nation's top destinations for couples on their magical day.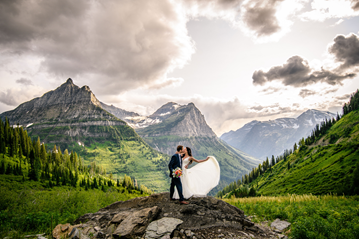 THE LANDSCAPE
Fresh mountain air, big-sky views and natural landscapes are a photographer's dream as they capture the "I do's" of the special couple at destination weddings across Western Montana. Wide expanses of land meet the rugged beauty of mountains and valleys providing a breathtaking backdrop for that perfect destination wedding. Couples can decide if a field of spring wildflowers, a winding river or the rugged mountains is what fits the ideal for their special day.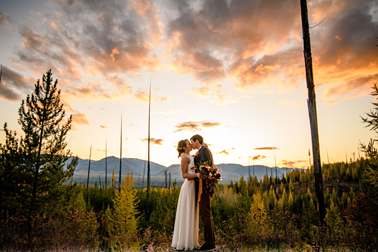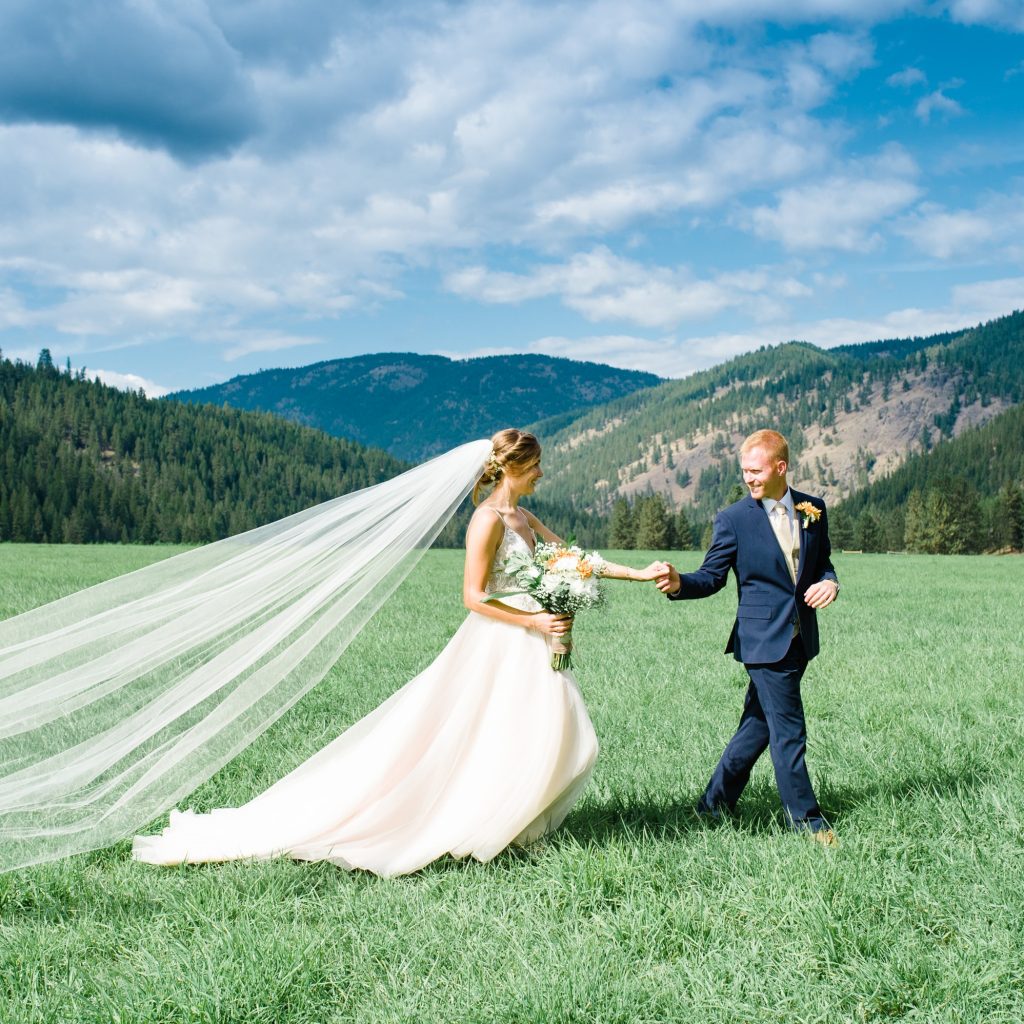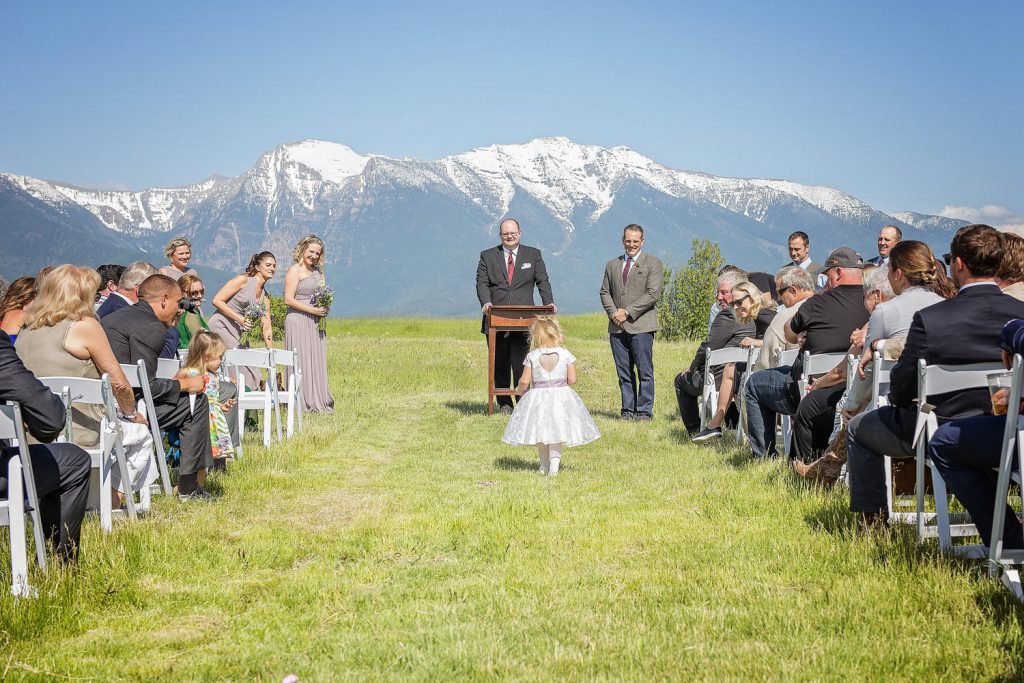 THE SEASONS
During the warmer months of June, July and August when outdoor weddings are the most popular, couples will need to plan far in advance to bring romance and nature together for a beautiful wedding. Venues are reserved a year or two in advance particularly on weekend dates. September and early October make for a breathtaking outdoor scene with the fall foliage turning vibrant hues of gold, red and orange, but consider a backup plan to move the ceremony indoors, as weather can be unpredictable. In the cooler months, select venues with western charm or historic significance to celebrate the glorious day. Winter weddings are stunning in Western Montana and can save on costs with lower prices for venues in the shoulder season. We recommend couples do a little research beforehand and try to stay away from dates when popular annual festivals, traditional events and music concerts take place in the destination. For example, hotel rooms can be hard to come by when there is a home University of Montana Griz football game in Missoula.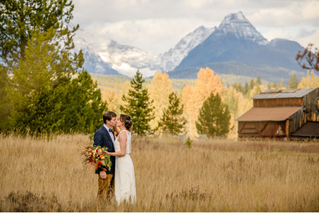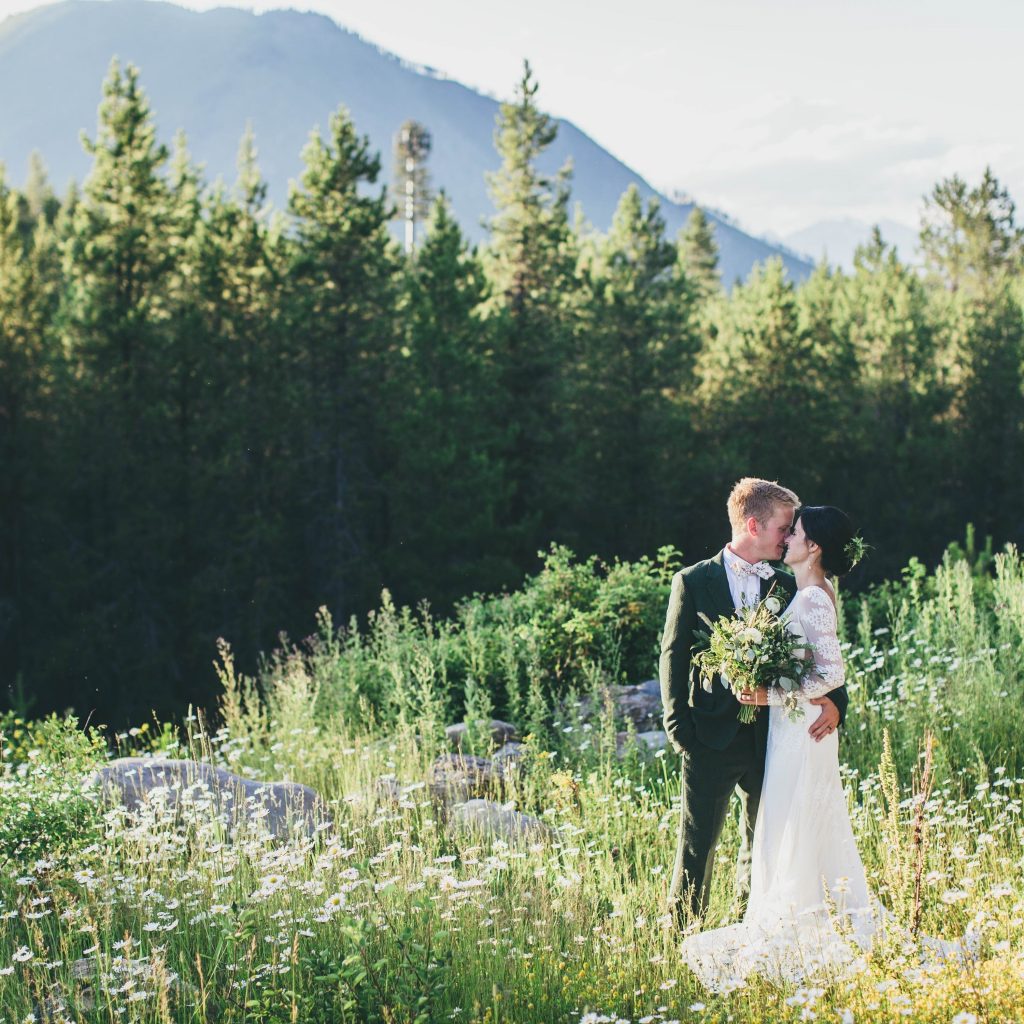 THE VENUES
From a pavilion overlooking the largest freshwater lake in the West—Flathead Lake—to a quaint, rustic barn nestled in one of Glacier Country's many majestic valleys, Western Montana has venues to meet the needs of the happy couple. Our luxury guest ranches are a favorite choice among many. Whether the couple is looking for a black-tie event or rustic Montana-chic wedding—guest ranches can create the ideal romantic setting. Unique Montana venues abound, like lakeside lodges, hot springs resorts, rustic barns, fields along riverbanks and mountaintop venues. Of course, getting married in Glacier National Park is a draw for many couples and requires a special permit along with specific rules to follow.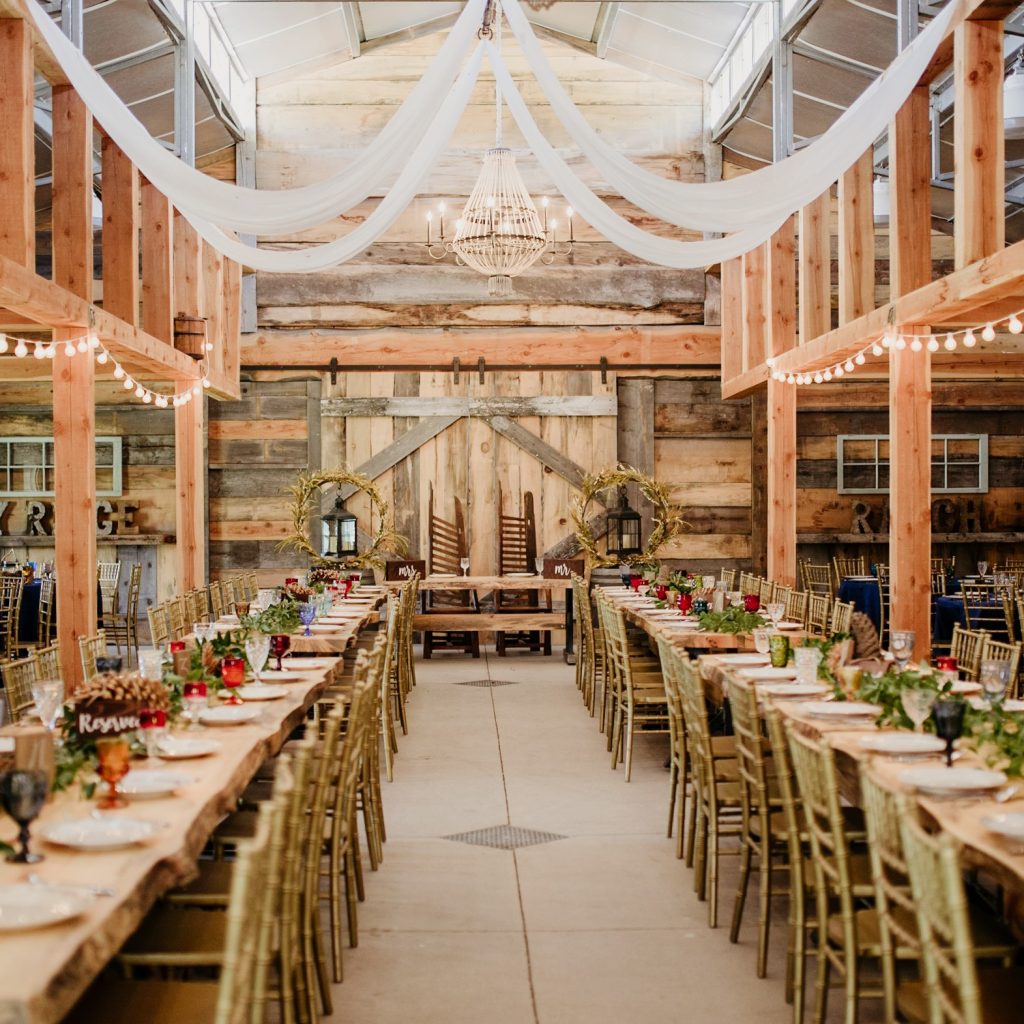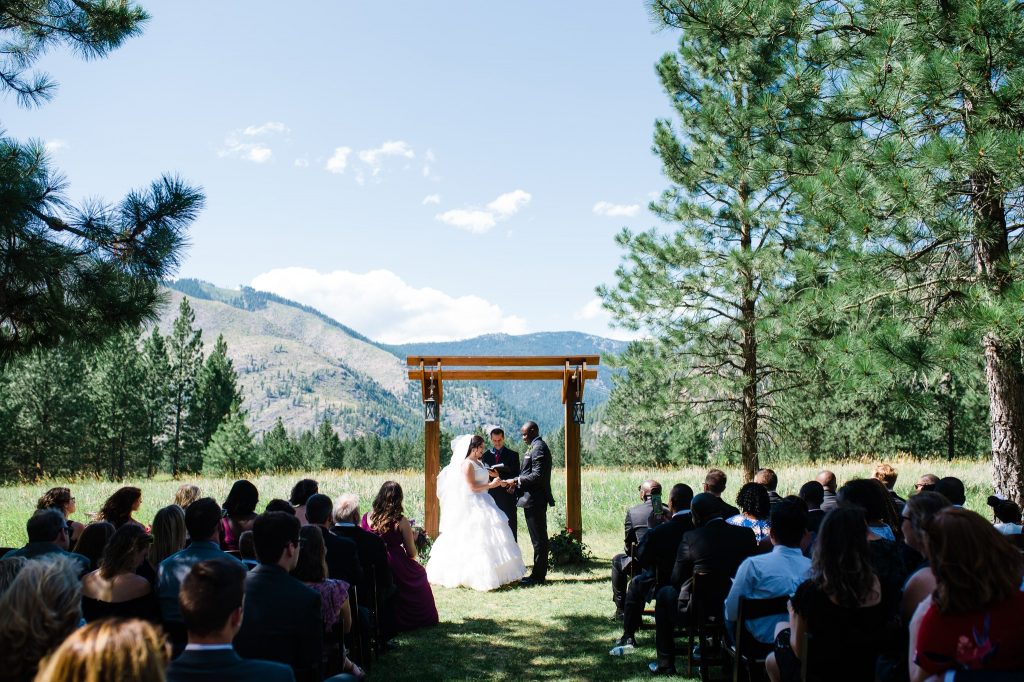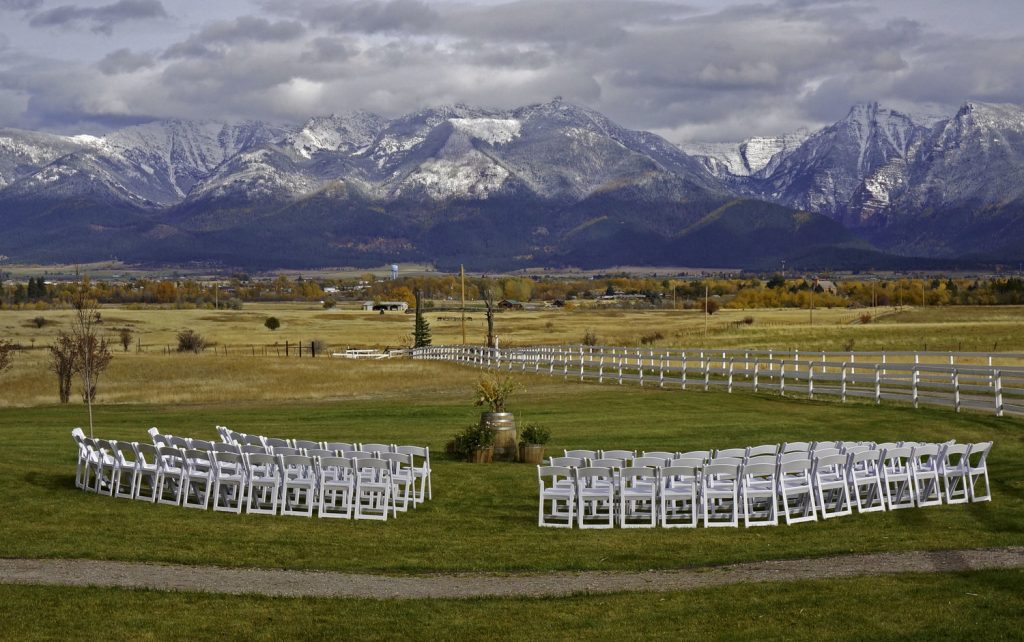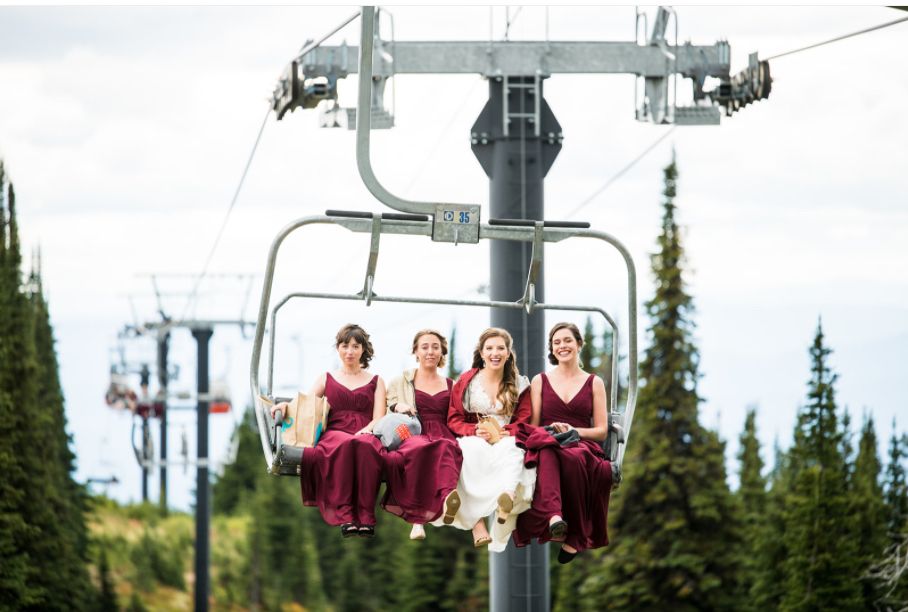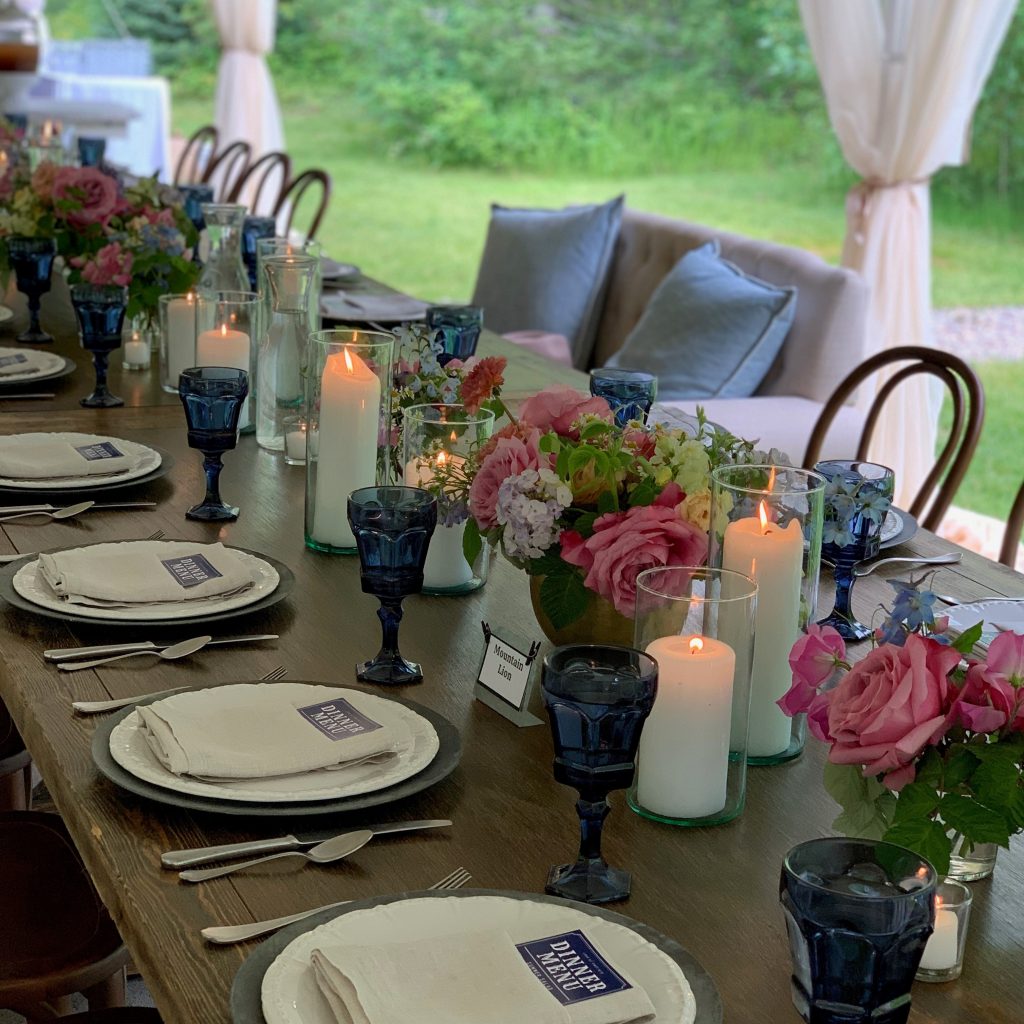 PROFESSIONAL SERVICES
No matter the details, from elaborate parties to tastefully simple occasions, Montana has the professionals to help make destination weddings a complete success. Visit our weddings website to search for the right wedding planner, florist, caterer, DJ, venue and more. Don't forget to research the marriage license laws and recommendations for Montana or any destination wedding location.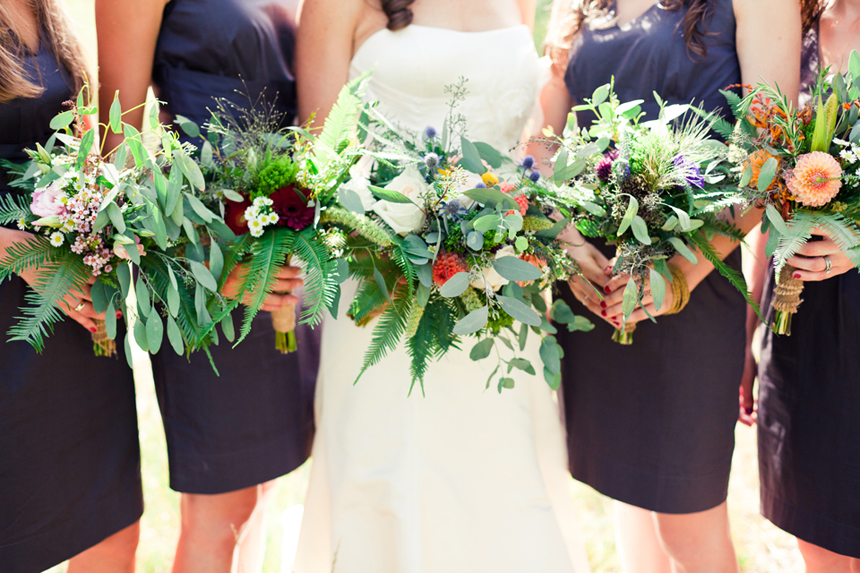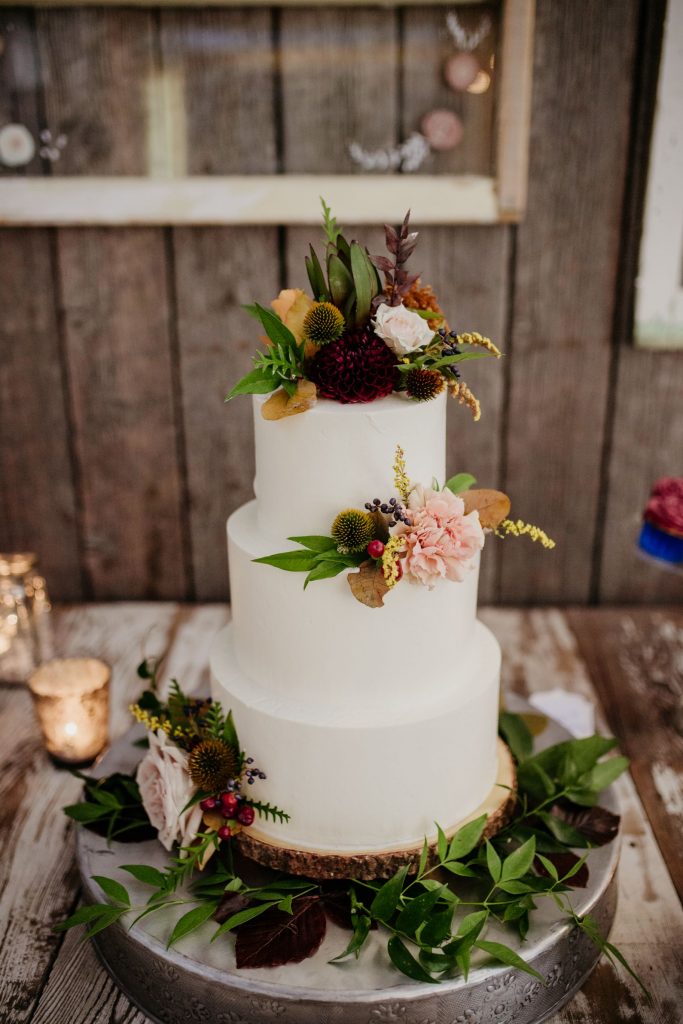 THE WEDDING GUESTS
Invited guests will be intrigued by the selection of Western Montana as a destination wedding. With all of the wonder of Montana, including outdoor activities, arts, culture, history and culinary experiences, they will be thrilled. Make sure guests know that even though the happy couple may be off on their honeymoon upon completion of the wedding-day festivities, guests are welcome to stay in Montana and take advantage of all the outdoor activities offered. Whitewater rafting, hiking and biking along with fly-fishing are some of the favorites. If the destination wedding is in winter, skiing, snowshoeing and snowmobiling are in abundance. A destination wedding in Western Montana will be one guests talk about for decades to come.
EASE OF ACCESS
Whether guests arrive by plane, train or car, getting to Western Montana is easy. With two airports—Missoula (MSO) and Glacier Park International in Kalispell (FCA)—offering 18 direct flights cities (some seasonal) on 8 different airlines, along with train service (Amtrak's Empire Builder) and a well-maintained highway system with little to no traffic, it's fairly easy to say "I do" in Western Montana.
A dream destination wedding awaits in Western Montana's Glacier Country.
DP
March 11, 2021
Related: Destination Weddings