Train travel, a long-standing favorite in Europe and Canada, is gaining momentum in the U.S., enticing group travel enthusiasts with its unique blend of convenience, history, breathtaking vistas and eco-friendliness. This trend is especially exciting for us in Western Montana's Glacier Country, with one of the most picturesque stretches of Amtrak's Empire Builder route gracefully traversing our landscape. Originating from vibrant hubs like Seattle, Washington; Portland, Oregon; and Chicago, Illinois, this rail journey offers travelers a golden opportunity to explore some of Montana's most enchanting, lesser-known destinations.
Historical Ties: Railroad and Glacier National Park
The relationship between Glacier National Park and the Great Northern Railroad is no secret. The park's genesis was greatly influenced by this connection. The railway championed legislation establishing Glacier National Park in 1910 and became its primary concessionaire and developer for several decades, erecting iconic structures like the Many Glacier Hotel and the Belton Chalet. Today's travelers on the Empire Builder are not just moving through landscapes but traveling through time.
Benefits Tailored for Group Travel
The choice of train travel for group tours is not merely a nod to nostalgia; it offers tangible benefits. Trains are eco-friendly, emitting far fewer carbon emissions compared to cars or planes—an aspect particularly appealing to modern travelers and the eco-conscious Generation Z "zoomers." Additionally, the Empire Builder offers glimpses of pristine landscapes untouched by roads as well as unparalleled comfort with ample space to stretch and move, ensuring the journey is as memorable as the destination itself. And when Montana's winter blankets the land, train travel guarantees a safe, punctual and serene journey free from weather worries.
Enchanting Stops
1. Libby: Set against the backdrop of the Cabinet Mountains, Libby is the first halt in northwest Montana after leaving Idaho and traveling east. There's a plethora of easy-access outdoor activities, like the Libby Dam, Ross Creek Cedars Scenic Area, the Kootenai River, Kootenai Falls and the Kootenai Falls swinging bridge. In town, visitors can soak in small-town vibes at local breweries or museum. Annual events include the Kootenai Country Montana Chainsaw Carving Championships, Kootenai River Stampede and the Riverfront Blues Festival. Pro-Tip: For group events, consider Turner Mountain, a ski mountain you can rent in its entirety.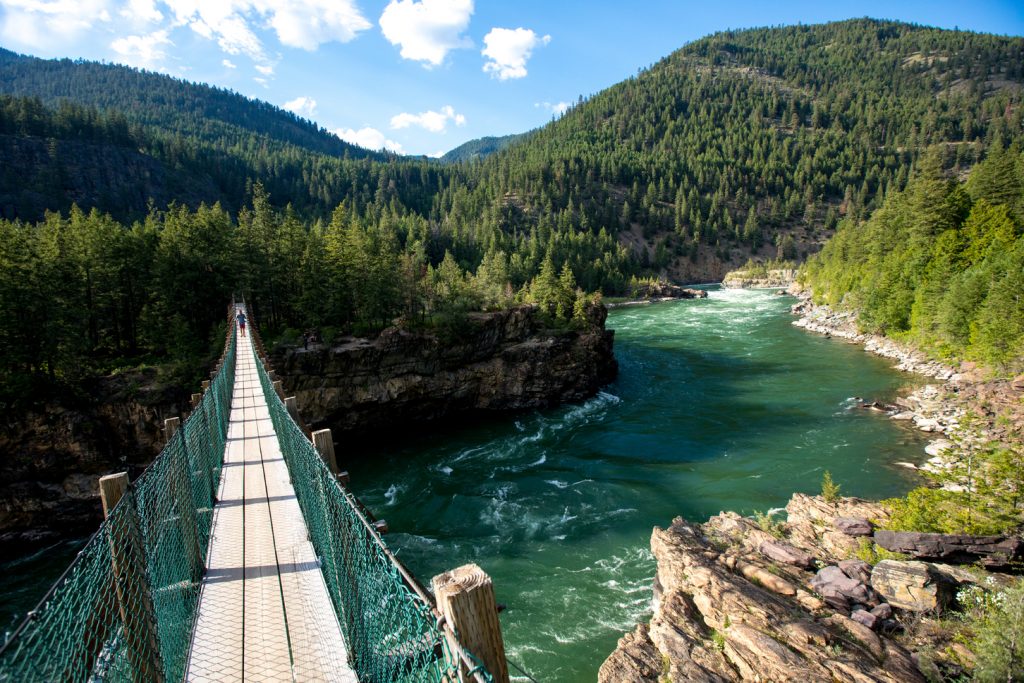 2. Whitefish: A delightful mountain town pulsating with life, Whitefish promises an authentic Montana experience. Downtown Whitefish offers an array of local shops and boutiques, crave-worthy restaurants, a local craft beer and spirits scene, nightlife and more. Group activities include skiing, hiking, biking, boating, live theater and golf. Whitefish Mountain Resort is a year-round destination, with skiing and snowboarding in the winter, and an array of summer activities. In the summer plan a scenic gondola ride for your group. The enclosed gondola ascends 7,000 feet to the summit, serving up breathtaking views of Glacier National Park and the Flathead Valley. Have your group grab lunch at the Summit House and sit back to enjoy the view. In Whitefish, Clydesdale Outpost has many ways to meet their gentle giants, including a carriage ride, barn tour with the wrangler, a grooming workshop, and rental of the barn for a reception barn party.
3. West Glacier: A gateway town to Glacier National Park, West Glacier is an ideal spot to get off the train for a day tour in Glacier National Park. Glacier National Park is accessible year-round, but keep in mind that park services and amenities are limited after late September. During the summer months you're well advised to spend a day exploring the Going-to-the-Sun Road on a Red Bus or Sun Tour. You can also explore the Going-to-the-Sun Road in the spring by e-bike, which is accessible for all ages and activity levels, or in the winter by snowshoe. During any season you can enjoy the scenic vistas of Glacier National Park as the Amtrak route goes through Glacier National Park.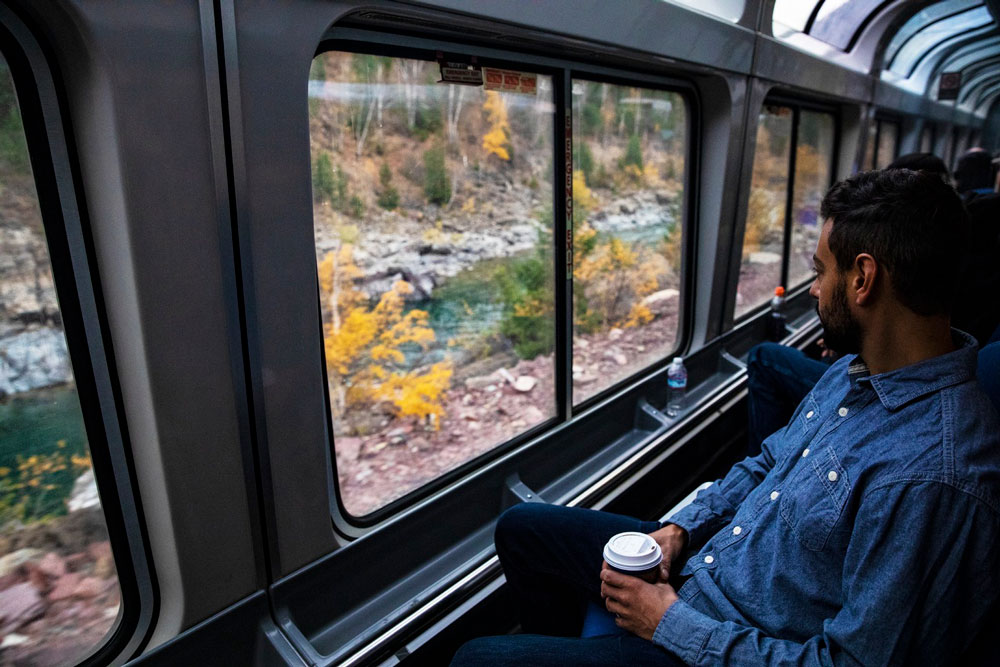 4. East Glacier Park: In East Glacier Park, be greeted by the colossal Glacier Park Lodge, boasting timbers that are a testament to six centuries of history. Built to promote rail tourism, it still stands as a beacon to travelers from around the world. East Glacier Park is the perfect place to begin a Western Montana adventure. As one of the gateways to Glacier National Park, this community is authentically down-to-earth, complete with friendly locals serving up home-cooked meals, coveted huckleberry ice cream and insider tips on area attractions. Located on the Blackfeet Indian Reservation, East Glacier Park and the surrounding area have cultural and historical significance to the Blackfeet Tribe. Fun Fact: All nine holes of the local golf course are named after former chiefs of the Blackfeet Nation.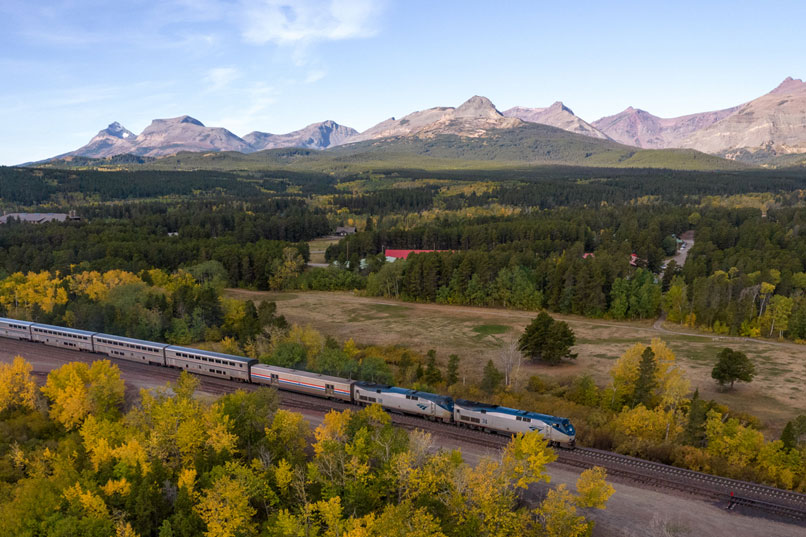 5. Browning: Browning is the place to stop for groups who wish to immerse themselves in the Blackfeet Nation's history and culture. The 1.5 million acres of the Blackfeet Indian Reservation are home to more than 17,000 enrolled members nationally—with roughly 10,000 living on the reservation today. The Blackfeet Nation is among the 10 largest tribes in the U.S. In Browning, visit the Museum of the Plains Indian for a comprehensive collection of cultural artifacts and exhibits, including clothing, horse gear, weapons, household implements and children's toys. Plan to stop at The Blackfeet Heritage Center & Art Gallery to see dioramas of Blackfeet culture. Shop the variety of arts and crafts at Faught's Blackfeet Trading Post for moccasins or beaded bracelets and earrings. Each summer, usually the second weekend in July, Browning hosts the North American Indian Days—one of the largest gatherings of U.S. and Canadian tribes. The pow wow includes dancing, drumming, traditional games, an Indian relay and rodeo. You can also book a step-on guide for this area through Backpacker's Ferry.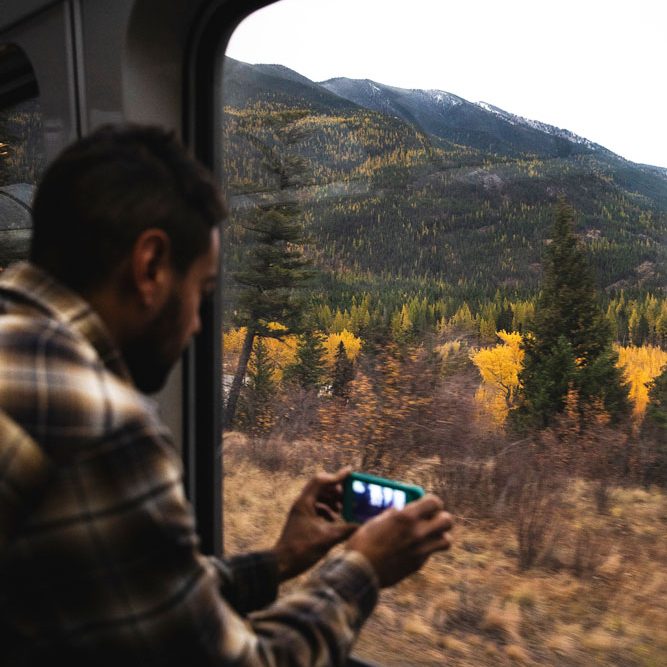 6. Cut Bank: The last stop through Western Montana's Glacier Country is Cut Bank, which has a history intertwined with Lewis and Clark and the Great Northern Railroad. Cut Bank is home to the Glacier County Historical Museum, a brewery, a golf course and a 27-foot-tall penguin statue you won't want to miss. The towering penguin claims bragging rights to calling "the coldest spot in the nation" home.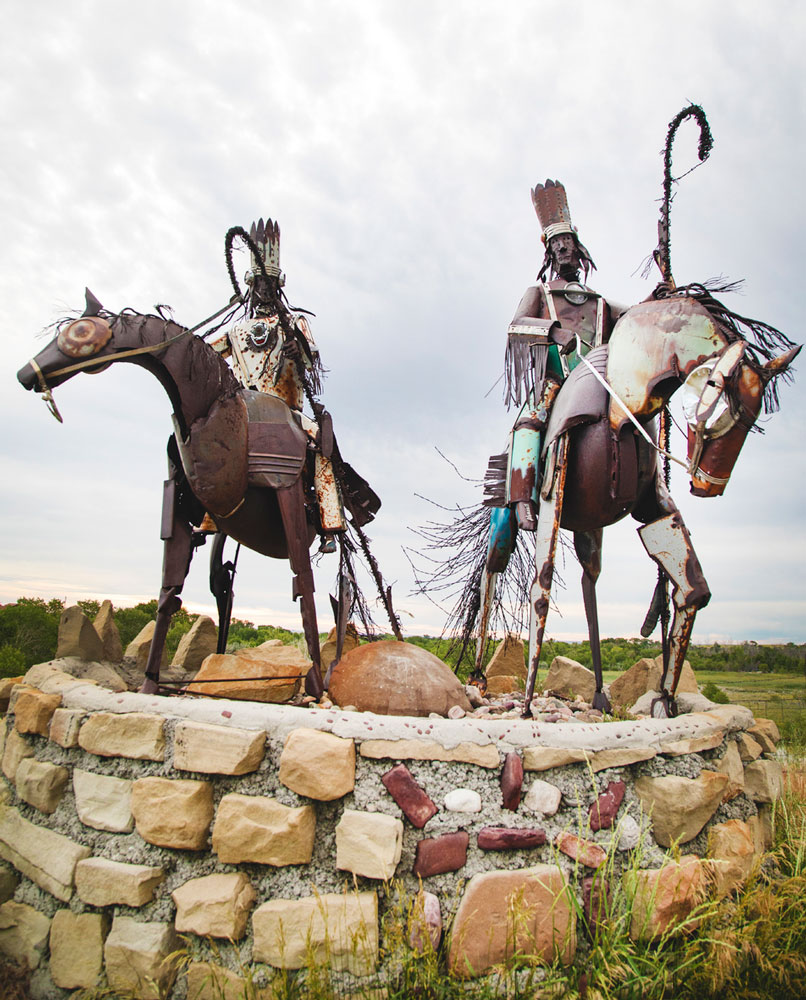 As the Empire Builder moves alongside the grandeur of Montana, it's more than a journey—it's an experience. And as it was in the days of the Great Northern Railway, even today, the promise remains the same: Adventure in the mountains, tranquility in the valleys and memories for a lifetime.
For more information on additional itinerary suggestions and where to stay, visit our tour operators page, or drop us a line. We are always here to help.
AS & DP
September 25, 2023
Related: American Indian, Amtrak, Blackfeet Nation, Browning, East Glacier Park, FIT, Glacier National Park, Group Tours, Itinerary, Tour Operator, Transportation, West Glacier, Whitefish, Winter