1) Location
In Western Montana's Glacier Country, flowing out from the lush green edge of the Rocky Mountains is the serene Clark Fork River carving its way through the middle of historic downtown Missoula. Here you'll find architecture from the 1800s, more parks than parking lots, modern-day troubadours filling your ears with sweet melodies, and a welcoming smile upon the faces you pass by. Missoula is the dream destination for your next conference, board meeting or company retreat.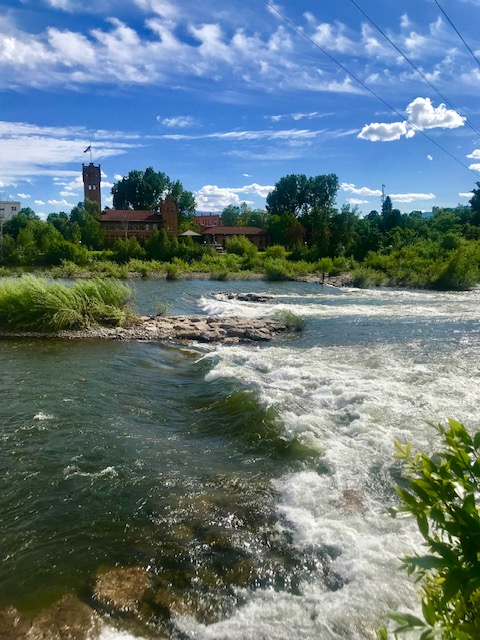 In the heart of downtown Missoula is the brand-new Residence Inn by Marriott Missoula Downtown. Built at the site of the historic Missoula Mercantile, this is not your ordinary Residence Inn, and a small history lesson goes a long way to fully appreciate and understand this one-of-a-kind, custom hotel. Back in 1885, the Missoula Mercantile was established and, in true wild-west fashion—after some real-life Hatfield and McCoy like rivalry—it grew to be the largest department store between Minneapolis and Seattle. Through the years and with several different owners, the department store, affectionately called "The Merc," remained in use until 2010. It sat deserted and deteriorating for seven more years before being deemed unsalvageable. It was then deconstructed piece by piece to save as much as possible of the beloved historic monument. On February 28, 2019 the Residence Inn opened its doors, welcoming guests to step inside its warm, modern industrial design that so elegantly represents Missoula, from the American Indians to the Mercantile, and the industrial drive that built the town to the love of arts that cultivates the culture here. Pieces of the original Mercantile were designed into the hotel throughout the lobby and the Mews: a hallway connecting the hotel to various tenants' shops‑from gift and clothing boutiques to a beauty spa and art bars to multiple restaurants. Curated by Radius Art Gallery, spectacular art created by Montana artists adorns the halls, incorporating the story of the Mercantile, Missoula and Montana.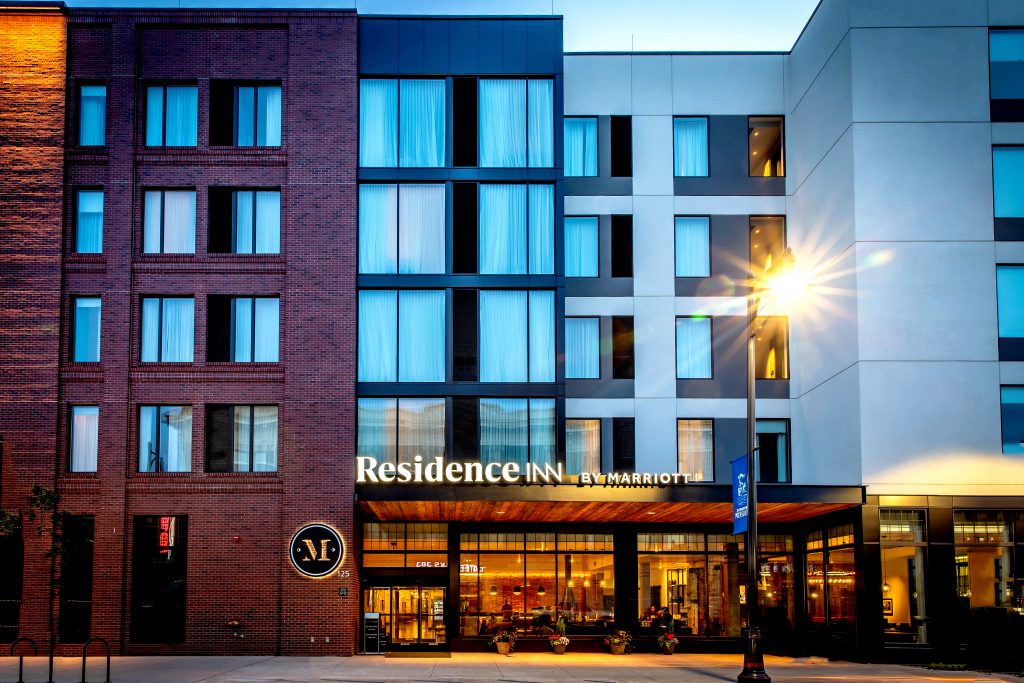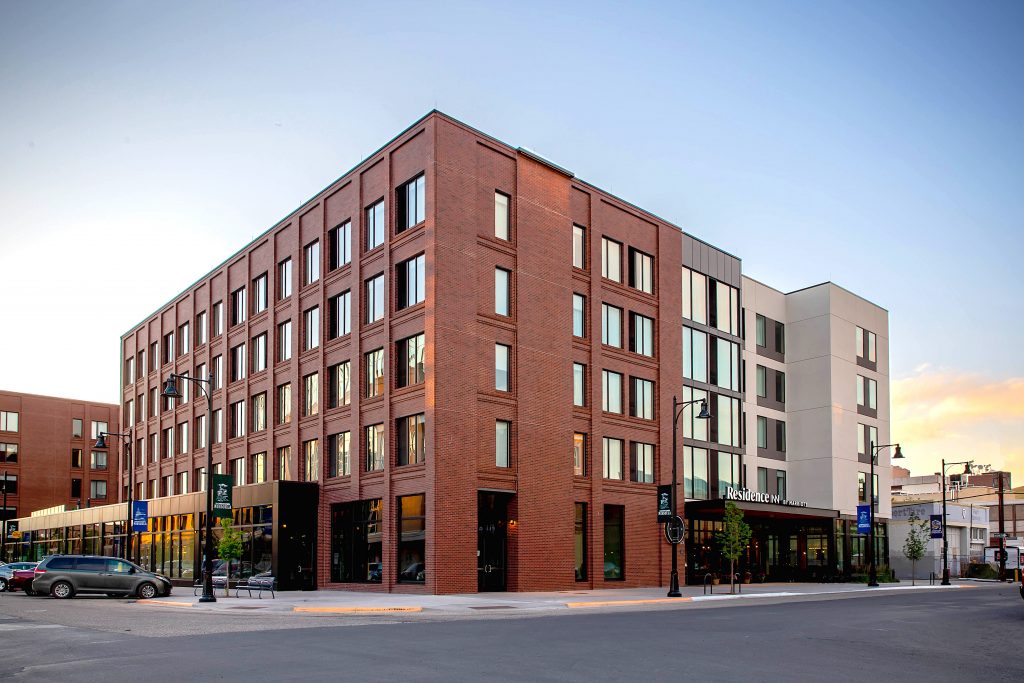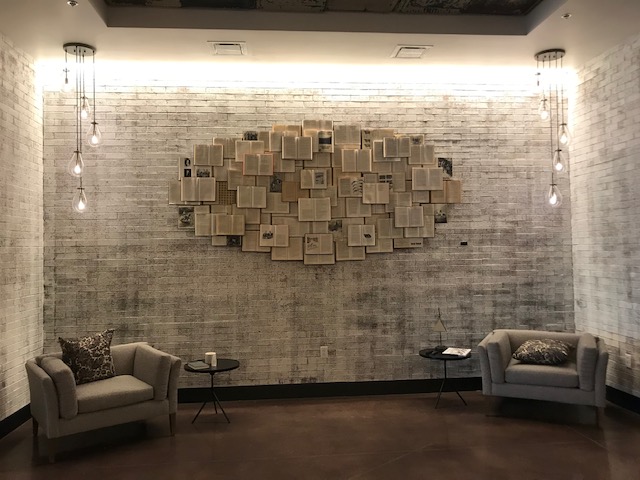 With new airlines and flights being added regularly to the Missoula International Airport, traveling to Missoula has never been easier. Upon landing, our convenient and complimentary "Suite Ride" shuttle will pick you up for the easy 10-minute drive to the hotel.
2) The Hotel
The Residence Inn by Marriott Missoula Downtown is a full-service, extended-stay hotel featuring:
175 guest room suites each with a full kitchen, desk, living space, comfortable beds and spacious bathrooms with walk-in showers
Complimentary Wi-Fi in guest rooms and throughout the hotel
Complimentary grocery shopping and delivery service
Complimentary full hot American buffet breakfast daily
Onsite guest laundry
Evening bar services
A breathtaking rooftop patio with outdoor seating, fire pits, yard games, and a BBQ grill for guests, with gorgeous views of the city and surrounding mountains
Indoor swimming pool
Room service provided by various on-site restaurants
Complimentary shuttle service to and from the airport
Valet parking for an additional fee of $17 per day
Access through the Mews to a variety of on-site restaurants and shopping
Walking distance to dozens of cafés, bistros, restaurants, shops, galleries, entertainment and more
The Residence Inn Missoula is the desired home away from home for all guests wanting to experience the vibrant culture of downtown Missoula with access to the Clark Fork River, hiking trails, the University of Montana, downtown entertainment and so much more.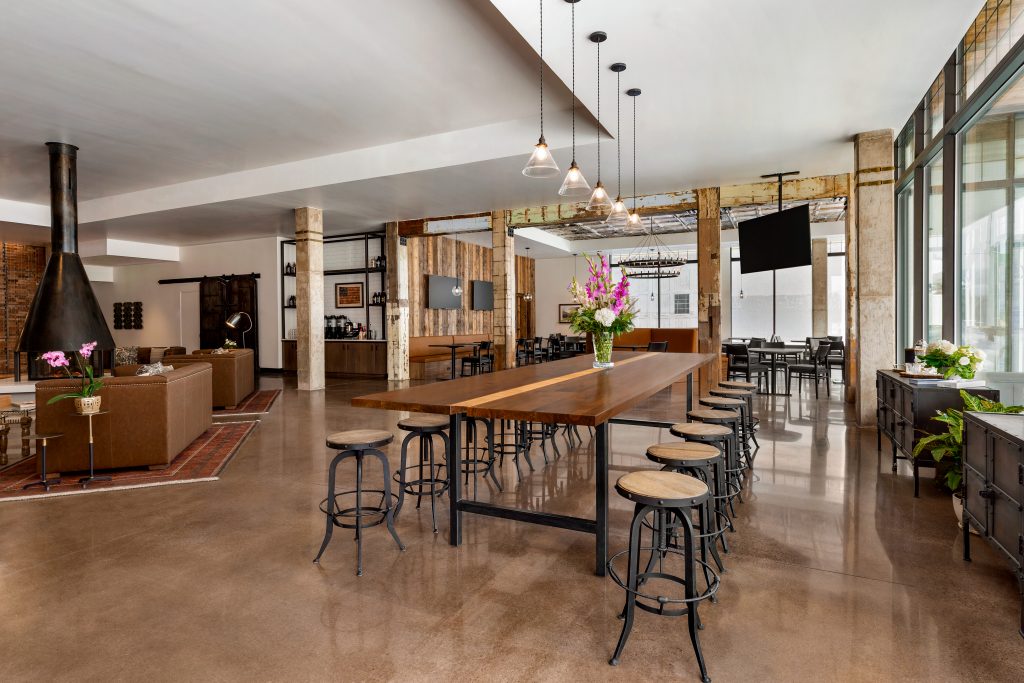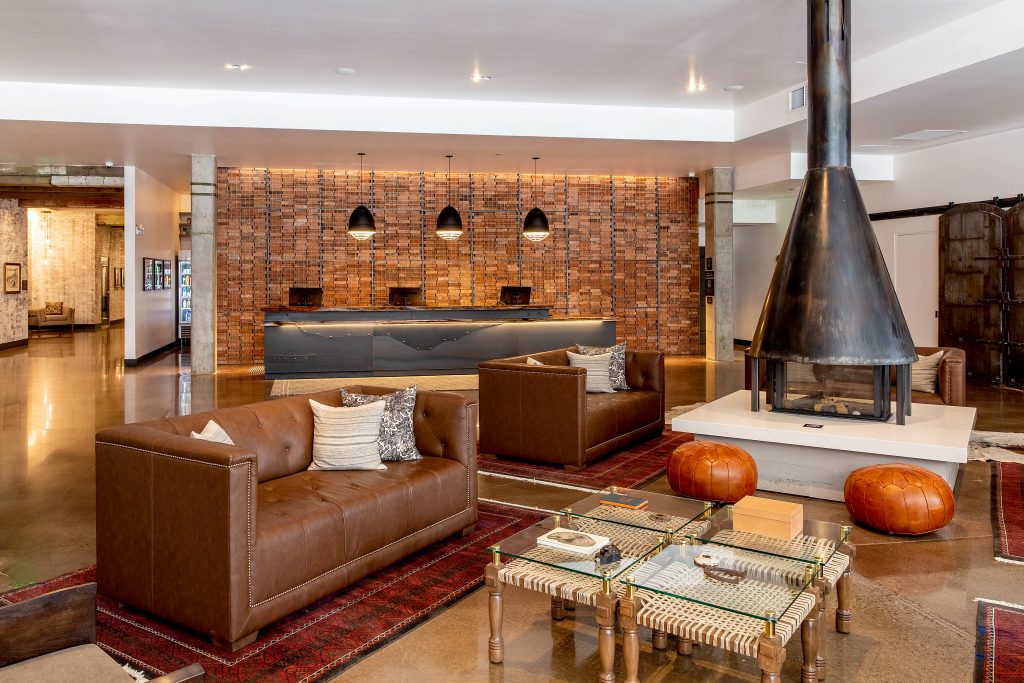 3) Meeting Space
Our beautiful meeting space is 1,500 square feet, which can easily and evenly be split into two rooms via an air wall. Gorgeous, artful photos of items found in the deconstruction of the Mercantile hang on the walls. Each end of the room has an 80-inch smart TV that can be connected to your device for presentations. House sound is also available in the meeting space, all at no additional cost. Our occupancy for the room:
160 people – Theater
104 people – Banquet
80 people – Classroom
50 people – Crescent Rounds of 5
48 people – Hollow Square
42 people – Conference
30 people – U Shape
And don't forget about the amazing rooftop patio that can be rented for your private event.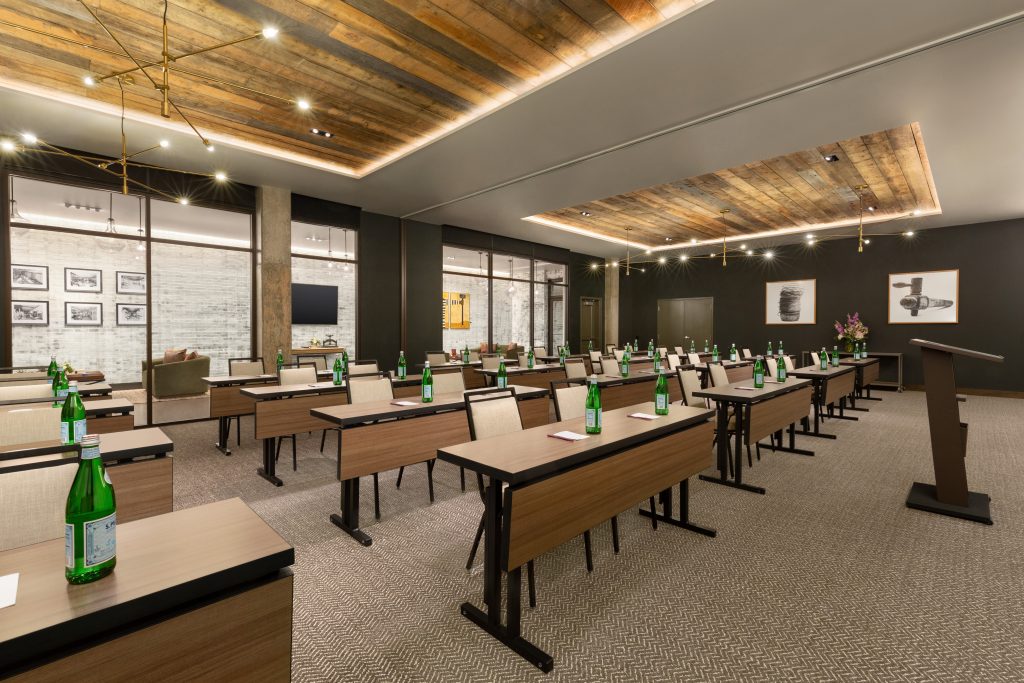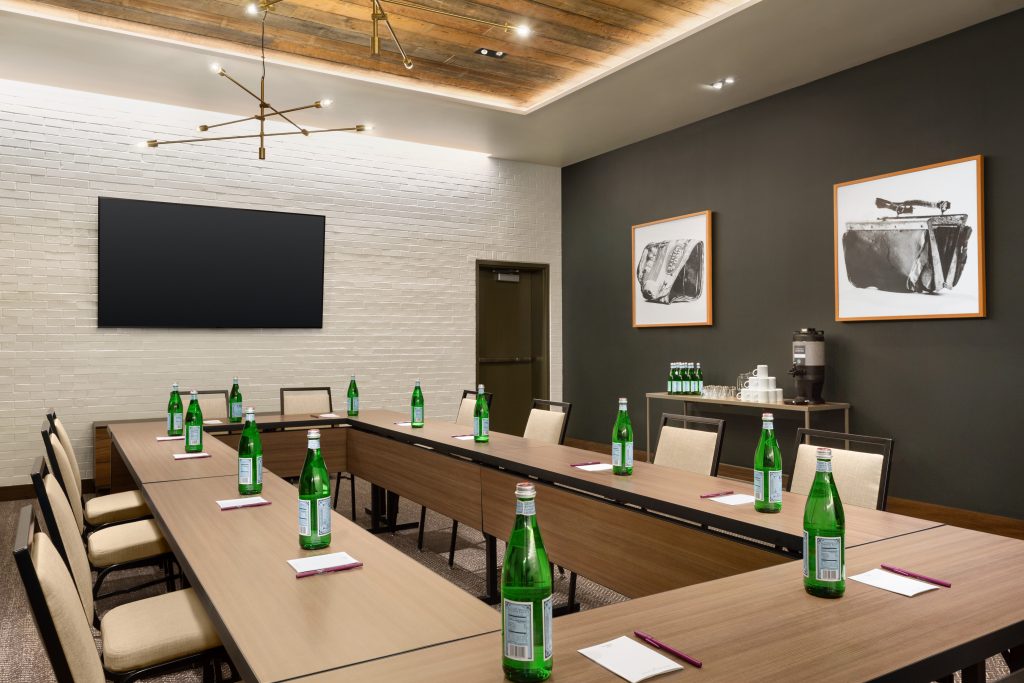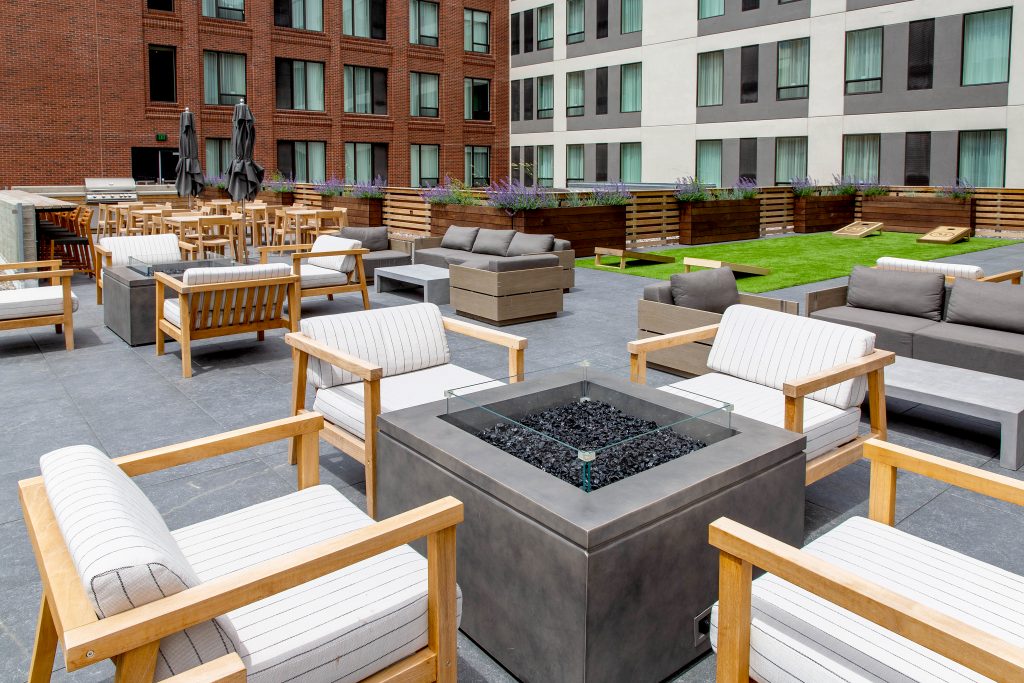 4) Catering
One of the unsung heroes of Missoula is the amazing food. Treat your attendees to some of the delicious catering that is allowed to be brought into the meeting space. We also offer a limited menu of beverage service as well as some snack foods. Our onsite restaurants offering catering services include:
Basal – available for breakfast and dinner – offering fresh organic options for clean eating, including smoothies, wraps and sandwiches, gourmet salads, hearty bone broth soups, espresso, herbal teas and more.
Zoo Thai – available for lunch and dinner – offering quality street food from Thailand.
The Camino – available for lunch and dinner – offering fresh, house-made modern-inspired authentic Mexican dishes perfect for sharing, as well as a specialty tequila bar.
1889 – available for lunch and dinner – a steak and seafood fine dining restaurant with a full bar.
Need a change of scenery between sessions? We also offer suggestions for off-site venues that can cater receptions or meals for your event. In addition to on-site restaurants, we are happy to suggest catering or dining from one of the many local breweries, distilleries, cafés and other delicious options within walking distance.
I would be happy to offer more information or provide a proposal for your next meeting in Montana. In the meantime, our website can offer a great overview of the new Residence Inn By Marriott Missoula Downtown.
Meet in Missoula,
Lacy DeQuattro
About the author: Lacy is the Director of Sales at the Residence Inn By Marriott Missoula Downtown and joined the Aimbridge Hospitality team in September 2018 to open the Residence Inn in historic downtown Missoula. Before that she was the Director of Sales at the Holiday Inn Bozeman. When she's not at work she enjoys playing in the out of doors with family, friends and farm animals.
July 25, 2019
Related: Guest Post, Meeting Planner, Meetings & Conventions, Missoula, Unique Lodging