Throughout my career, I have had the pleasure of producing hundreds of meetings and events in some of the world's greatest destinations. While the purpose, scope and locations of these gatherings have varied, all of them were designed to inspire excellence, trust and community while nurturing new thinking about business relationships and value creation. More often than not, I aspired to showcase the event destination in a creative way, as we provided a unique and enriching experience for the attendees. As planners, we didn't want to duplicate our company's conference room in a different locale; we wanted to draw from the culture of the destination and inspire them through novel experiences, like skiing after a morning meeting or receiving a handmade box filled with local treats at turn down.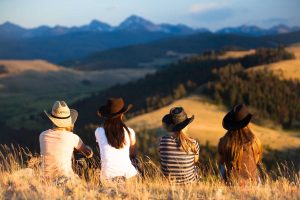 Throughout the last decade, my passion for event planning and marketing has continued to blossom because of that essential, powerful ingredient—experiential travel. After living and working in many US cities, I am grateful to call Montana my home, especially since Montana is a place where travelers are instantly captured by a sense of wonder. Montana, through my lens, is an extraordinary, transformative destination for everyone from homebodies to globetrotters; a place where bucket-list experiences are checked off left and right.
In my role as marketing director at a luxury guest ranch in Western Montana, I see the transformations happen on a daily basis. It's magical when a guest fulfills a dream to learn how to fly-fish or discovers that unplugging in the wide-open spaces brings their family closer. There are many quiet and exhilarating moments to be relished when guests and staff find themselves bursting with appreciation of the beauty and peace of our American West at The Ranch at Rock Creek.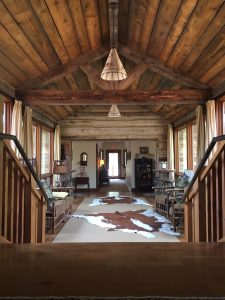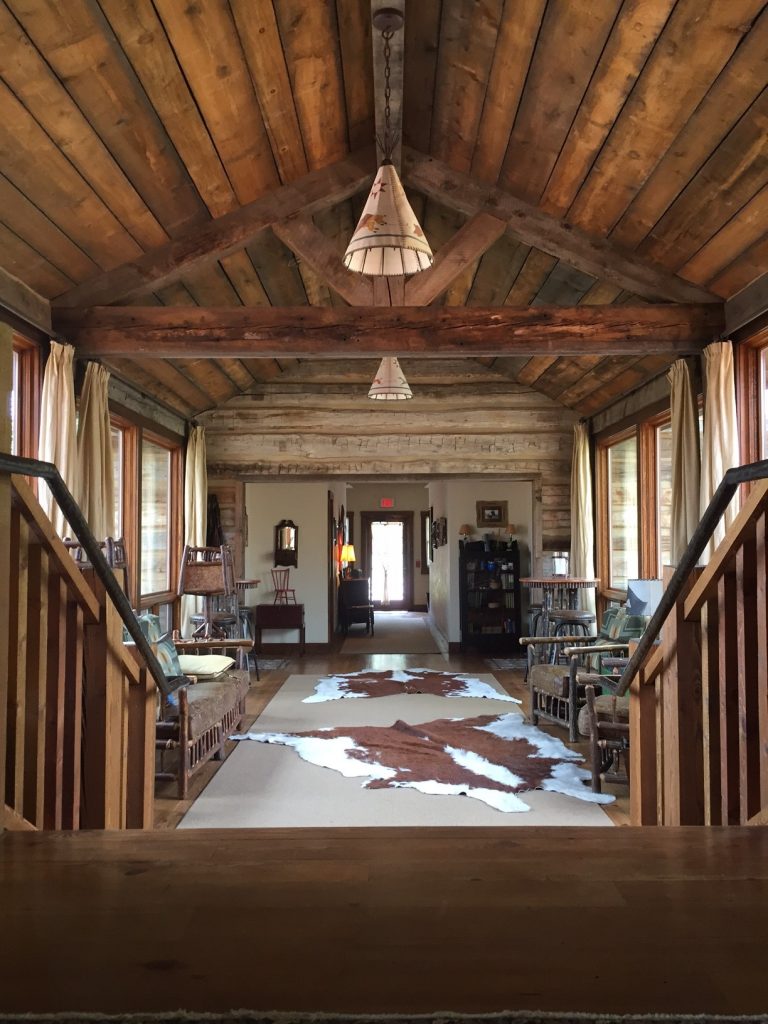 The profound number of experiences to be discovered throughout every season is very meaningful for planners and hosts who aim to inspire their attendees with exceptional—even magical— company events. As the Montana winter approaches, here are some thoughts on why groups should consider the natural riches of the Treasure State for business retreats and meetings.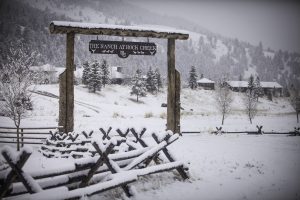 Limitless Outdoor Adventure
Not only is Montana stunningly beautiful when the snow falls, but it also offers a wide range of outdoor recreational opportunities. Among Montana's diverse terrain are canopied forests and glistening meadows to explore by boot, snowshoe, ski, sleigh and snowmobile. I encourage planners to think about how wintertime outdoor recreation can bring attendees together to challenge themselves and each other. Our state boasts miles and miles of accessible cross-country skiing and snowmobiling trails. Some travelers are surprised to learn that Montana offers epic downhill skiing at world-class resorts and family-owned hidden gems—both with virtually no lift lines. We are partial to Discovery Ski Area just outside of Philipsburg, one of Montana's most historic towns.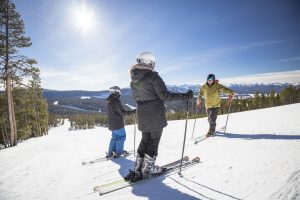 Near Discovery is The Ranch at Rock Creek, where I hang my professional hat. Sitting on 6,600 awe-inspiring acres that become a group's playground during the length of their stay, The Ranch at Rock Creek is an all-inclusive luxury guest ranch located halfway between Glacier and Yellowstone national parks in the heart of Western Montana. Our guests enjoy twice-daily guided seasonal adventures, while groups from around the world travel to our remote ranching valley to reconnect, team build and conduct business. Their professional pursuits are infused with experiences like horseback riding through a meadow and casting a fishing line for the big one on the banks of our pristine trout stream, Rock Creek (home to 2,000 fish per river mile).
Our robust outdoor activity program includes over 20 year-round activities, while in the winter guests venture out to snowshoe, cross-country ski, ice skate, horseback ride, target shoot, sled, play hockey or bundle up on a sleigh ride or snowcat trek.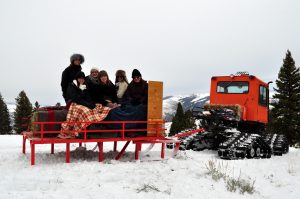 When working with groups to plan their on-ranch activities, our on-site coordinators customize experiences to suit the needs of your attendees, which means a group could snowshoe to a remote creek-side location for a gourmet picnic lunch, brainstorm around the campfire after dinner or team up in a survivor-skills competition in the forest.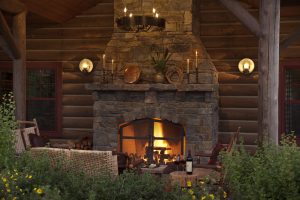 Enrichment Through the Land and Lifestyle
For those who enjoy the stories of the legendary West, Montana is the perfect stop. Big Sky Country honors its history through the celebration and preservation of our pioneer spirit and American Indian heritage, while ranches and farms remain strong cornerstones of the Montana landscape and lifestyle.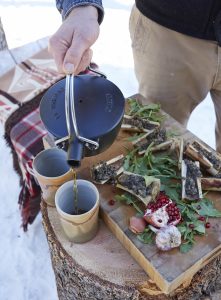 Throughout the state, travelers discover thriving farm-to-table culinary experiences, due to the many hard-working ranchers, farmers and purveyors that make their home here. Visitors to Montana often have the opportunity to embark on a new epicurean journey—tasting foods for the first time such as elk, venison, morel mushrooms and huckleberries. At The Ranch at Rock Creek, our Executive Chef Josh Drage and his team thoughtfully select meats, produce, dairy and delicacies from over 50 Montana purveyors as he serves the best of Montana ranch cuisine paired with regional wines and award-winning local brews, including Philipsburg Brewing Company.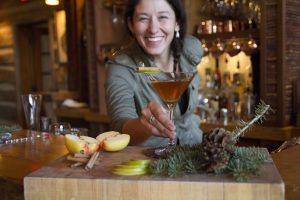 Besides reaping the bounty of the land, Montana guests can immerse themselves in the richness of the region when they explore the national parks, dip into thermal hot springs and trek around ghost towns throughout the year.
Reconnect in Nature
During most winter days, the Montana sky is filled with bright sunshine and puffy white clouds, allowing you to see for miles and miles across the Northern Rocky Mountains. Across the ranges and lower hills and rivers, you may spot elk, deer, moose, bighorn sheep and bald eagles, while in our rivers and lakes you'll find a diverse selection of fish. Like many corners of Western Montana, The Ranch at Rock Creek is nestled among several mountain ranges and wilderness areas, which means our ranch is free of light pollution and offers incredible opportunities to see Montana's star-filled and immense sky.
Sidenote: Read more about ways to reconnect in nature in "Cross It Off Your Bucket List," a blog we published earlier this year.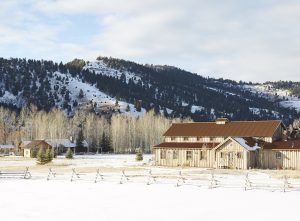 As many business executives are attached to devices, The Ranch at Rock Creek offers meeting attendees the chance to unplug and immerse themselves in natural surroundings and to become rejuvenated as they watch the moonlight bathing the glistening snow or a never-ending sea of stars after the fire goes out.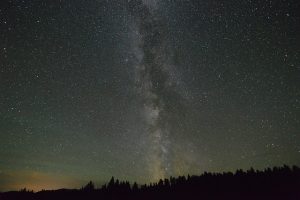 Montana Hospitality on a Cold Winter Night
When I moved to Montana, I had no idea how helpful and welcoming my neighbors would be. It's true that the warmth of Montana hospitality shines as a standout feature of the travel experience. Around here, our team believes that our guests should feel as if they are being invited into the family home as they experience authentic Montana.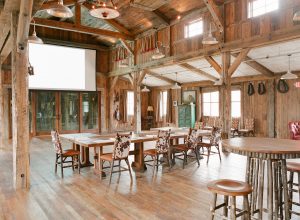 Executive meeting hosts can absolutely feel confident that their attendees will be made to feel welcome and comfortable in Big Sky Country. It may sound simple with no glitz or glitter, but after a day of team building in the outdoors, guests find great enjoyment gathering around a grand stone fireplace sharing stories and toasting with a Moscow mule. Plus, during winter months, many resorts—including ours— invite event planners to consider special offers to encourage corporate groups and help them experience the best winter has to offer in Western Montana.
If you are in search of new exhilarating adventures, warm hospitality and spectacular settings in the American West to complement your business meeting objectives, we hope to welcome you to the Treasure State very soon.
Happy trails and meet me in Montana,
Heather Rue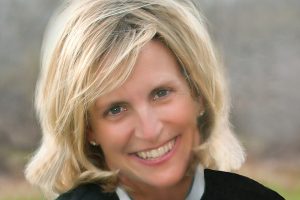 About the author: Heather is the director of marketing at The Ranch at Rock Creek in Philipsburg, Montana where she leads the cross-channel marketing efforts to build awareness of and tell stories about The Ranch's exceptional Montana travel experiences. She has produced hundreds of corporate, nonprofit and cause-marketing events and programs. Heather is active in her local community and is raising country kids, chickens and labs while soaking up all life in Montana has to offer. 
October 27, 2016
Related: Guest Post, Incentive, Meeting Planner, Meetings & Conventions, Whitefish, Winter