Montana is known for its spectacular unspoiled nature and western hospitality, making it an ideal destination for foreign independent travelers (FIT). Leisurely scenic drives combined with a few stops in our charming small towns are a great way to experience both. Whether traveling by car, motorcycle or RV, our scenic byways provide the perfect route for international visitors seeking an authentic Western Montana experience.
This corner of Montana, also known as Glacier Country, has spectacular scenery. Surrounded by national parks, national forest lands, wilderness areas and some of the prettiest waterways in the Rocky Mountains, one of my favorite Montana scenic drives is along Highway 200. It begins north of Missoula and travels along the Clark Fork River to the Idaho border. This area, known as Tour 200, is home to some incredible attractions, communities and the local personalities who call it home.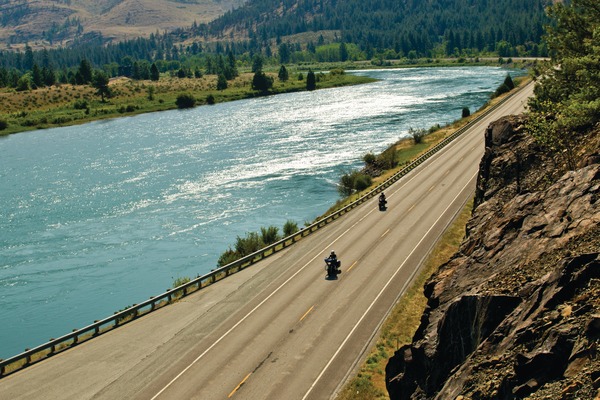 1. Bison Range – For wildlife enthusiasts, Montana's Bison Range is a perfect way to start a day-long scenic drive just north of Highway 200. Managed by the U.S. Fish and Wildlife Service, this wildlife refuge is home to bison, deer, antelope, bear, elk and bighorn sheep. If your clients are birdwatchers, there are hundreds of species to view in pristine habitat. Also located nearby: the Ninepipe National Wildlife Refuge.
Insider tip: Be sure to work into your itinerary a stop at the visitor center for information on current wildlife sightings, flowers in bloom, photo opportunities and other available activities.
Spring visitor center season hours: May 9 – May 26, hours vary depending on daylight
Summer visitor center season hours begin: May 27, hours vary depending on daylight
Day passes to the Bison Range:

Private vehicle – $5 USD
Bus and tour groups – $25 USD (If you work with group tours, the Bison Range can be easily worked into itineraries).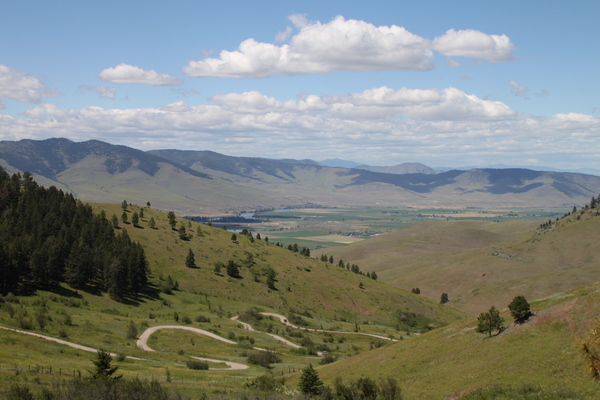 2. Thompson Falls Dam – Visiting the dam is a great place to have travelers stretch their legs and breathe in some fresh mountain air, especially for clients who have been driving for a while. The Thompson Falls Dam is a complex of four hydro-power dams that together impound an upstream reservoir in the community of Thompson Falls. The island between the dams contains a public park with hiking trails, picnic tables and scenic overlooks.
Insider tip: The entrance to the park and hiking trails begins on the west end of town. Strolling along Main Street is a great way for your clients to experience attractions, quaint shops and restaurants. (Suggested stops: Old Jail Museum, Linda's Montana Gifts & Gallery, Minnie's Montana Cafe and Big Eddy's Deck Bar.)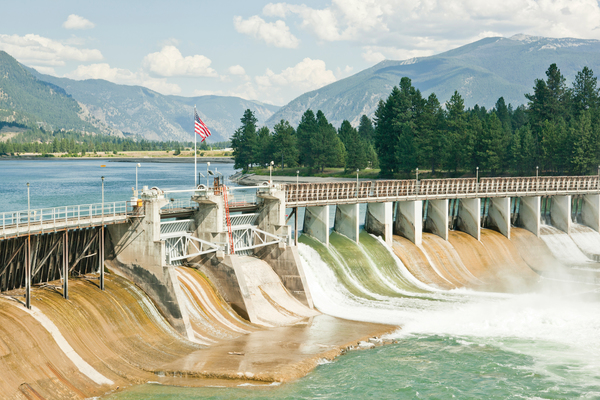 3. Cast a line or have a picnic – If you have clients who like to fish, this stretch of Montana along the Clark Fork River is perfect for them. Be sure to have them pack fishing gear to take advantage of the many miles of accessible riverfront. Another option is to book a guided fishing trip with the resident outfitter in Thompson Falls.  In addition to the abundant fishing opportunities on the Clark Fork River, there are additional lakes and streams along Highway 200. This river feeds the Thompson Falls, Noxon and Cabinet Gorge reservoirs. Fishing access sites are well designated.
Insider tip: Always be aware of your surroundings as it pertains to private and public lands and follow Montana fishing laws. Montana Department of Fish, Wildlife and Parks manages many fishing access sites along this corridor and has several locations for your use. In Montana, fishing licenses are required so be sure to purchase a license at one of the many locations they are sold.
For those who appreciate picnics and soaking up sunshine, Thompson Falls State Park is the perfect spot. The park is located just north of Thompson Falls on Blue Slide Road and has great picnic sites to kick back and enjoy the sights and sounds of nature.
4. Attend an annual summer event – For clients who like festivals and historical events, Montana's Clark Fork River Valley has some not-to-be-missed festivities.
Huckleberry Festival (Trout Creek) August 14 – 16, 2015: This well-known event is a homemade craft festival with many activities for families including a parade, huckleberry talent show, pentahalon, fun run, auction and jam and jelly dessert contests, as well as more than 100 vendors. This event is perfect for those who want to meet locals and learn more about our obsession with Montana's most famous purple berry – the huckleberry. The huckleberry is Montana's most prized wild fruit and is treasured for its delicious flavor. Plus, it only grows wild in certain forested areas with the unique conditions of the Rocky Mountains.
David Thompson Days (Thompson Falls) July 4, 2015. Commemorating the achievements of North American explorer David Thompson (1770-1857), this event highlights the history of the region with historic displays, demonstrations, activities, interpretive education and lessons in primitive skills. Period clothing, arts and crafts, trade goods, storytelling, live music, good food and mountain man games are all part of the fun.
For more events to fit your client's schedule or for ideas for tour group itineraries, visit Glacier Country Tourism's website.
5. Soak in a Montana hot spring – End the day's itinerary satisfied and relaxed by visiting one of the two natural hot springs in the Tour 200 area. Both hot springs are just off Highway 200 and take you along stunning scenery before arriving at their natural pools
Symes Hot Springs is like stepping back in time with no modern distractions such as phones and televisions. Soak in the mineral baths and pools to sooth your body and mind. Insider tip: Symes is known for its eclectic music scene, so call ahead to plan around a weekend of music, song and small town Montana fun.
Quinn's Hot Springs features modern western comfort and hospitality. The mineral pools will melt away your aches and the fine cuisine in the restaurant will bring your day to a perfect end. Insider tip: Cellular phones do not work here but the Wi-Fi access is great.
Both resorts are favorites with the locals and serve Western Montana's best craft beers.
Montana scenic tours are an everyday experience in this beautiful state, but Highway 200 is a little less traveled while every corner brings a scene that will take a person's breath away.
Our door is open,
RF
May 7, 2015
Related: FIT, Itinerary, Tour Operator