Winter is an ideal time to visit for students and active groups and even for those looking to add a little soft-adventure to their schedule. Montana's winter wonderland is magnificent and recreation opportunities are unlimited. One of our most popular winter activities is downhill skiing; our ski hills accommodate all skill levels, from novice to expert. If adventure is on your winter itinerary, look no further. Western Montana's ski resorts receive more than 300+ inches of fresh powder each year. In Glacier Country we have six well-rounded, full-service downhill ski areas with unparalleled views, few crowds and affordable lift ticket prices.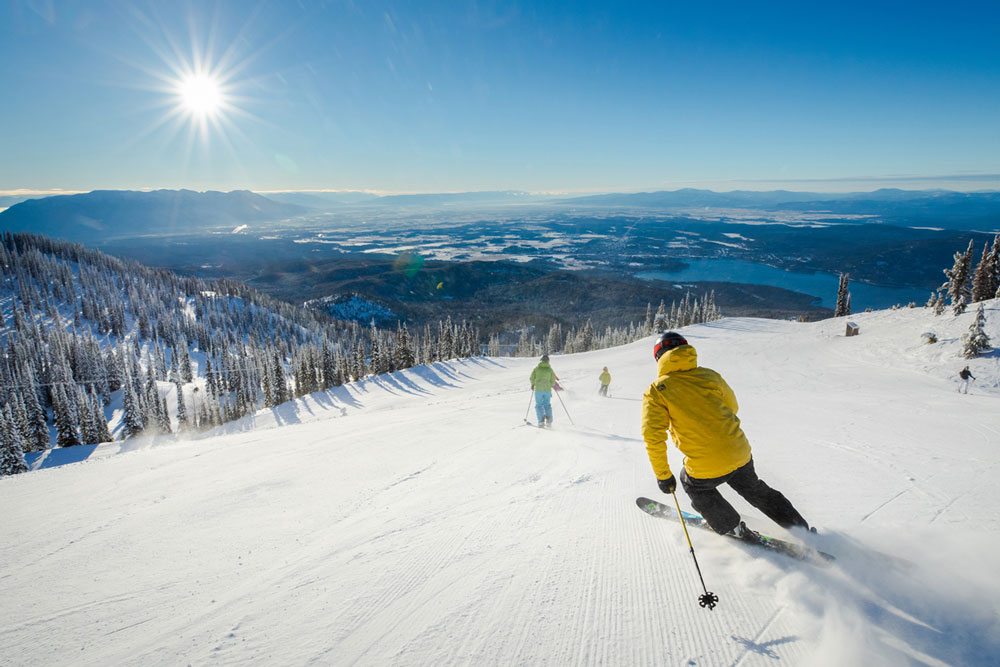 WHITEFISH MOUNTAIN RESORT
Whitefish Mountain Resort is a world-class resort and Western Montana's largest ski mountain, with more than 3,000 acres of skiable terrain. It's located on Big Mountain only 8 miles north of the quintessential ski town of Whitefish. Skiers will find runs for all levels and multiple terrain parks, with jaw-dropping views of Glacier National Park and the Flathead Valley at the summit. Night skiing is a favorite of many and can be enjoyed Friday and Saturday nights. The resort has on-mountain lodging, restaurants and shops. With daily flights from Salt Lake City, Minneapolis, Seattle and Denver, in addition to a seasonal winter direct flight from Chicago, getting to this incredible resort is easier than you think. Downhill Detail: 3,000 acres + 111 runs + 2,353 ft. vertical drop.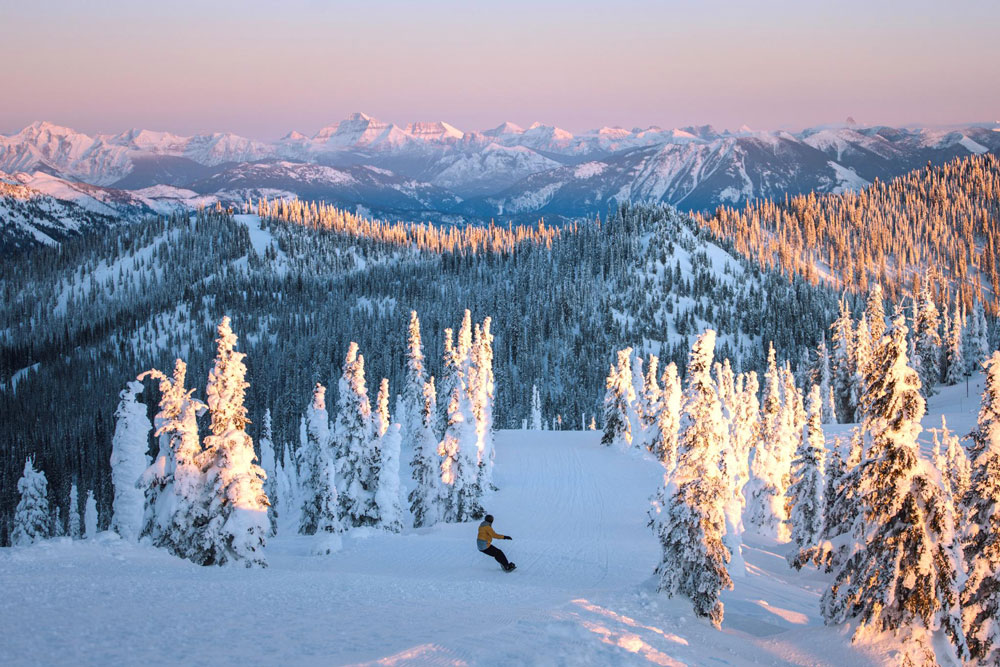 TURNER MOUNTAIN
Located 22 miles north of Libby, Montana, Turner Mountain is a hidden gem ski area for more advanced skiers. Named "the ski area with the friendliest locals," this wide-open sloped mountain offers excellent snow conditions, beautiful scenery and affordable lift tickets. Oh, and an impressive vertical drop—2,110 feet, in fact—plus, 60% of the terrain is rated black diamond. Run by volunteers, Turner is open Friday through Sunday, unless you want to rent the entire mountain—an available and surprisingly affordable option. Libby is serviced by Amtrak's Empire Builder, while commercial flights are available into Glacier International Airport and Spokane, Washington. Downhill Detail: 400 acres + 22 runs + 2,110 ft. vertical drop.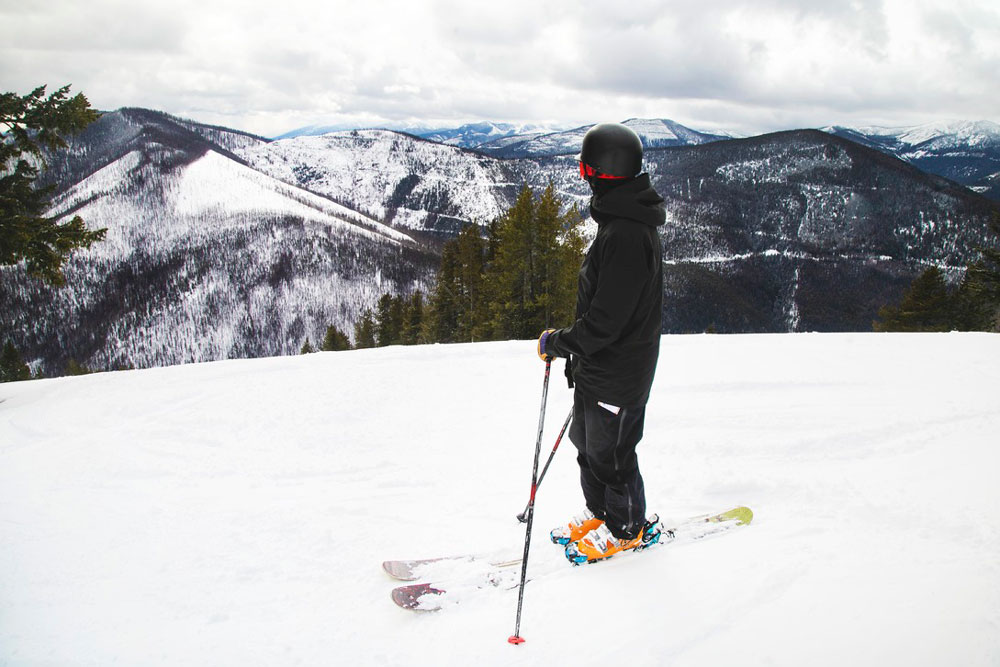 BLACKTAIL MOUNTAIN
Take in mesmerizing views of Glacier National Park, Flathead Lake and the Mission Mountains at Blacktail Mountain in Lakeside, 45 minutes from downtown Kalispell and two hours north of Missoula. This upside-down hill (meaning the parking lot and lodge are located at the top of the mountain, instead of the base) offers fantastic downhill action with jaw-dropping views of Flathead Lake, Glacier National Park and the Mission Mountains. End the day fireside in the lodge and get cozy with a hot toddy and nachos. Downhill Detail: 1,000 acres + 24 runs + 1,440 ft. vertical drop.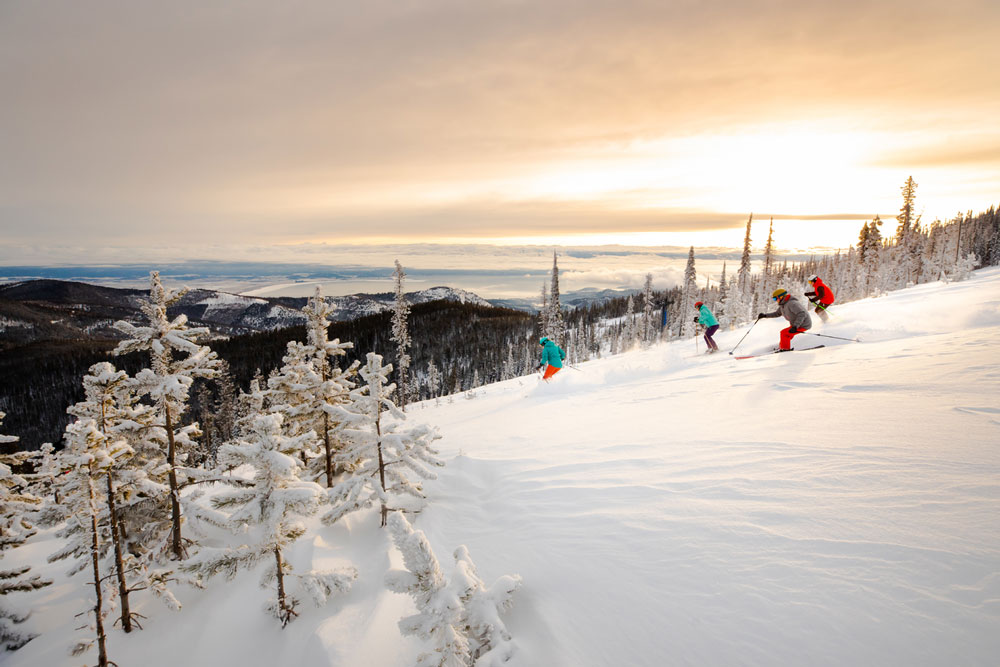 LOOKOUT PASS
Straddling the Montana/Idaho border, ski some of the earliest and heaviest snowfall in Western Montana—nearly 400 inches per year—at Lookout Pass. Known for being a family-friendly mountain resort, Lookout has bargain prices for legendary snow and runs the whole family will enjoy. A new expansion in 2022 added 500 more acres and 14 new runs ranging from intermediate to expert. The full-service lodge provides dining, drinks, rentals and lessons. Lookout Pass is 1.5 hours from Missoula, West on Interstate Highway 90. Downhill Detail: 1,023 acres + 52 runs + 1,650 ft. vertical drop.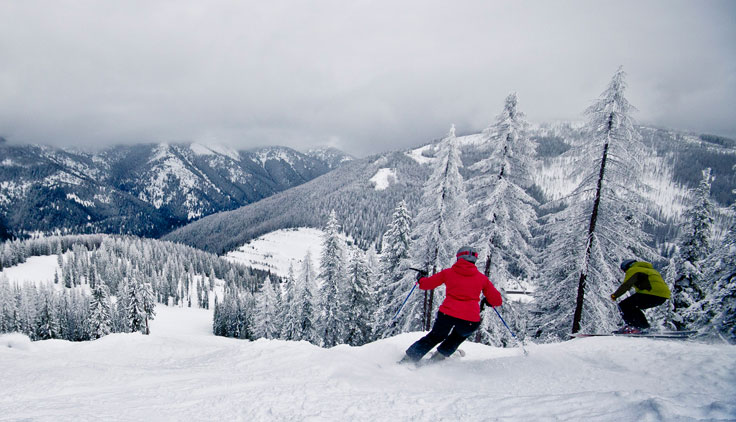 LOST TRAIL POWDER MOUNTAIN
Also on the Montana/Idaho border is Lost Trail Powder Mountain. This ski area in the Bitterroot Valley is located 90 miles south of Missoula on U.S. Highway 93. Ride along the Continental Divide in some of the deepest and most consistent snowfall in Montana, averaging more than 325 inches annually. Lost Trail has a large selection of ski lessons available for children and adults, from beginners to those looking to advance their skills. On the slopes, find a mix of intermediate and advanced runs and a section known as "The White House," boasting double black diamond runs that experts will love. Downhill Detail: 1,800 acres + 69 runs + 1,800 ft. vertical drop. The longest run is 2.5 miles.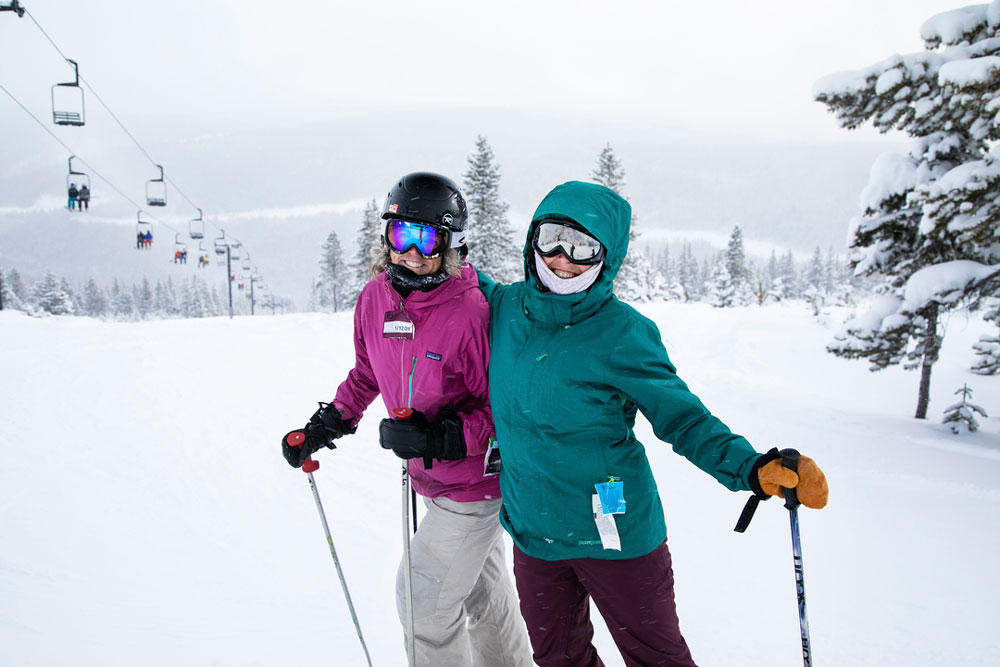 MONTANA SNOWBOWL
Located 12 miles from Missoula, Montana Snowbowl is known for being "steep and deep" thanks to their deep powder bowls and plethora of black diamond runs—plus a run that's 2,600 feet of continuous vertical drop. In 2020 they made an addition of more than 1,000 acres of skiable terrain, with most of the runs catering to beginners and intermediate riders. New in 2022 is a triple chair lift—one of the steepest in the country—boasting a 1,700-foot vertical. Cap off your day at the lodge, Last Run Inn, with their famous bloody marys and wood-fired pizza. Downhill Detail: 2,300 acres + 49 runs + 2,600 ft. vertical drop.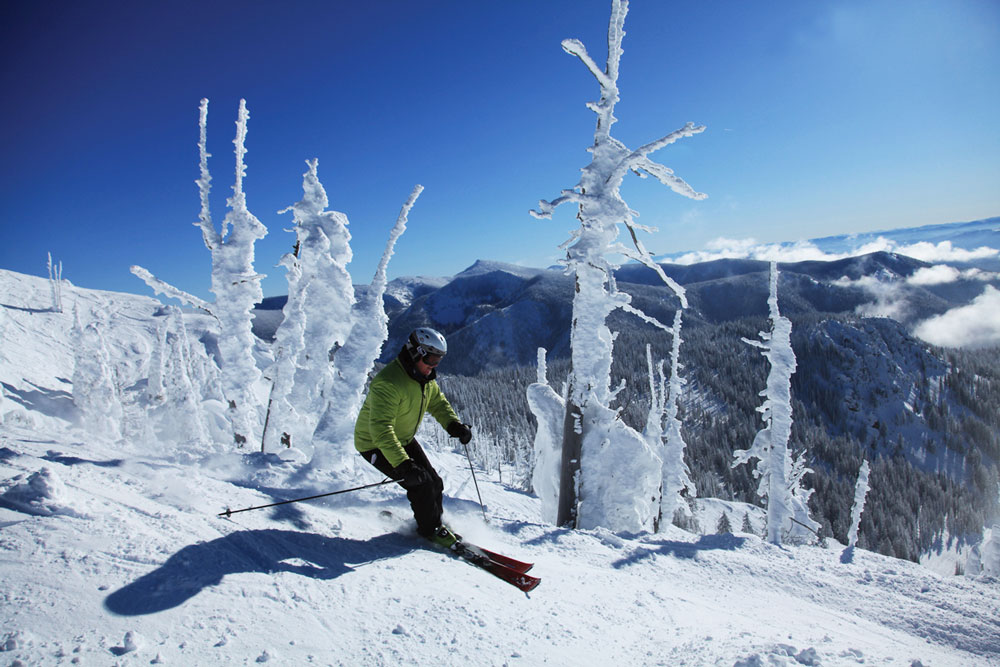 For more information on winter in Western Montana, visit our tour operator website. If you need additional tour itinerary assistance, feel free to drop us a line; we're always here to help.
Happy skiing,
AS & DP
December 19, 2022
Related: FIT, Group Tours, Lakeside, Libby, Missoula, Outdoor Adventure, Student tours, Tour Operator, Whitefish, Winter