There you go again, daydreaming about sending your clients on their next getaway to Western Montana's Glacier Country. How about adding a bucket-list adventure to their itinerary in the great outdoors, plus a little pampering? Swan Mountain Outfitters serves up just that. We're a full-service, year-round guided outdoor activity company offering a variety of must-try "Wild West" adventures. From one-hour family tours to guided five-day back-country wilderness trips, Swan Mountain Outfitters helps create the Montana experience of your dreams. Come unplug and unwind with us in the beautiful Montana landscape.
HORSEBACK TRIPS
Swan Mountain Outfitters is the largest horseback outfitter in the State of Montana, and we operate the only trail-ride service within Glacier National Park. Our guides and horses are trained to accommodate total beginners to expert riders. Plus, diverse trail-ride options appease the masses, making this a perfect activity for families.
Experience Montana from the saddle with one or two-hour trips, half-day or full-day adventures, Montana cowboy cookout/trail-ride combos or overnight horseback rides and Montana fishing excursions. Several trip options all allow you to see the Montana portrayed in the movies—panoramic vistas of grand mountain ranges and sparkling waters.
Guides and wranglers arrange all trip details and preparations. Trip Tip: If you really love the back-country and want to go the extra miles, check out our multi-day Bob Marshall Wilderness pack trips.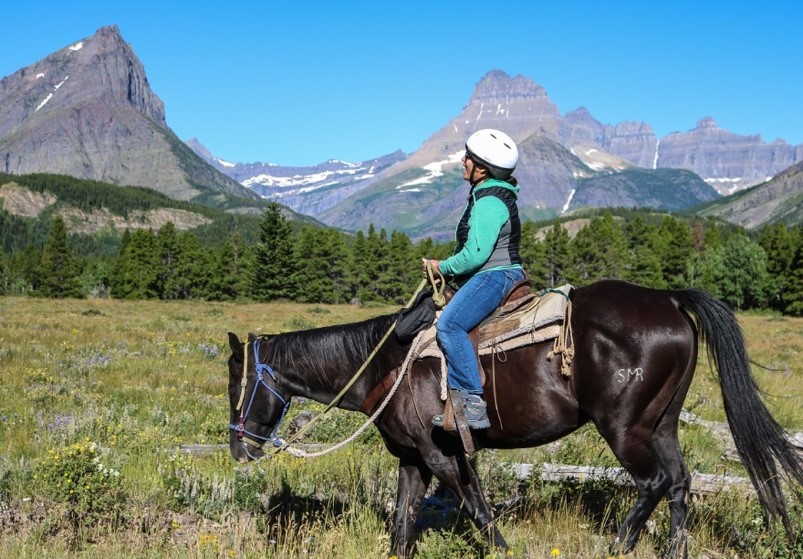 LLAMA TREKKING
Llama trekking is an all-around lovable affair and eco-therapy for the soul. Our llama treks enable guests to hike into the mountains or forest without having to carry gear, making hiking with kids and groups logistically easier and more enjoyable. Plus, llamas can travel to back-country places that our horses are not able to go.
These "camels of the clouds" trekking tours allow for a variety of time-frames within different trip options. You can choose a half-day or full-day trek, as well as multi-day backpacking trips to pristine alpine lakes. One of our favorite trip offerings is a three-hour evening "Wine and Cheese Llama Trek."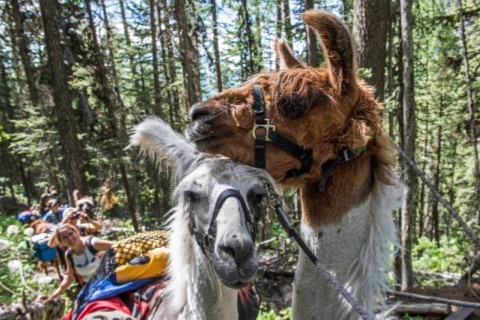 GLACIER MOPED RENTALS
Mopeds are just plain fun. Imagine cruising around in the open air, with all your senses engaged, while viewing the glacial creeks and towering peaks of Glacier National Park. Moped rentals are a big hit among adventure travelers who have done it all and want a new way to travel. If you're independent by nature, you will revel in the freedom of a self-guided moped tour and are sure to return with tons of scenic photos from the beauty you'll find along our tour routes.
Many of our guests take full-day moped trips around the park, while others might indulge in a quick two-hour spin around the area. Glacier Moped Rentals is the only rental option of its kind in the Glacier National Park area.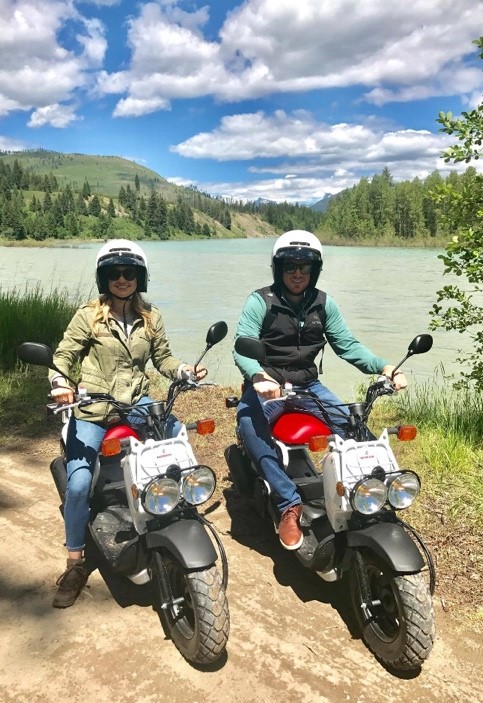 CROWN OF THE CONTINENT DISCOVERY CENTER
It's the perfect pit-stop, and the local flair you'll find here is worth it. The Crown of the Continent Discovery Center offers a variety of Montana made food, drinks, gifts and souvenirs, as well as kids' activities and educational opportunities. Several maps and interactive displays are placed throughout the Made in Montana gift shop.
With ample parking for large vehicles, public restrooms, family activities and food and drink, all your basic road needs are met here and then some. Our in-house authentic Mexican restaurant receives rave reviews and our to-go lunches satiate the on-the-move traveler. The petting zoo offers more family fun, and an ice cream parlor boasts local favorites like Montana huckleberry. Chill on the covered porch with a Montana-made cocktail or a latte when you're ready to kick back and relax.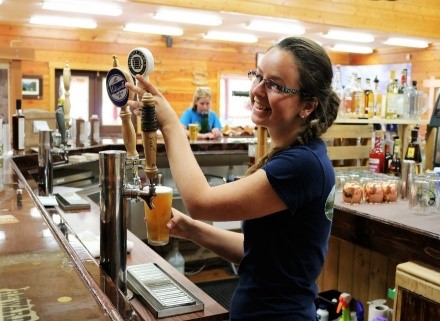 MONTANA FISHING
At Swan Mountain Outfitters, we simply love fishing in Montana, and we know where the fish live. That's why we've made fishing a big part of our life's work.
Swan Mountain's fishing spots get you into places few anglers know about, and we are the only outfitter permitted to guide in some trip locations. Enjoy more serenity and elbow-room on the water compared to other popular spots in the Flathead Valley, which might translate to more fish, and the ultimate authentic Montana fishing experience.
You have options, from all-day river float and fishing trips, to walk-and-wade and overnight guided horseback and fishing combination trips.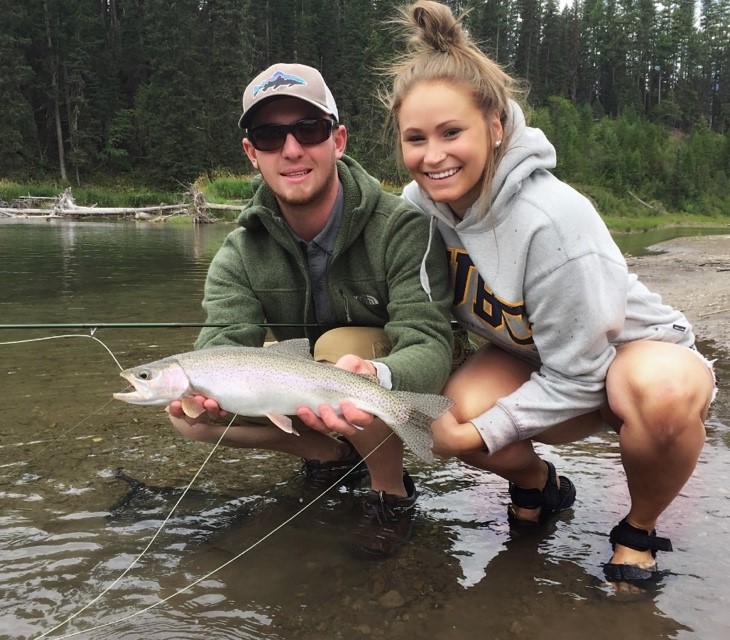 SWAN MOUNTAIN SNOWMOBILING
When winter approaches, we trade-in our trusty steeds for snow machines. Montana is known for its "cold smoke" powder, with record snowfall reaching over 400 inches at high elevations in 2017. Thus, we make the most of our winters by revving up the snowmobiles and teaching our guests how to have some winter fun, Montana style. The adrenaline rush keeps us going from December to April.
Permits in multiple areas throughout the Flathead Valley allow us to offer more groomed trail miles than any other snowmobile guide service in the region. Top-of-the line machines keep you riding in comfort and are easy to operate, even for total beginners. Our guides are entertaining and will teach you what you need to know to ride snowmobiles on our groomed trails.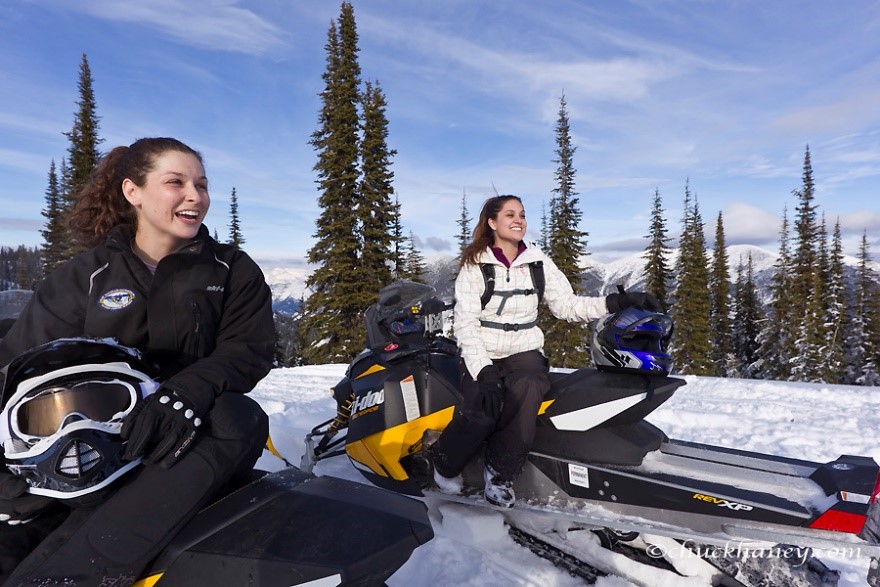 Help make your client's Montana dreams a reality in any season with a little help from Swan Mountain Outfitters.
See you on the trail,
Katie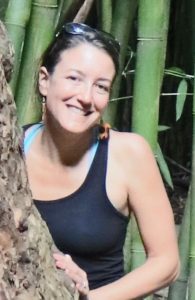 About the author: Katie LeBlanc pursues outdoor recreation as a daily lifestyle necessity, and has many stories from personal travel expeditions. As marketing coordinator for Swan Mountain Outfitters, Katie is joyfully employed by a company that shares her love and appreciation for travel adventure and recreation. She lives, works, and plays in one of the many paradise destinations of the world, Western Montana's Glacier Country.
August 29, 2017
Related: FIT, Fly Fishing, Glacier National Park, Guest Post, Horseback Riding, Outdoor Adventure, Tour Operator, West Glacier